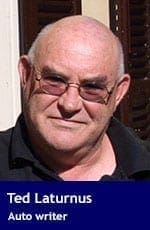 Aside from a minor – and welcome – blip with the CC version, Volkswagen's Passat is arguably the most North American-flavoured model the company makes.
It's the company's biggest sedan (for the time being), has the largest engine, has the most nondescript styling in VW's entire lineup and is built in Chattanooga, Tenn.
The aforementioned CC, by the way, was one of the most beautiful cars to ever come out of Germany and it's a mystery to me why the company stopped making it in 2017, but that's another story.
I recently spent some time with the GT version of the Passat sedan.
Power is provided by a 3.6-litre V6 engine that makes some 280 horsepower. This engine is used elsewhere in VW's lineup and, in this configuration, is mated to a six-speed transmission only. Powertrain layout is front-drive.
Classed as a mid-size sedan, the Passat GT will carry five adults comfortably, and will take the car from zero to 100 km/h in just under seven seconds. So it's no slouch in the performance department. The downside to this is unexceptional fuel economy: a combined rating of 10.6 litres/100 kilometres, according to VW.
Interior elbow room is outstanding with the Passat, and it boasts an absolutely huge trunk – some 450 litres or 16 cubic feet. That's more than enough to carry my standard unit of measurement: a complete acoustic drum kit. Squeezing the bass drum in is a bit of a challenge but otherwise, there's room to spare.
As you would expect, it comes with all the usual modern conveniences and engineering goodies, such as a traction control system, stability control, backup camera, three-setting heated seats, Apple/Android compatibility, etc, etc.
In every way, it's a mainstream family sedan and as comfortable and civilized as anything in this corner of the market.
But it also has that intangible VW drivability that sets it apart from anything coming from General Motors, Ford, Toyota or Honda. Not technically a sports sedan, it definitely feels like one.
A few other observations:
• The trunk: It's huge and deep. Golf clubs and so on will slip right in and aside from annoying hinges that kind of get in the way, it's more than enough for most buyers of this kind of vehicle. By way of comparison, a Toyota Camry offers just over 14 cubic feet or 396 litres.
• Road-holding: This is what sets the Passat apart from virtually everything else in this market segment. This car definitely has a sporty flavour to it. The ride is a little harsher than some folks might like but I like it. It's firm, responsive and tactile.
• Engine presence: Although subtle and far from intrusive, the V6 engine in the GT has a lovely little rumble and lets you know in a quiet way that this is no run-of-the-mill four-door sedan. When prodded, it has all kinds of get up and go. Reserve power seems limitless during highway overtaking. It's one of my favourite engines.
• Interior: This separates the Passat from just about everyone else. It has bright, roomy, easy-to-get-along-with switchgear and ergonomics, and sinfully comfortable seats. The back seat, in particular, has oodles of legroom. I'd give the seat controls a bit of a rethink if I were head designer at VW, but otherwise, full marks here.
• Styling: While not as striking as the CC, the Passat GT is still a handsome automobile. Wide road stance, tasteful red trim and generously-sized wheels make for a car that has much more presence than most of its rivals. The Honda Accord, for example, is a harpy in comparison.
The Passat is not a huge seller for VW. It's something of an acquired taste because it is somehow un-Volkswagen-ish. Most people in the market for a car of this ilk gravitate towards Toyota or GM products, but that's their loss.
For well under $35,000 to start, this one should not be overlooked.
2018 Volkswagen Passat GT
Engine: 3.6-litre V6
Transmission: Six-speed automatic
Drive: Front-wheel drive
Horsepower: 280 horsepower at 6,200 rpm
Torque: 258 foot pounds at 2,500 rpm
Base price: $33,795
Fuel economy: 12.2 litres/100 kilometres (city) and 8.5 (highway) with regular gas
Some alternatives: Toyota Camry, Honda Accord, Mazda6, Ford Fusion, Nissan Altima, Kia Optima, Hyundai Sonata, Chevrolet Malibu.
Ted Laturnus writes for Troy Media's Driver Seat Associate website. An automotive journalist since 1976, he has been named Canadian Automotive Journalist of the Year twice and is past-president of the Automotive Journalists Association of Canada (AJAC).
---

The views, opinions and positions expressed by columnists and contributors are the author's alone. They do not inherently or expressly reflect the views, opinions and/or positions of our publication.