It's expensive out there and Manitobans trying to gas up their car to get to work or simply heat their homes need relief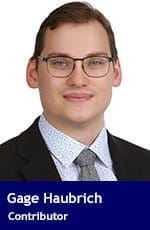 Manitobans shouldn't be fooled by the paltry sum that Trudeau has sent them via carbon tax rebates. It doesn't come close to what the tax costs them.
The Parliamentary Budget Officer crunched the numbers, and Manitobans need to know what it said about the carbon tax rebate cheques the federal government sent out last week.
The average Manitoban family can expect to pay $402 more this year in carbon tax than they get back in rebates, according to the government's independent watchdog. That's a couple of trips to the grocery store, or a month of gas for your car.
Ottawa keeps saying, "families are going to be better off" because of these rebates, but this isn't the case.
And it only gets worse.
In 2019, the government said "the plan is not to increase the price post-2022." This was when the tax would only reach 11 cents per litre of gas. Now it's going to be jacked up to over triple that price.
On April 1, the carbon tax will increase to 14 cents per litre of gas and 12 cents per cubic metre of natural gas. By 2030, the carbon tax will reach 37 cents per litre of gas and 32 cents per cubic metre of natural gas. This will cost the average Manitoba family $1,145 a year, according to the PBO.
But it doesn't stop there.
The federal government is imposing a second carbon tax in July through fuel regulations. Which, according to the government's own analysis, is estimated to add up to 13 cents per litre to gasoline by 2030. That will cost a family an additional $220 per year. And there's no rebate for the second carbon tax.
Not exactly "better off."
To help Manitobans, Premier Heather Stefanson needs to fight harder against the federal carbon tax.
The crowd of provinces opposed to the tax keeps growing.
The premiers of Alberta, Saskatchewan, and Ontario have been fighting the carbon tax since the beginning.
Other provinces, like Newfoundland and Labrador, Prince Edward Island, and Nova Scotia, originally went along with the federal government.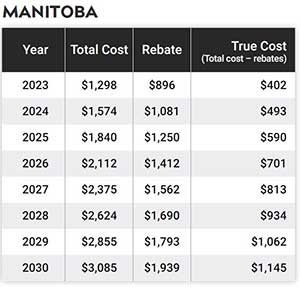 As of July, they will be forced to pay the federal tax, and they are not happy.
Premier Andrew Furey of Newfoundland and Labrador said, "we are disappointed to hear that the Government of Canada is imposing its federal carbon tax backstop and taxing home heating fuels, as well as other fuels."
Speaking to the provincial legislature on the carbon tax, Premier Dennis King of Prince Edward Island said the federal government "won't give Islanders a break. We're going to fight to give them a break."
Premier Tim Houston of Nova Scotia pulled no punches in his statement when he said "the Government of Canada is imposing a carbon tax knowing Nova Scotians, and Canadians, are struggling."
He's right. Canadians are struggling. And with Ottawa forcing the federal carbon tax on most of Atlantic Canada, he and the other premiers are right to be angry. If only they had spoken up sooner and louder.
Inflation last month was 6.3 percent in Canada and eight percent in Manitoba. Necessities like groceries saw an 11 percent increase in price. Times are hard, and paying the carbon tax on gas just to get to the grocery store adds another layer of financial hurt for the average family.
It is time for Manitoba to join most of the country and step up to the plate to stop even more money from being taken from the pockets of Canadians.
It's expensive out there and Manitobans trying to gas up their car to get to work, fill up their minivan to take their kids to hockey practice, or simply heat their homes during a typical prairie winter, need relief.
The PBO has done the math and it doesn't look good for Manitobans. Everyone knows the cost of the carbon tax, and Stefanson is right to demand a stop to it.
Gage Haubrich is the Prairie Director for the Canadian Taxpayers Federation.
For interview requests, click here.
---
The opinions expressed by our columnists and contributors are theirs alone and do not inherently or expressly reflect the views of our publication.
© Troy Media
Troy Media is an editorial content provider to media outlets and its own hosted community news outlets across Canada.