Reading Time:
3
minutes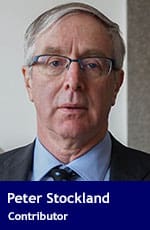 On an October day three decades ago, I watched aboard a plane taxiing for takeoff at Edmonton's Municipal Airport as the body of then NDP leader Grant Notley was off-loaded from another aircraft.
In the wildest of dreams, I could not have imagined a day when Notley's daughter Rachel would bury the most dominant dynasty in Canadian political history.
What happened Tuesday night in Alberta would have been dismissed as crazy talk had it been prophesized even six months ago, so it's natural that the narrative around the NDP landslide has been political shock and awe. How could this happen in Alberta, proudly and perpetually Conservative since 1971? And now that it has happened, what's next? What's next? What's next?
Yet it's also a family story, a personal story, a story of a father, untimely taken, bequeathing to a young daughter the idea of standing and fighting for a coherent set of beliefs, and doing so with integrity and publicly unflappable calm in the face of impossible odds. It's about, in many ways, the long view and the way history's vagaries are so integral to its outcomes.
Grant Notley died in a plane crash on October 19, 1984. He was returning to his Spirit River-Fairview constituency when the plane went down near Grande Prairie. I got a phone call at home – it was my birthday – and not long afterward was on a plane flying to northern Alberta to cover the story for the Edmonton Sun.
Covering the Alberta legislature, I was no champion of Notley's party but liked him immensely as a person. He was one of those people you just know isn't simply for show. The true test of that was the treatment he received from the legendary Premier Peter Lougheed.
Lougheed showing contempt could be a fearsome thing. Yet although his Tory party had an almost preposterous 75-4 seat advantage over the Opposition, he showed Notley only genuine respect, even affection. Why? Because whatever their political differences, they were both intrinsically and implacably decent men.
And the reality is their differences weren't all that different. For all its mythological status as an unassailable right-wing fortress, Alberta has long hewed to a communitarian oriented centre, and at times has skidded left even under the Conservative banner. As Lougheed himself would say candidly, the Conservative name was chosen in the late 1960s as a reliable and comfortable brand in a province that wanted good government managers, not fervent ideological partisans.
The evaporation of the Alberta Conservative party's aura of managerial competence, which endured for almost 44 years, meant the end of the Alberta Conservative party era. As I wrote to a Facebook friend last week, even living in Central Canada, I could smell the grey water stench of entitlement wafting across the Great Lakes and Canadian Shield.
What's compelling is that it is Rachel Notley, and not Danielle Smith, who has gained the reward. Smith made an opportunist's bold move in crossing the legislature floor to sit with the governing Conservatives, abandoning her leadership of the Wildrose Party. She gambled, lost, and is now, in the immortal words of Alberta's great Ian Tyson "gone like summer wages."
Notley, doubtless distilling her father's example, waited patiently for the moment to come to her. Now it has, born in grief, nurtured through belief, culminating in unimaginable triumph.
What's next? What's next? What's next? We'll see.
Bold predictions that the breaching of Fortress Alberta bodes well for federal NDP fortunes in Alberta may have the luck of good timing, or maybe mumbles best forgotten on election day, October 19 – the 31st anniversary of Grant Notley's death. The vagaries of history, particularly political history, can make everything sound like crazy talk six months on either side.
For now, a dynasty is down. A decent man's daughter has made her own way to fulfill her father's promise.
The long view has much to recommend it.
Peter Stockland is a senior fellow with Cardus, and publisher of Convivium magazine.
Peter is one of Canada's leading contributors. Why aren't you?
---

The views, opinions and positions expressed by columnists and contributors are the author's alone. They do not inherently or expressly reflect the views, opinions and/or positions of our publication.