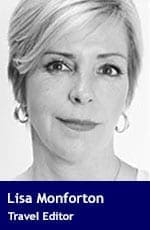 People travel for many reasons – to see some of the world's great sites, to learn about different cultures and sometimes just for fun. Yet some people seek even more from their travel experience: to transform the way they view themselves and the world.
Jake Haupert is one of the founders of the Transformational Travel Council (TTC), in Seattle, Wash., and co-founder of Explorer X. A few years ago, while climbing Kilimanjaro with some buddies, Haupert had one of his transformational a-ha moments. He says the way we've been travelling has become too sanitized, too easy and too pre-planned, without leaving any space for the why and how of travelling.
His hope is that as more people learn about the movement, they'll become more mindful travellers and change the way we look at the world both abroad and at home.
Haupert's Evergreen Escapes received Nat-Geo's Top 50 Tours of a Lifetime in 2014 and 2015, and he was named by the Puget Sound Business Journal as a Top 40 Under 40 Business Leader in 2014.
What led you into Transformational Travel?
Haupert: My mom has always been deeply spiritual and my grandma an avid traveller. I was brought up in an environment where travel was an opportunity to step back and reflect, contemplate and be in a place of re-connection.
A few years ago, I was being really introspective in terms of who I was, what I was doing, what I wanted to do, where was travel going. I saw an opportunity to weave in some personal development and bring some spirituality into travel.
I and people who were on a similar journey gave a presentation at the Adventure World Travel Summit and just over two years ago in Alaska. It resonated on a deep level. I sold Evergreen Escapes, my previous company, and shifted to this –Transformational Travel Council (TTC) and Explore X.
What's the spiritual dimension you talk about?
Haupert: Not from a religious perspective but a much broader perspective. We really focus in on the inner journey. So, travelling inside out. If it's going to benefit the individual traveller, then it's also going to benefit that individual's self, community and the places that they go.
Is it fair to say transformational travel is getting out of your comfort zone and travelling in unconventional ways?
Haupert: Absolutely. I think that you hear things around the industry like over-tourism and travel being destructive, and a lot of that is because travel has become so easy. Anybody can go out and hit the road and go on an adventure.
Now, travel companies, accommodation, tourism boards, everyone is trying to make it easier and serve you better and promise you're not going to encounter any obstacles or challenges. And all of that just robs travel of its essence.
What we're trying to do, it's not meant to be easy.
I like the notion you have to think on your feet. It's like the day you go to an ATM, let's say in Cuba, and no cash comes out … when you have to be resourceful.
Haupert: I went on a backpacking trip through Europe in the '90s and it was hard work to try to find your way around. You had to talk to people, oh no, and meet with other travellers and sort of lock arms and go on a journey to find a hostel, or a train.
Do you have a favourite writer whose work really captures Transformational Travel?
Haupert: A lot of our work is based on Joseph Campbell (American author, mythologist and cultural anthropologist).
How do you inspire people who aren't naturally this type of traveller to travel this way?
Haupert: Part of what we focus on is shifting the attention from the what and the where to the why and the how. Why are you travelling?
Our Conscious Itinerary is designed to bring slow travel into the conversation, an opportunity to explore and making sure to leave space between activities and attractions to find your travel flow.
Through the Allied Travel Mentor Program, we're trying help travel companies and travel designers to embrace this philosophy.
What other resources do you have for the traveller?
Haupert: We've written a book called Heroes: A Secret Guide to Travel. It takes you through that entire process. Ultimately, we want to empower travellers to set out on their own.
You're trying to encourage travel companies to provide a new option – something with more choices, more free time.
Haupert: We want accommodation and experience providers to look at it through the lens of the science and research that we have so that it amplifies the intrinsic benefits of travel. With the Allied program, the initial module is for mentors, so we really need to have an individual at a company who embraces this and makes sure they maintain integrity and that they're going to work with their travellers' experiences.
How do you get mentored to do this type of travel, as an individual traveller?
Haupert: The TTC wants to be a gathering place for this type of travel. We want to become a place that you can get books and articles and be inspired to set off on a journey and really make sure you have the tools to amplify those benefits.
Does it matter whether you travel alone or with a partner or a group? Is there a good age people should start doing this?
Haupert: People have been travelling this way for thousands of years; we've lost touch with that. For the travellers who are awakening to this way to travel, we really need to be looking at travel through this lens.
So I wouldn't put it into an age group. Ironically, when I ask someone in their 50s, or 60s, or 20s, or 30s, who would this market appeal to?
They'll say, "It's us, it's our age group."
Is this intended for solo, single and group travellers?
Haupert: A traveller could engage on a journey on their own, with a partner or as a family or group. As soon as you get away from the solo experience, it can become somewhat isolating. For example, when my wife and I travel, I travel with the book and she doesn't. We may embark on the same journey, and I may choose to weave her into certain parts of the journal; others I wouldn't. It's a deeply personal experience.
Eventually, we'd like to have a book that's custom written for couples, for families or for the pilgrim. For families, how can they bring that awe back into their family dynamic back home?
That's where the transformation happens. The transformation doesn't happen until you return home and take action.
Is there a trip or two that stands out as particularly memorable as a transformational experience?
Haupert: Not long after I went through some difficult times in my previous business, I went on a trip at the exact wrong time. I should have been working but I went on a trip with some friends to Kilimanjaro. It was right as I was approaching 40 years old. We realized that at this halfway marker of life, we all set intentions beforehand. This is when I started toying around with the idea of intentional travel.
When we got close to the summit, there was one individual who was so overwhelmed that he started to cry and then it wasn't long before all of us were just weeping. I looked around and we were visibly shaking on each other's shoulders. Something shifted and the mountain was more than just a climb that day.
Not long after that, I really started thinking, "How can you bottle that?" Isn't that what we all covet when we head out on a journey – to be so emotionally moved and inspired to change?
When I came back, I started taking action and eventually created the Transformational Travel Council.
For people who are reticent to go out of their comfort zone, can you bring them along?
Haupert: Yes, I think you can. And even taking people out of their comfort zone just a little bit is powerful. That's what I think makes travel so beautiful.
Can you give me an example?
Haupert: We often invite different challenges intentionally into an itinerary. We call them 'wayfinders.' At some point during the itinerary, we'll typically have Day 1 you do this and this, but we'll say today we've left it intentionally open and we challenge you to go and walk to this attraction or use public transportation or go to a market and purchase something in a foreign language. We know you haven't been on a bike before, so we're going to put you on a bike tour.
That's the intention of transformational travel, getting people to shift their perspective. We say, "Travel like a HERO" (an acronym for heart, engage, resolve, open). That R is my favourite of the four.
Can you have a transformational experience at home? What does that look like?
Haupert: You can certainly travel like a hero in your own neighbourhood or at the park. Why are you going to the park at sunset?
I'm going because I like to watch the sun go down when I take my dog to the park. It's a mindset, bringing a fresh perspective to how you approach the experiences.
Where do you see TTC going?
Haupert: There are two things: If travel doesn't shift and we don't come back to this, then over-tourism and destruction … will continue. The second thing: we've been traveling this way for thousands of years. It's just recently that we've lost touch.
Hopefully this age in travel we've had in the past 25 to 30 years dies off. But I'm scared it's a flash in the pan and it ends up dying and we end up going into bad habits and we're in a worse place.
I feel a lot of responsibility to have the biggest impact we can, or else we'd be letting people down.
Lisa Monforton is an award-winner Calgary-based travel writer.
---

The views, opinions and positions expressed by columnists and contributors are the author's alone. They do not inherently or expressly reflect the views, opinions and/or positions of our publication.