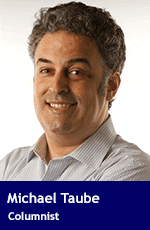 It was a memorable final bow for Canada's quintessential band, The Tragically Hip.
CBC estimates that 11.7 million people tuned in to this group's live farewell concert in Kingston, Ont., either on TV, radio or the Internet.
That's close to one-third of this country's population, if you can believe it.
For nearly three hours, including three lengthy encore performances, The Hip mesmerized the fan base and casual onlookers with the powerful, raw energy that has long defined their musical legacy. Popular tracks, including New Orleans is Sinking, At the Hundredth Meridian, Twist My Arm, Blow at High Dough and Little Bones, made expected appearances. The concert's last offering, Ahead by a Century, was the perfect culmination to a 32-year career in the turbulent world of rock 'n' roll.
I could have lived without lead singer Gord Downie's never-ending love letter to Prime Minister Justin Trudeau (who was in Kingston that night). At the same time, I'm certainly not going to begrudge a dying man the opportunity to make his personal views known to an audience that clearly adores him.
That's the real tragedy of this story.
The Hip had no intention of slowing down, and had completed its 13th album, Man Machine Poem. Alas, the sad announcement in May that Downie had terminal brain cancer changed the entire dynamic. For his longtime bandmates, Rob Baker (guitarist), Paul Langlois (guitarist), Gord Sinclair (bassist) and Johnny Fay (drummer), it was this terrible boot that kicked their hearts.
While the group ended on a high note, there's still one niggling item that I occasionally reflect on.
It's a shame that The Hip never had a real U.S. breakthrough. With the exception of a 1995 appearance on Saturday Night Live (introduced by a proud and emotional Canadian-born comedian, Dan Aykroyd), and being an opening act for The Rolling Stones and Jimmy Page and Robert Plant, most Americans barely had any exposure to their genius.
Why? The band's powerful ties to Canada cost them dearly in the international market.
The Hip wrote about hockey, including the unique tale of Toronto Maple Leafs defenceman Bill Barilko (Fifty Mission Cap) as well as the 1972 Summit Series and legendary defenceman Bobby Orr (Fireworks). There were also references to painter Tom Thomson (Three Pistols), explorer Jacques Cartier (Looking for a Place to Happen), Saskatoon, Sask. (Wheat Kings), Algonquin Park (The Bear) and, in the same song, Mistaken Point, NL, and Moonbeam, Ont. (Fly).
Most Americans wouldn't have had the foggiest notion about these bits of Canadian history and culture. Sure, lyrics in a song can be memorized and never fully understood. Alas, writing music in a style akin to Pierre Berton, Farley Mowat and Margaret Atwood wasn't going to naturally resonate in other countries.
Then again, I don't think this elusive component of their career ever bothered them. They never really sought it out, anyway.
As Rick Mercer pointed out to CBC Radio's Kiah Welsh on Aug. 5, "It's a ridiculous conversation of why they weren't famous in the United States because they're our band and they were famous here and that's where they want to be famous." While I would disagree with the Canadian comedian's assessment of this conversation, the essence of what he said is valid.
The Hip's members are Canadian, born and bred. They thought of themselves as a Canadian act, first and foremost. Their fan base was fiercely loyal to them, and to our nation. They wanted to be successful at home, and did just that in terms of album sales and Juno Awards.
You can call it patriotic, or nationalistic if you desire. The end result is that's what Canada's quintessential band set out to do.
Mission accomplished, gentlemen. Congratulations.
Michael Taube, a Troy Media syndicated columnist and Washington Times contributor, was a speechwriter for former prime minister Stephen Harper. He holds a master's degree in comparative politics from the London School of Economics.
---

The views, opinions and positions expressed by columnists and contributors are the author's alone. They do not inherently or expressly reflect the views, opinions and/or positions of our publication.