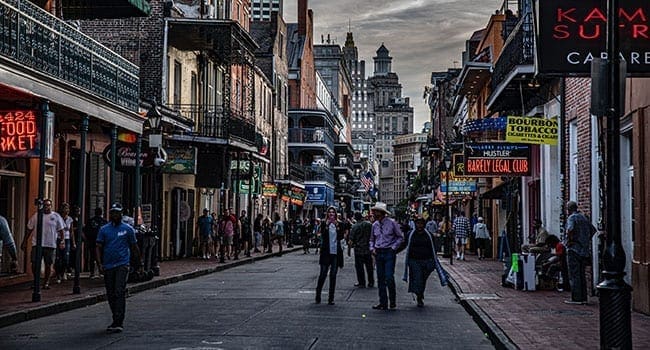 New Orleans is one of the best destinations for a weekend getaway. Not only are there so many amenities to enjoy, but New Orleans has an incredibly unique culture that you can't experience anywhere else. However, with so much to choose from, you might be wondering about how you are going to make the most of your weekend in New Orleans while sticking to a budget.
There are so many options when it comes to accommodations, entertainment, and events that you won't want to miss out on the best that New Orleans has to offer. Unfortunately, many of these attractions can end up costing quite a bit. If you are planning a weekend getaway to New Orleans but don't want to break the bank in doing so, here are four ways for you to make the most out of your trip in an affordable fashion.
1) Find the Right Place to Stay
The first thing that you want to consider when you are planning your perfect New Orleans weekend away is where you would like to stay. In a city with so much to offer, there are many different types of accommodations to choose from. Most of the hotels and motels in the area know that they can charge high tourist prices for their accommodations. For this reason, you should consider renting an RV in New Orleans for the duration of your stay.
While you might be tempted by some of the swanky boutique hotels and hotel chains located in the heart of the French Quarter, that you will very likely pay far more than if you opt to rent an RV. The RVs that you have to choose from can also give you added versatility for your trip in addition to saving you some money.
With an RV rental, you will have the luxury of being able to have a comfortable place for everyone in your group. Such accommodations are also more cost-effective if you are traveling with a bigger group that is willing to split the cost. Opting for an RV rental is the best way to enjoy New Orleans on a budget while giving yourself the flexibility to see everything that you would like to see.
2) Find the Most Authentic Fare
New Orleans is home to a cuisine that is as unique as the city itself. A fusion of American, European, Caribbean, and African influences, Cajun food is renowned for its interesting flavor profile and incorporation of fresh seafood. Often imitated throughout the country, you can only truly find the most authentic versions of your favorite Cajun food in the Big Easy itself. That being said, you want to be wary of how much you are spending on food out during your stay in New Orleans.
There are a fair few restaurants that are perfect for those looking to sample some of the local staples while sticking to a budget. Do your research beforehand so that you can set a strict food budget for yourself while you are in New Orleans.
3) Find Creative Ways to Get Around
It is true that New Orleans in a very pedestrian-friendly place to get around. Moreover, walking is definitely going to be the most affordable way to see the sights. Because there is so much in New Orleans that you will want to see, you might want to try out some alternative modes of transportation. Not only will this give your feet a bit of a break as you tour around, but you will also be able to see more in less time. This doesn't mean that you have to pay extra for high taxi fares or expansive car rentals. If you decided to rent a car and explore the surroundings, here is a list of the friendliest car rental agents.
Many people attest to the fact that one of the best ways to get around New Orleans is on a bike. There are plenty of places that offer bikes for hire at reasonable prices, and the main tourist areas tend to be incredibly bicycle-friendly. For the same reason, scooters are also a common mode of transportation for tourists in New Orleans. The best part about going with either a bike or scooter rental is that you don't have to rent one for your entire stay.
If you are traveling with a partner or friend, pedicabs can be a great option if you need a break from the physical exertion of sightseeing. Splitting the cost of these rides with a friend makes them incredibly cost-effective. The main tourist areas have a fair few pedicabs that are easy to hail and affordable to hire.
New Orleans also boasts a couple of transportation options that are rather like tourist attractions themselves. The St. Charles Avenue Streetcar is a historic and quick way to get from uptown to downtown and back. This streetcar ride is a real bargain as it only costs $1.25 to ride. The Canal St./Algiers Ferry will also afford you views of the city from the Mississippi River that you won't want to miss and will only cost you $2.
4) Consider Mardi Gras When Making Your Plans
One of the most famous events that New Orleans is most known for is the annual Mardi Gras celebration. Known throughout the world as one of the largest, craziest parties you can possibly attend, the beads and bands of Mardi Gras is certainly a sight to see. However, since it is by far the most significant time of the year for tourists, practically everything in New Orleans will cost a bit extra to enjoy during the festival. The good news is that Mardi Gras is from being the only reason to see New Orleans, so if you plan your trip for a time outside of Mardi Gras, you could stand to save a bit.
Because of how famous this festival is, the streets of New Orleans remain packed for a significant amount of time before and after the event. If you are not a fan of trying to tour around on vacation in the company of thousands of other travelers, you might very well want to avoid the few weeks before and after Mardi Gras as well.
If you do decide to plan your trip during the height of Mardi Gras, you will save more by staying in an RV a bit outside the heart of the city.
---
This content is a joint venture between our publication and our partner. We do not endorse any product or service in the article.