Reading Time:
3
minutes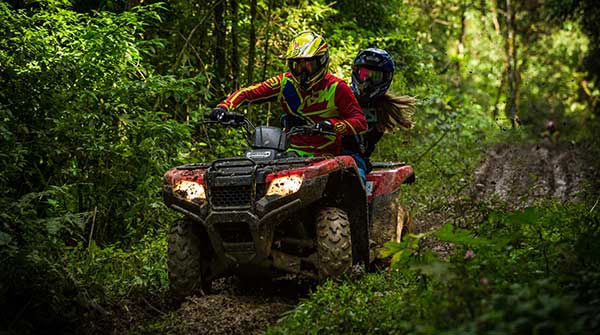 ATVs are a popular vehicle choice for off-road enthusiasts and casual riders. They're versatile, cost-effective, and a great way to have fun outdoors.
Whether you're looking for a leisurely ride through the backcountry or an adrenaline-filled adventure, there are countless activities you can do with your ATV.
From fishing to hill climbing, you can use your CanAm ATV to explore trails you never knew existed. In this blog post, we'll share five fun activities you can enjoy with your ATV.
We'll discuss the different trails and settings you can explore, how to stay safe while riding, and the gear you must use to make the most of your ATV experience.
So, if you're looking for ways to get the most out of your ATV, read on!
Trail Riding
This ride type is a great way to explore nature and have some fun while getting some exercise.
You can take in the scenery and observe wildlife as you ride along the trails. It's also an adrenaline rush for those who like to go faster. Ride responsibly and safely, and always check your local regulations for ATV riding.
Sand Dune Riding
Dune riding is a thrilling activity for any ATV enthusiast. Whether in a sandy desert, beach, or lake, you're sure to have an amazing time. Dunes can be steep and tricky to navigate, so be sure you have plenty of experience on your ATV before attempting a dune-riding adventure.
Note that safety should always be your top priority. Ensure you have the right equipment and protective gear when you hit the dunes.
Mud Riding
Nothing beats riding your ATV through the mud if you want a real adrenaline rush. It's fun, and you'll get to test your ATV's ability to handle rough terrain.
You need not be a professional to do it. But ensure you have the right safety gear and go with friends. Mud riding is a great way to build camaraderie and have a lot of fun.
Rock Crawling
Looking for an extreme ATV experience? Rock crawling can be the way to go. It involves driving your CanAm ATV through rocks and obstacles and navigating your way across the terrain with great skill and finesse.
Take extra precautions when attempting this activity, as it can be dangerous. You'll need to add special features to your ATV, such as a winch, lift kit, and heavy-duty shocks.
You'll also need to wear the proper safety equipment. With the right preparation, rock crawling can be an exhilarating experience.
Racing Competitions
You can hit the track and compete against other ATV enthusiasts if you feel competitive. Racing competitions are a great way to get your adrenaline pumping and test your skills behind the wheel.
Racing competitions are available across the country, so you can find one near you. Brush up on safety precautions and racing etiquette before you enter.
Sightseeing
Sightseeing is a great way to explore and admire the beauty of the outdoors with your ATV. Whether visiting a new area or exploring one near where you live, you can take in the scenery while riding your ATV.
Bring along a camera to capture all the breathtaking moments! Remember to stick to trails and pathways designated for ATVs, and always follow safety protocols.
Wrapping Up
Owning an ATV comes with many exciting possibilities. From exploring new places to participating in different sports and activities, you can take your ATV to the next level.
Whether you enjoy a leisurely ride, try some off-roading, or participate in some winter sports, ATVing can be a great way to get out and enjoy the outdoors.
What do you think about this article? Let us know in the comments!
---
This content is a joint venture between our publication and our partner. We do not endorse any product or service in the article.