COVID-19 has altered many aspects of life in Canada and beyond – potentially forever. It can be argued that some changes are welcome – the increased attention to hygiene being one – while others have had catastrophic impacts on certain sectors of society.
The economic impact will have repercussions for almost all aspects of Canadian life, with the country entering a recession, and the restaurant business is no exception. In order to attempt to survive the slump, eateries have turned to streamlined menus, an increased number of takeouts and even penalties for no-show customers.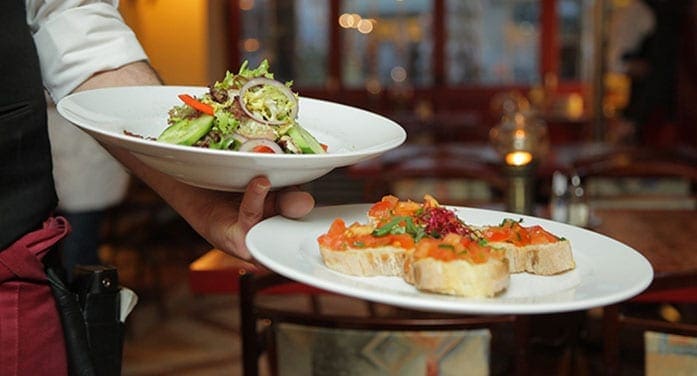 Economic downturn
At the end of August 2020, Canada reported that its economic output had seen the sharpest decline since 1961, shrinking by 11.5%. While this is not quite the desperate fall of 20.4% that the UK registered, it is still sure to have a lasting effect on the population's spending power and small businesses' ability to weather the storm.
In terms of restauranteurs, solutions have had to be found. The first of these, where possible, was the increased use of outdoor seating.
Eating outdoors
Towns and cities across Canada allowed restaurants to take up bus stops, parking lots and small roads with outdoor seating, putting good use to their restaurant furniture that needed to be spaced out due to social distancing rules. This was a wise move, as it meant many restaurants were still able to run at their usual cover rate while making diners comfortable in their environment.
However, with patio season over in Canada and the cold months fast approaching, it remains to be seen how restaurants will continue to stave off losses without the additional space.
No-show penalties
A common policy among Canadian restaurants has been that of no-show penalties. This has transformed restaurant dining into an almost ticketed experience, with customers being asked for a monetary deposit upon booking a table that will be deducted from their final bill once they have eaten.
This policy has also been adopted by some eateries in the United States, which cite the nightly losses from no-shows as unsustainable. With booking in advance looking necessary for some time to come, these penalties are likely here to stay.
Increased takeouts
During the height of the pandemic, eating out in restaurants was simply impossible, patio furniture or not. As the population craved food they had not cooked themselves for the first time in weeks, many turned to takeouts from the numerous food establishments that had opened their hatches to hungry isolators.
As they could not fully open their doors, restaurants who had not previously provided a takeout service began to do so as their only option for making money. With this, combined with a public still cautious about visiting crowded places, takeout numbers are most probably going to remain high.
Streamlined menus
Decreased numbers of staff to aid with social distancing and severe delays in the supply chain to restaurants – particularly for any imported ingredients – have caused a large number of restaurants to temporarily streamline their menus.
Unlike higher numbers of takeouts, no-show penalties and an increase in the use of outdoor restaurant furniture, this change will hopefully not last forever.
---
This content is a joint venture between our publication and our partner. We do not endorse any product or service in the article.