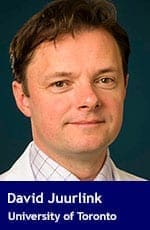 Dear Minister Jane Philpott,
Congratulations on your appointment as minister of Health. As an experienced physician, you bring valuable perspective to the post. While there are many contentious matters before you, including a new health accord, physician-assisted dying and marijuana legalization, few could be more pressing than the prescription opioid epidemic. It is an issue all but ignored by your predecessors but it is the greatest drug safety crisis Canada has ever faced.
When you returned to Canada in 1998 after nearly a decade of practice in Africa, you witnessed the seeds of this epidemic being sown, with strong painkillers like OxyContin prescribed liberally for chronic back pain, arthritis and fibromyalgia. You heard experts say these drugs worked well for chronic pain, that the risk of addiction was low, and that doctors who resisted prescribing them were "opiophobic." Perhaps you even began prescribing opioids for chronic pain, as did I and thousands of our colleagues, unaware that what we had been told was untrue.
It's clear now that we were objects in an elaborate marketing effort. Cloaked as it was in the virtues of compassion and beneficence, it was a remarkable success – until, that is, we considered our patients. Today, doctors' offices are inundated with people who have been harmed more than helped by these drugs. Thousands more are dead. No demographic has been spared. And yet the marketing continues, with pain specialists and advocacy groups opposing moves to curtail opioid prescribing, their efforts financed by the very companies that make these drugs. These forces, coupled with the societal expectation that pain be medicated, threaten every community in this country.
An estimated 10,000 to 20,000 Canadians have died from opioids since 1995, and an untold number now suffer from addiction. The federal government must take the lead in dealing with this crisis, rather than offloading responsibility to the provinces. I propose several concrete measures to that end. Some are squarely within your purview; others will require provincial co-operation.
We must quantify the toll of the epidemic. In the United States, more than 16,000 people die of opioids each year; remarkably, there are no corresponding data for Canada. We can't fix what we don't even measure. The Public Health Agency of Canada should work with provinces to develop mechanisms to quantify opioid-related deaths. These numbers should be public.
Prescription monitoring programs should connect pharmacies in real time, in part to identify the small but important subset of patients seeking prescriptions for misuse or resale. These systems can also identify physicians whose prescribing falls afoul of good practice or, in some instances, the law. In an era when teens on different continents play video games in real time, it's absurd that pharmacies in the same town operate in isolation.
Some measures involve specific drugs. Eliminate non-prescription codeine products from Canadian pharmacies. These are poor analgesics prone to abuse at high doses, resulting in deaths from acetaminophen and ASA toxicity. Revoke approval for generic OxyContin tablets, which are easily crushed and disproportionately benefit the dealers who sell them. The popular painkiller tramadol is increasingly abused and should be reclassified as a controlled substance, as its pharmacology demands and as Health Canada contemplated in 2007 before being lobbied by Purdue Pharma. Finally, treatment with fentanyl – an especially dangerous drug – should be restricted to patients willing to return used patches for new ones.
People with opioid addiction need more support and less marginalization. They require greater access to addiction specialists and medications like buprenorphine, along with supervised injection sites for those who choose this path. These save lives, as does the antidote naloxone, which should be freely available to anyone who wants it. Health Canada's review of naloxone, inexcusably glacial, must be accelerated.
Finally, the government should introduce legislation akin to America's Sunshine Act, illuminating the financial relationships between pharmaceutical companies and doctors, specialty organizations and advocacy groups. The money here flows in one direction, its sole purpose to increase drug sales. This initiative, sure to be opposed, will necessitate provincial co-operation.
Some of these suggestions are more easily implemented than others, but all warrant your consideration. With more than a hundred Canadians dying every month, there is no time to waste.
Dr. David Juurlink is professor and head, Division of Clinical Pharmacology, at the University of Toronto.
David is a Troy Media contributor. Why aren't you?
---

The views, opinions and positions expressed by columnists and contributors are the author's alone. They do not inherently or expressly reflect the views, opinions and/or positions of our publication.