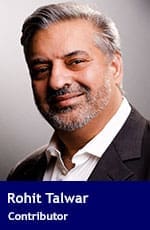 Tomorrow's leaders in the automotive sector will need to be deeply connected to the world around them to ensure that they're truly aware of potentially disruptive current and emerging developments taking place across the sector and in the broader environment.
However, as we look to the future, there are few facts about what has yet to happen. In many cases, it is far too early to distinguish between what could turn out to be a temporary fad and the more substantive ideas and developments that could turn into significant trends. But I have identified a number of developments and emerging ideas that have the capability to endure.
Nanotechnology, smart materials and a range of new and emerging design and manufacturing approaches are starting to enter the sector. These could have a significant potential impact on the value chain from concept creation through to manufacturing, maintenance and repair.
For example, there is much talk of 3D printing being used to manufacture components and to develop entirely new vehicle lines (e.g. Local Motors' Strati which has just 50 components). It could also allow us to reintroduce iconic vehicle designs of the past and manufacture them economically in very small quantities. In the medium to longer term, 4D printing could enable us to produce objects that can change their shape and properties over time.
Digital and Connected Digital transformation, the internet of things and advances in smart technologies such as robotics and artificial intelligence are blurring the boundary between the physical and virtual world. Collectively, they could turn our cars into "always on", highly connected, self-monitoring, self-managing technology platforms that can be updated as frequently as the app library on a mobile phone.
Autonomous Vehicles
A growing number of manufacturers are building fully or partially autonomous vehicles. Dramatic claims are being made about their potential to cut accident rates, improve fuel management, increase traffic flows, and reduce the number of taxis required in a city.
Evolution of Business Models
There is gradual shift taking place from focusing on a vehicle as a one-off product sale to viewing it as a digital service platform, information centre, and commercial portal with recurring revenue streams. At the same time, consumers are embracing concepts like the sharing economy with a growing interest in "usership" over ownership. Hence, a number of manufacturers now offer shared ownership schemes where up to 30 customers may become co-owners of a single vehicle. For many, the rise of taxi services like Uber has enabled them to see their car as a revenue earning asset, not a cost centre. This creates opportunities for manufacturers to explore the potential of sharing risks and rewards with the vehicle owner. Some are going so far as to suggest that we could see the emergence of "self-owning" autonomous vehicles. The idea is that those involved in producing the vehicle and supplying the components would receive a continuous stream of revenues from the earnings of the vehicle over its lifetime.
Societal Shifts
A number of broader societal trends are also beginning to touch on the automotive world. Again, their long term impact is very difficult to predict and so we have to prepare for a range of possibilities. For example, we are experiencing radical changes in public thinking about the need for more integrated planning of the future of mobility and the value of smart infrastructures. The expectation is that transport systems and city infrastructures can be managed far better with lower ecological impact once the fully connected vehicle is communicating continuously with its external environment. At the same time, a variety of "open source" car design projects such as OSVehicle, coupled with the reduced complexity of 3D printed cars and electric vehicles, are bringing down the cost and time to develop new designs. There is also growing societal acceptance of crowdfunding platforms like Kickstarter for innovation and Crowd Cube for equity raising.
Collectively, these shifts are enabling new vehicle manufacturers to test the market for new product concepts and raise seed funding without making major initial investments. The crowdfunding platforms are proving an effective route to raise finance and build brand awareness among a target market. A growing societal emphasis on environmental sustainability is also spurring the development of green vehicles and encouraging manufacturers to think about recycling and the "cradle to cradle" lifecycle of a vehicle.
Rapidly Evolving Market
The rapid development and sizeable populations of many emerging countries are creating new vehicle markets and several million new car buyers enter the market each year. From ultra-lost cost vehicles, such as the Tata Nano through to extreme luxury like Rolls-Royce – demand is growing. Competition is also likely to increase as local manufacturers continue to emerge in more populous countries such as China, India, Malaysia, and Indonesia.
Rohit Talwar is a global futurist, strategic advisor and the CEO of Fast Future Research and Fast Future Publishing.
Rohit is a Troy Media contributor. Why aren't you?
---

The views, opinions and positions expressed by columnists and contributors are the author's alone. They do not inherently or expressly reflect the views, opinions and/or positions of our publication.