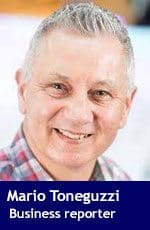 The first Homes For Heroes village, a housing initiative for homeless Canadian Forces veterans, has launched in Calgary.
ATCO Village, in southeast Calgary, features 15 tiny homes, a resource centre, counsellor's office, family suite and community gardens.
Officials say a tiny home provides veterans with privacy, a sense of security, peer-to-peer support and the ability to reintegrate at a comfortable pace. Veteran services are facilitated onsite, directed by The Mustard Seed and supported by Veterans Affairs Canada, providing residents with mentoring, case management, counselling, and links to other programs and services.
ATCO provided its knowledge in the design, build, manufacture, delivery and placement of the tiny homes, through a $1.5-million in-kind donation.
"Our team at the Homes For Heroes Foundation has met with hundreds of veterans who are in crisis and experiencing homelessness," said David Howard, president and co-founder of the Homes For Heroes Foundation.
"We wanted to build a program that can help them with a successful transition to civilian life. Our veterans are proud warriors, proud of their service and proud to be citizens of Canada. They want a hand-up, not a hand-out. We listened to what they had to say and we designed our foundation around meeting their needs."
"The people of ATCO have a long and proud history working alongside the brave men and women of Canada's military – heroes who have given so much to preserve our security and freedom," said Nancy Southern, chair and chief executive officer of ATCO. "That is why it is such a profound honour for ATCO to participate in this critical project, and to provide our veterans with a place that they can proudly call their own, a small but important gesture when measured against their herculean sacrifice."
The Homes For Heroes Foundation said it plans to build additional villages across Canada and is working on a second village in Edmonton. The foundation is also in land discussions with cities in British Columbia, Manitoba, Ontario and the Maritimes. The land for ATCO Village was purchased at a discount from the City of Calgary, as part of the city's affordable housing strategy, it said.
"We needed them and they answered the call. Now many veterans need us and we will now be able to answer their call," said Murray McCann, co-founder of Homes For Heroes Foundation, a local philanthropist, entrepreneur and the founder of the annual Field of Crosses display along Memorial Drive.
"A made-in-Calgary solution for aiding veterans with difficulties transitioning to life in everyday society can now realize its potential in Calgary and across Canada."
The foundation said it's estimated that there are 3,500 to 5,000 homeless Canadian military veterans who have been unsuccessful in transitioning from their military careers to healthy and productive civilian lives.
---

The views, opinions and positions expressed by columnists and contributors are the author's alone. They do not inherently or expressly reflect the views, opinions and/or positions of our publication.