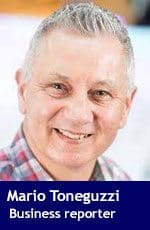 The first Homes for Heroes village is moving forward in Calgary, with plans to build a similar project in Edmonton for Canadian veterans.
The Homes for Heroes Foundation has announced that the City of Calgary has approved land redesignation for the first village of about 15 homes in the southeast Forest Lawn neighbourhood.
"We needed them and they answered the call. Now many veterans need us, and we will now be able to answer their call. A made-in-Calgary solution for aiding veterans with difficulties transitioning to life in every day society can now realize its potential in Calgary and across Canada," said stated Murray McCann, chairman and co-founder of Homes for Heroes Foundation.
"We are so pleased that, after three years plodding the hurdles placed by City Hall, approval has been given by the City of Calgary to a land use designation for a Homes for Heroes Village. Now, while governments talk about what they're going to do, we, the private sector, can go ahead and do it. We are overwhelmed by the number of private individuals and corporations that have offered to help us in this long overdue initiative. It's payback time by a grateful nation. Soldiers don't leave their wounded on the battlefield."
The foundation, whose purpose is to end homelessness among the veteran population, said the tiny home villages concept comes with a complete social service program to help veterans with their transition to civilian life. That will be managed by the Mustard Seed.
The foundation said the first tiny home community is scheduled to open in Calgary in the spring of 2019, with the second village to be opened in Edmonton in the fall of 2019. It is the goal of the Homes for Heroes Foundation to have a tiny home village in every major centre across Canada, it said.
"We are convinced that we have a model that could end homelessness among those who have stood on guard for Canada," said David Howard, president and co-founder of Homes for Heroes Foundation.
"Companies and individuals have stepped forward to sponsor homes in the project and we truly appreciate this support. What we need now is for more cities like Calgary and Edmonton to identify lands in their municipality for us to build on. We have the funds to build and run the villages but need the cities to donate the land for this model to be successful."
---

The views, opinions and positions expressed by columnists and contributors are the author's alone. They do not inherently or expressly reflect the views, opinions and/or positions of our publication.