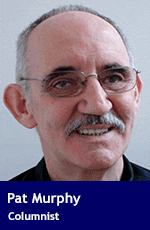 Laurel and Hardy's Hollywood heyday was before my time. I started going to the movies in the early 1950s, by which point their cinematic status had been eclipsed by other comedy duos like Abbott and Costello and Martin and Lewis.
Still, the new biopic Stan & Ollie strikes nostalgically resonant notes.
One of the more pleasant memories from my Irish schoolboy days relates to the annual Christmas picture show. During the week prior to breaking up for the holidays, an old film would be shown in the former army gymnasium that functioned as an assembly hall. It invariably featured Laurel and Hardy.
The Christian Brothers running our school were men who'd grown up in 1930s-40s rural Ireland. To them, Laurel and Hardy were the greatest. And although we city kids enjoyed the afternoon – particularly the absence of classes – our appreciation of the film paled in comparison.
Laurel (1890-1965) was born Arthur Stanley Jefferson in the north of England. The family was theatrical – his father a theatre manager and his mother an actress – and he never wanted anything but to be in the business himself. After a stint with his father's resident troupe, he launched a solo act before moving to the U.S. in 1912. Shortly afterwards, he changed his name to Stan Laurel.
Norvell Hardy (1892-1957) was born in Georgia. His father, Oliver, died when Hardy was very young and he subsequently adopted his father's given name in place of his own.
Hardy was a big man, standing over six feet and weighing as much as 300 pounds. Unsurprisingly, the latter imposed limitations on his early acting career. Aspirations for leading man status were futile.
Laurel, in contrast, had hopes for solo stardom. But it didn't happen.
Eventually, film producer Hal Roach conceived of putting them together as a regular team. So, professionally born in 1927, the Laurel and Hardy duo began appearing in silent shorts before migrating to full-length features in the talkie era.
They became internationally famous. Their appeal even reached into small villages in rural Ireland, places without regular cinemas. Once a month or so, a travelling exhibitor would show up and project a film onto a white sheet in whatever functioned as the village hall.
Personally, the two men were very different.
Although always professional on set, Hardy was the sort of guy who left his job at the office. He liked to play golf, go to the racetrack and socialize.
Laurel, on the other hand, was driven. If he wasn't creating storylines and writing routines, he was immersing himself in the editing of their films. To him, comedy was a vocation, perhaps even an obsession.
Interestingly, there are those who consider Hardy to have been the better screen actor. Having earlier worked as a film projectionist, he realized that movies are inherently different from the stage. On the screen, subtlety works and the impact of small gestures is magnified when the camera comes in for a close-up.
Laurel, though, doesn't lack admirers. For instance, the actor Dick Van Dyke rates him higher than Charlie Chaplin: "With Chaplin, I can always see the technique showing but with Stan the technique never shows."
Maybe the best way to think of their craft is that they complemented each other. To borrow an often overused term, they were a team. The whole was much bigger than the sum of the individual parts.
When the demand for their movies tailed off in the mid-1940s, Laurel and Hardy found themselves in a difficult spot. They had relatively little money put aside.
In part this was due to Roach's contractual machinations. By such strategies as varying the expiry dates of their individual contracts, he was able to pay them less than what otherwise would have been the case.
But personal money management didn't help either. Alimony payments – they both had multiple wives – and Hardy's gambling habit ate away at their resources.
And so it was that they found themselves reduced to doing extensive personal appearance tours in the United Kingdom and Ireland. Performing a 20-minute bill-topping spot, they trudged around the variety theatre circuit.
And it's this touring ambience that provides the biopic's bittersweet setting. A gentle meditation on physical decline, it's also a pungent reminder of fame's transience.
As Laurel wryly expressed it, "Yesterday in Hollywood I was everybody's host, today I'm nobody's guest."
Pat Murphy casts a history buff's eye at the goings-on in our world. Never cynical – well, perhaps just a little bit.
For interview requests, click here.
---
The opinions expressed by our columnists and contributors are theirs alone and do not inherently or expressly reflect the views of our publication.
© Troy Media
Troy Media is an editorial content provider to media outlets and its own hosted community news outlets across Canada.