---
---
Contact Greg
EDMONTON, Alta. Nov 29, 2015/ Troy Media/ – Originally, the Elf Light was either a beam of light from the sky reflecting off shiny ornaments or the glow of Rudolph's red nose. But today, the Original elfLight – a gadget designed to make your annual holiday light hanging agony virtually non-existent – provides whole new meaning.
Rather than a string lights outside your house this Christmas, the Original elfLight laser-light projection system simulates a sea of coloured bulbs onto your home, patio or garage. Better yet, the system means the ladder never has to leave your garage this Christmas.
The Original elfLight's sealed, sturdy metal alloy housing is designed to be both weatherproof and, to an extent, shockproof. You just have to prop it up by attaching it to the adjustable spike stand and sticking it into the ground or mounting it to a wall using the adjustable flat base stand (new for 2015) that comes with mounting screws. The elfLight is also suitable for use indoors.
It runs on standard AC power and comes with a corded transformer that connects to a long extension cord, giving you a good eight metres (25 ft.) of cable to work with.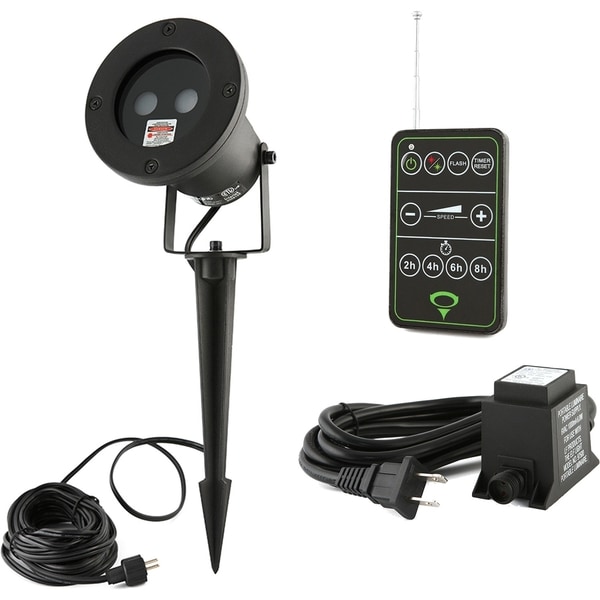 It's not Bluetooth or Wi-Fi enabled however: it runs on old school RF, like your TV remote and controlled by a wireless remote equipped with an antenna. This comes in handy because you can control your elfLight from inside your home – if you have enough range.
While I found it easy to set up, it was a little tricky to get started. When I plugged the light in, it defaulted to on but nothing happened. Then I figured out you have to press the power button on the remote within a few seconds for the remote to be recognized. After that, it's elementary.
With the elfLight, you can choose a single colour, red or green, or a combination of both. The red light pattern disperses more, and appears as stars in the sky, while the green pattern is denser; together, however, they both create a neat lighting effect. You can also choose to allow the lights blink or flash at one of three speeds – all which you set through the remote. You can also choose whether the lights operate for two, four, six or eight hours.
Ten feet from your house, the light will project to an area of about eight metres x eight metres (25ft x 25ft) or up to 190 metres² (625 ft.²). At 4.5 metres (15ft), it's 274 metres² (900 ft.²). The further away from the house the dimmer the projection will be. Of course, how effective the lights are overall will depend on your background – it seems to work best with white houses and on the amount of ambient light around it.
I found the Original elfLight to be a pretty cool little concept. You can still partake in your annual Christmas lighting festivities but without the hassle of stringing lights. It's well built and energy-efficient, consuming on average of about 5 Watts of power. And since it uses LED rather than traditional lights bulbs, it should last for years.
You can add a second elfLight if you want to cover a larger area – although that might make your set-up a little pricey – controlling both as one set of lights with the single remote.
It's unfortunate that the elfLight is limited to only two colours. More available colors would add variety, and allow you to use at it other times of the year for other purposes. There's also no LED display, so if you set the timer to one of the four timing options, you'll need to remember which one it is.
But as I said, conceptually, it's great, simple and it works. But along with more colours, I would like to see app control and the ability to customize added to future iterations.
One concern I had was the fact that as the system sits outside you risk the chance that it may not be there when you get up in the morning.
The Original ELF Light retails for $199 and is available in many retail locations including London Drugs, Lowes and as well as Amazon, but you may find a better deal given the extended Black Friday and Cyber Monday sales.
Senior Editor Greg Gazin is a Syndicated veteran Tech Columnist and Small Business and Technology Speaker, author and Past Toastmasters District Governor. Greg is included in Troy Media's Unlimited Access subscription plan.
---
Troy Media Marketplace © 2015 – All Rights Reserved
Trusted editorial content provider to media outlets across Canada
Terms and Conditions of use Get Help FAQ
[contact-form-7 id="80428″ title="Letter to the Editor"]