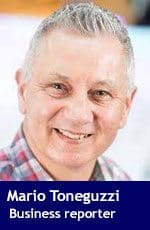 Total chartered bank household credit growth in Canada accelerated in August, supported by an expansion in residential mortgage credit and non-mortgage credit that was the fastest in about two years, says a new report by Scotiabank.
But the report also said that growth in home equity lines of credit (HELOCs) has slowed since its peak in late 2018, and HELOC borrowing is expanding at its slowest rate since the end of 2016.
"Total borrowing by individuals from chartered banks rose by 5.8 per cent month over month at a seasonally adjusted annualized rate (saar), above the six-month average of 4.7 per cent. … Mortgage loan growth accelerated to 6.8 per cent … reflecting the recent revival in Canadian housing market activity after a weak start to the year. Meanwhile, growth of consumer credit excluding HELOCs slightly decelerated to 4.4 per cent month-over-month saar and growth in HELOCs slowed to 1.4 per cent … well below the 2019 year-to-date average of 2.0 per cent … and double-digit m/m growth rates seen in 2017. Six-month average growth rates continued to trend upward in mortgages and consumer credit, while falling in HELOCs," said Scotiabank.
The report said mortgage credit trend growth sped up from July, while HELOC borrowing decelerated. Total mortgage credit trend growth from chartered banks accelerated to 5.5 per cent year over year in August, in line with rising home sales as labour markets have continued to perform and interest rates have fallen. In year-on-year terms, HELOC borrowing has continued to consistently decelerate from its recent peak of 6.7 per cent year over year near the end of 2018, reaching in August its slowest rate of expansion since the end of 2016.
"However, with growth at 3.7 per cent year over year in August, HELOC borrowing is not stagnant by any means. HELOCs continue to account for almost half of the stock of all consumer credit, and around one-seventh of total household credit borrowing from chartered banks – down slightly from levels seen in 2012," said Scotiabank.
"The use of HELOCs in Canada remains centralized around self-investment in the form of renovation, home repair, and debt consolidation. In Canada, renovation spending has been on a rather steep upward trajectory for the last 18 years. In fact, Canadians have been spending 1.2 per cent of their annual disposable income on home improvement since 2014, a higher share than the average of 0.7 per cent that prevailed through the 1990s. 
"This increasing investment in home renovation is occurring as unsold inventories of homes remain low and housing affordability is challenging – all of which favour renovation over relocation. Overall, the number of Canadians in the greater Toronto horseshoe area who own more than one property has been consistently trending upward through the last decade, financed in part by the 15 per cent of HELOCs that are being devoted to residential property purchases. Despite the rising level of multiple-property ownership, less than half (i.e., about 45 per cent) of households have a mortgage and/or HELOC. With strong HELOC growth in recent years, the share of households that have a HELOC and a mortgage was 11.0 per cent in 2018, up only slightly from 10.6 per cent in 2017."
---

The views, opinions and positions expressed by columnists and contributors are the author's alone. They do not inherently or expressly reflect the views, opinions and/or positions of our publication.