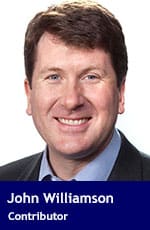 Ottawa's health-care funding model is failing. That, at least, is what Atlantic Canada's premiers tell anyone willing to listen. They want Ottawa to direct more health dollars to our region because we have an older population and a shrinking workforce. The premiers say we're being shortchanged.
Premier Brian Gallant believes federal health transfers, distributed based on a province's population, should be increased to reflect New Brunswick's rural and aging population. His demand was echoed last week by Nova Scotia. "We've all been clear that funding health care on a per capita basis doesn't work for Atlantic Canada," Premier Stephen McNeil said at a meeting with his Atlantic counterparts. They want a demographic "top-up" for our region's aging populations.
Health budgets are under financial pressure across the country. What varies between provinces are the number of young and older residents. Seniors account for 15.7 per cent of Canada's population. According to Statistics Canada, New Brunswick and Nova Scotia are the greyest provinces. People aged 65 and older make up 18.3 per cent of the population. P.E.I. and Newfoundland and Labrador aren't far behind at 17.9 and 17.7 per cent, respectively.
Medicare spending on young and older Canadians isn't uniform. There is a greater cost burden on provinces with more seniors since the average 70-year-old consumes more health care than a typical 30-year-old.
But Atlantic Canada is hardly alone. Seniors comprise 17.1 per cent of Quebec's population and 17 per cent in British Columbia.
Each year, Ottawa transfers over $36 billion to the provinces and territories for health. New Brunswick will receive $754 million this year, Nova Scotia $943 million and P.E.I. $147 million. If these amounts seem small, it is because Atlantic Canada has a small population.
Canadians expect the federal government to fund programs in a manner that treats individuals similarly. That isn't the case with a strict per capita health-care formula.
If federal transfers to provinces ended with the population formula, our premiers would have a strong case for reform. But Ottawa's role is larger than the provinces let on. Any discussion on health funding is incomplete without taking stock of the equalization program, a massive federal transfer that tops up provincial budgets.
Ottawa's equalization budget will exceed $17.8 billion this year and several billions will go to Atlantic Canada. Equalization evens out tax revenue among the provinces, allowing less wealthy provinces to offer social programs that are equivalent to services in other provinces at comparable tax levels.
New Brunswick and Nova Scotia will each collect $1.7 billion in equalization this year and P.E.I. gets $380 million. Equalization amounts are much higher than the health transfers because they are meant to boost a province's entire budget.
Premiers are reluctant to link equalization to health spending. Yet equalization implicitly accounts for our aging population and compensates Maritime provinces for having a less robust tax base due, in part, to having less economic activity and fewer young workers.
Provinces that receive equalization can spend those dollars however they wish. But wasting tax money on corporate welfare or a bloated public service means fewer dollars for important social programs, like health care.
Canada's generous equalization program means it is unlikely Ottawa will deliver a new demographics top-up to eastern provinces, or Quebec and B.C. Particularly when the federal government is running massive deficits.
Atlantic Canada's demographic and economic difficulties are not caused by too many senior citizens. Instead, we have too few young workers due to a slow economy. Government policies are largely responsible for our stagnation.
We have higher business taxes than other provinces and our nearest competitors in New England in order to subsidize handpicked companies. We shut down onshore natural gas development yet worry about consequences to the workforce when young families leave to work in the same industries elsewhere. To hire more government workers than the national average we impose the highest personal income tax rate in Canada and, soon, the country's highest HST rate.
These self-inflicted policies drive young people away and increase the ratio of seniors to young workers, pushing up the province's per capita health costs.
Atlantic Canada must adopt the pro-growth policies that provinces west of Quebec have demonstrated work. Creating the conditions for growth isn't as easy as going to Ottawa with a tin cup. But growth means job creation, more taxpaying workers and more young people who use fewer health services.
Instead of being preoccupied with the number of seniors, we should be bringing the kids home.
John Williamson is a former Member of Parliament and past National Director of the Canadian Taxpayers Federation.
John is a Troy Media contributor. Why aren't you?
---

The views, opinions and positions expressed by columnists and contributors are the author's alone. They do not inherently or expressly reflect the views, opinions and/or positions of our publication.