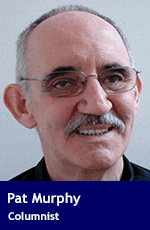 The case can be made that the Roaring '20s actually began 100 years ago this month.
On July 4, 1919, Jack Dempsey won the world heavyweight boxing title from Jess Willard in Toledo, Ohio. Waged in a purpose-built outdoor arena with an ambient ringside temperature of around 100F (37C), the fight is considered one of the most brutal ever. The New York Times report described it as "a kind of pugilistic murder."
One of the defining characteristics of the Roaring '20s was the ascension of celebrity culture, much of which was focused on professional sports. Dempsey was a prime example, perhaps rivalled only by baseball's Babe Ruth. And from the moment he won the title, Dempsey was hot stuff.
Born into the Mormon community of Manassa, Colo., Dempsey was of mainly Irish extraction. He defined his ancestry this way: "I am basically Irish, with Cherokee blood from both parents, plus a Jewish strain from my father's great-grandmother."
His upbringing wasn't easy.
Leaving home at 16, Dempsey drifted around the American west, earning his living at various occupations from miner to brothel bouncer. There were even hobo interludes involving dangerous travel by riding the rods. He later described it as having "only a few inches between you and the tracks and roadbeds – and death."
So by the summer of 1919, Dempsey was a hard man in all senses of the term. Still, he went into the Willard fight as the underdog.
It came down to a question of size. The defending champion, Willard, was far bigger.
In fact, at six-foot-six in height and 245 pounds in weight, he dwarfed Dempsey. If you watch the fight film on YouTube and focus on the scene where the two men stand together before the first bell, the image you'll see is one of a giant towering over a much smaller individual.
Such was the size differential that, according to journalist Paul Beston, Willard even asked for "legal immunity in case he killed the challenger."
That, however, wasn't how it turned out. Not by a long shot.
Again, video vividly tells the story.
Dempsey's relentless ferocity is stunning. Fighting in a style that wouldn't be permitted in a modern boxing ring, Dempsey knocks Willard down seven times in the first round, hovering over him and resuming the beating as Willard struggles to his feet. Saved by the bell, Willard lasts an additional two rounds before failing to come out for the fourth.
Dempsey promptly caught the public imagination. He was different and colourful, the very antithesis of bland. His energy and restlessness were in tune with the era.
There was also the matter of money. By generating hitherto unheard of million-dollar gates, Dempsey was instrumental in bringing big money into professional sports.
The 1921 bout with Frenchman Georges Carpentier pulled in 90,000 spectators and $1.8 million in ticket sales. Adjusted for inflation, that would be worth around $23 million today. It was also one of radio's first mass broadcasts.
Dempsey repeated the feat against Argentine Luis Firpo in 1923, earning a then-astronomical purse of $500,000 in the process.
Firpo – dubbed the "Wild Bull of the Pampas" – was a colourful character in his own right. Untutored in the subtleties of defence, he was a big man whose modus operandi was to club his opponents into submission.
And in a frenzied first round, he almost did it to Dempsey.
Despite being knocked down seven times, Firpo's residual power was such that he sent Dempsey through the ropes onto the reporters sitting at ringside. Assisted by a helpful push from representatives from the New York Tribune and Western Union, Dempsey managed to scramble back with just a second to spare. Thus restored to his feet, he dispatched Firpo in the next round.
In between successful fights, Dempsey's attention turned to Hollywood, where he met and subsequently married silent screen star Estelle Taylor. He also acted, or at least appeared, in movies.
The first such venture was 1920's Daredevil Jack, a 15-episode action serial. This was followed by a series of shorts where he played a character called Tiger Jack O'Day. And in 1925 he co-starred with Taylor in a remake of Manhattan Madness.
However, Dempsey's ring nemesis awaited in the person of another – very dissimilar – Irish-American. Gene Tunney was an altogether different kettle of fish.
That, though, is for next week's column.
Pat Murphy casts a history buff's eye at the goings-on in our world. Never cynical – well, perhaps just a little bit.
---

The views, opinions and positions expressed by columnists and contributors are the author's alone. They do not inherently or expressly reflect the views, opinions and/or positions of our publication.