We crossed over the stone causeway connecting the mainland to St. Michael's Mount, just as the tide waters were beginning to lap at its seaward foot.
We decided to walk along the beachfront to Penzance. It looked about five km on our map.
All along the beach, as far as we could see, there were couples and families strolling along in both directions. Above the white sands there was also a paved bike path. It was also getting plenty of use this Monday early spring bank holiday afternoon.
Further above us on Ludgvan hill, we could make out the distinctive four spires on the 14th-century bell tower of St. Peter the Apostle Church, just up the road from our Old Primary School accommodations.
Our guidebook explained that the church was built to celebrate St. Ludewon (the precursor root of Ludgvan perhaps?), who brought Christianity to Cornwall in the sixth century.
From the beach, we could easily see our earlier route down through the great marsh and our prospective return route to Ludgvan village.
But for now, Penzance was calling.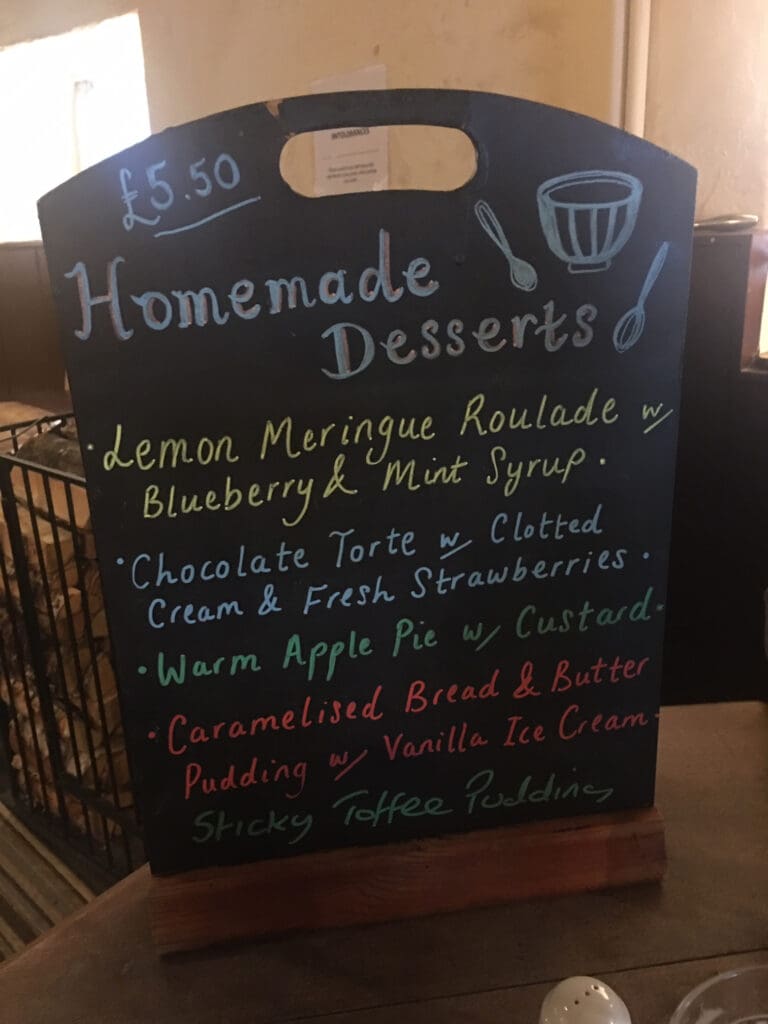 St. Peter's Church, Ludgvan
The White Hart Public House, Ludgvan
The White Hart dessert menu
Millennial training in Penzance
St. Michaels's Mount as the tide comes in
We walked into town and went shopping again for some basic foodstuffs, and strolled about the urban core. It was clearly more of a working town than a tourist one, and had a basic look of struggle.
Two large store fronts were given over to "Pop Up Innovation Centres" offering local support to small business startups, with hot desks, specialist consulting advice, workshops and "business surgeries," complimentary Wi-Fi and meeting rooms. Clearly, millennial rebranding and rebuilding was underway.
We stopped at a seaside tea house for a rest after clocking 15.7 km, 18,697 steps and 24 floors of climbing on my phone app.
At 5 p.m., we opted for a 15-minute cab ride home rather than a return by the buzzing motorway path.
Back at the Old Primary School, we consulted the hosts' local tip sheet and decided to walk 150 metres up the road to The White Hart, the village pub just below St. Peter's, for dinner.
What a brilliant decision that turned out to be.
The pub sign revealed the namesake to be a stag with a full rack of antlers. Just below his painted face, a low front door beckoned into a medieval-looking two-storey stone building. I had to duck as we walked into a wood-panelled, well-lit great room with tables and chairs for maybe 40 guests.
A chalkboard by the pub tap counter promised local steamed mussels, baked sole and roast beef as "Mains."
I was immediately invited to the bar by a friendly chap who promised to explain what ales were on offer. Meanwhile, a young woman was attentively explaining the dinner options to Lynn.
Three other tables were occupied by groups of four, local couples having a night out.
The atmosphere couldn't have been kinder or more friendly, even though we were definitely from away.
A portable chalk sign sat on an adjacent table, heralding homemade desserts for £5.50 each: "Lemon Meringue Roulade with Blueberry and & Mint Syrup; Chocolate Torte with Clotted Cream & Fresh Strawberries; Warm Apple Pie with Custard; Caramelized Bread & Butter Pudding with Vanilla Ice Cream; and Sticky Toffee Pudding."
What a dessert choice awaited us after making the choice of mains.
The mussels and sole proved best-ever choices; so were apple pie and bread and butter pudding with ice cream.
If Michelin Guide ever makes it to Ludgvan, they had best pay attention to The White Hart kitchen! The combination of the public house atmosphere, the friendly fellow diners, the superb locally-sourced food, the kind and attentive service, and the prevailing Ludgvan spirit made dinner the perfect end to our first long walking day.
We walked back to our lodgings simply wondering if a better day could be had – anywhere. And already tomorrow was beckoning. We had decided to walk to the tourist enclave of St. Ives on the north Cornish coast to see how it compared to Penzance and district.
Above us, a full moon was shining and a fresh ocean breeze blew in through the open bedroom window. Outside nothing stirred in the Cornish country night.
Troy Media columnist Mike Robinson has been CEO of three Canadian NGOs: the Arctic Institute of North America, the Glenbow Museum and the Bill Reid Gallery.
---

The views, opinions and positions expressed by columnists and contributors are the author's alone. They do not inherently or expressly reflect the views, opinions and/or positions of our publication.