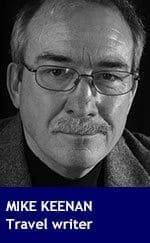 My favourite summer visit is Stratford, in southwest Ontario. It's an inviting locale with culture, fine food, history and world-class theatre.
Stratford Festival musicals are a prime source of revenue, and with H.M.S. Pinafore at the Avon Theatre and Guys and Dolls at the Festival Theatre, artistic director Anthony Cimolino has added two more winners this year.
Pinafore, a Gilbert and Sullivan operetta, celebrates everything English, symbolized by sipping tea.
Guys and Dolls, under gifted director Donna Feore, celebrates risk and dance. The remarkable dancers take the breakneck choreography through to a well-earned standing ovation at the end.
It's propelled by numbers such as Luck Be a Lady, A Bushel and a Peck and Sit Down, You're Rocking the Boat, along with comic dialogue between earnest Miss Adelaide (Blythe Wilson) and the unreliable Nathan Detroit (Sean Arbuckle), she a burlesque performer and he her fiancé of 14 long years.
A big budget offers 165 costumes and lavish sets that feature dances such as an exotic Havana number and a crapshooters' ballet with 19 talented men, while the Hot Box Girls front for provocative Miss Adelaide.
Prior to seeing the musicals, we enjoyed a Costumes and Properties Tour of a warehouse crammed with items. It's a working storehouse as materials are re-used and rented through an online catalogue system available to clients from Hollywood to local high schools.
In August, work selected by directors and designers starts on next season's sets in the scenic carpentry and paint shop at one end of the facility. Adjoining the warehouse are the archives from 1953 onwards, replete with scripts and information detailing how each play was performed, along with its costume sketches.
About 65,000 costumes and 10,000 boots and shoes are lodged here. We admired racks of dresses and suits, myriad hats and ingeniously-created props, such as a serving of turkey made from Styrofoam. A huge, multi-coloured, three-panelled banner for The Pirates of Penzance was made from a giant inkjet printer in Toronto and sewn together here. Some exquisite dresses are worth up to $4,000 and they create 1,000 new costumes in house each year.
Our guide, Vern, explained that vodka spray is a wonderful way to reduce body odour on costumes. He's one of 200 volunteers and 40 associates, who typically spend two years on a waiting list before being asked to join.
We worked up a thirst quenched at the Black Swan Brewing Co., near the Avon Theatre. As we walked in, three exuberant ladies from Colorado raved about the craft beer and purchased large bottles to transport home ‒ as we did!
Co-owners Ryan Stokes and Bruce Pepper are high school teachers who started home brewing and dabbling in recipes. That coincided with the surge in popularity in craft brewing that has spawned microbreweries throughout Ontario.
Mercer Hall Inn's chef volunteered to conduct a beer dinner with them, a great success, and they never looked back. Now, their impressive brews are available in most local restaurants. Ryan thinks their Black Swan name provides a marketing advantage with its Stratford notoriety and also given that the city's iconic swans participate in the annual spring parade to the Avon River. Their English Pale Ale is served at the Avon Theatre.
There are many fine restaurants in Stratford but we tried newbies. Joe Gilchrist, owner of Downie Street Burgers, offers 15 different burgers. That includes the usual varieties, plus some with interesting combinations such as the Dirty Burger ($18), topped with crunchy peanut butter, strips of bacon, salty potato chips, maple garlic aioli, and arugula; the Black Swan Burger ($19), smothered with unique bacon jam, made using locally-brewed Black Swan EPA beer, and topped with Monterey jack cheese, arugula, tomato and garlic aioli; and the Knuckle Sandwich ($19), made with pulled pork piled high on a prime rib burger, Monterey jack cheese, hickory barbecue sauce and topped with dill pickles.
We elected to build our own delicious burgers. Joe assured us they only use Ontario-raised, grass-fed cattle of the highest quality, fresh and never frozen. The beef is delivered throughout the week and he prepares the patties daily.
Monforte on Wellington fits right in to Stratford's bucolic atmosphere. The whimsical ambience starts outside with a blackboard that asks, "Have you accepted cheeses in your life?" After that levity, you're greeted with bare-bulb lights fastened with long, looping black cords, spider web-like, and bare-brick walls decorated with large wooden cows' heads captioned with "Say Cheese" signage. Additional unusual items adorn the walls, including blackboards, musical instrument cases and a stuffed doll on top of a white piano festooned with duck's head drawings. The table tops are recycled wood, augmented by a single flower in a small glass vase. Very Alice in Wonderland.
We sampled a board with six varieties of Monteforte cheeses, all delectable. We split an order of mezze, flatbread and beans with water buffalo cheese and, of course, a grilled cheese sandwich on artisan bread with apple butter, all washed down with Beau's beer for my wife and Black Swan for me.
Owner and matriarch of Monteforte, Ruth Klassen, insists that fresh, local agricultural operations are far better than mass high-tech productions. Cheeses from their Monforte Dairy at 49 Griffith Road have been savoured at Toronto's Casa Loma and at a state dinner at Rideau Hall in Ottawa.
The Junction 56 Distillery tour with host and co-owner Mike Tice was educational and uplifting, with Jamie Donnely, Mike's partner, manning the storefront. The name derives from the fact that in 1856, two railroad lines operated in Stratford and their building is five metres from one track and close to the other. Hence, Junction 56 Distillery at 45 Cambria St.
Craft distilling is a now a major industry in the U.S. with 1,500 plants in operation and, after visiting a few, Mike now works full time at one of 16 distilleries in Ontario.
They use corn, wheat, barley and rye for whiskey, which also requires storage in oak barrels. Ingredients are purchased from a local farm and they mill the wheat themselves to ensure quality control. Besides vodka, gin, moonshine and liqueur, products include flavoured moonshine with maple, cinnamon and anise. They like to experiment and are getting experienced at their craft as our tastings attested.
The Stratford Perth Museum is a gem that celebrates the rich and diverse communities of Perth County. On display was the Franklin Expedition Exhibit (Parks Canada), Inuit art and a Stratford Festival costume exhibit, along with permanent exhibits. We enjoyed the Grand Trunk and Canadian National Locomotive Repair Shops exhibit. This museum is well worth a visit as one feels history permeate through its walls.
Gallery Stratford is one of Ontario's longest operating public art galleries, open for 50 years. We enjoyed the sculpture outside as well as the art inside, primarily pieces by Mark Czajkowski and Susan Dobson. Although limited in number, we found the exhibits fascinating. It's a good place to recharge one's batteries, close to the Festival Theatre. A waterfall attracts youngsters, along with a bridge in existential angst, not connected to anything except up-down staircases!
Staying at the Queen's Inn on Ontario Street made it easy for us to leave the car behind and walk everywhere. It's close to Balzac's, where one might spot actors enjoying a morning coffee. Their Boar's Head Pub is popular with the locals, offering a large selection of micro-brewed beers on tap.
Stratford's future has been dramatically enhanced with a provincial grant of $80 million to test driverless technology. It has smart-city status for its 31,000 citizens, thanks to an extensive wireless network and other infrastructure improvements that connect roads to traffic lights and cars. At nearby University of Waterloo, driverless technology is already being tested.
Stratford is a progressive place, but the beautiful community is also steeped in quality theatre, great food and wonderful spirits – human, brewed and distilled.
BECOME A TRAVEL LIKE THIS CONTRIBUTOR. Contact us for details. 
© Travel Like This
---

The views, opinions and positions expressed by columnists and contributors are the author's alone. They do not inherently or expressly reflect the views, opinions and/or positions of our publication.