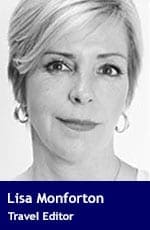 A fall road trip to Canmore and Kananaskis Country is the best escape from the craziness that comes with September. A quick drive from Calgary, the Bow Valley offers its eye-popping mix of greens and flashes of gold dazzling in the perfect light of late September and October (and maybe even early November.)
The big bonus?
Summer crowds are gone.
Here's how to spend a couple of days in Calgary's most popular mountain town in the fall. It's a mix of eating, drinking and a spicy hike to burn off the calories. We set out to check a few new spots and revisit a few favourites.
3 p.m. – Alberta's first distillery, brewery and restaurant all in one spot
Blow into town late Friday afternoon and kick off happy hour with a spirit tasting and tour at Canmore's RAW Distillery. This is an ambitious collaboration between Norm Flann and his son Blake (who own the restaurant as well as Canmore's PD3 street food truck), and distillery owners Brad and Lindsay Smiley. Housed in a former mechanic's garage, the distillery/restaurant (and soon to be brewery) space has a cool, industrial vibe.
Our guide Justine Watts took us through (generous) pours of RAW's five in-house-made spirits: two vodka, three gins, plus a special treat – an oak-aged gin. As we munched on a sweet-and-salty house-made popcorn, we made our way through the flight of spirits, all made from Alberta grains, as well as water from a natural limestone aquifer that runs beneath Banff, Canmore and the nearby hamlet of Exshaw.
My favourite: the peppercorn vodka, made with Tellicherry pepper, would go massively well in a caesar for that extra palate kick. My second choice is the barrel-aged gin, straight up on the rocks or in a traditional old fashioned.
The tour costs $15 and lasts about an hour.
We bumped into Norm Flann, who was busy getting the new craft brewery up and running. It's expected to open in the next couple of weeks and will feature a selection of beers on tap – steering clear of the uber-hoppy IPAs dominating the market right now, and rather making more traditional styles, such as blonds and amber ales.
You could also check out Wild Life Distillery, which was bustling the day we popped in. Aside from taking a tour and tasting, you can hang out in the pleasant space (or in a small patio area out front) to sip on their house-made cocktails.
5 p.m. – A revamped hotel on main street
We were pleasantly surprised when we checked into the Lamphouse Hotel on Canmore's main street, Eighth Street. The 25-suite hotel has undergone a total renovation and a welcome refresh since we last stayed there in 2018.
Check-in is a breeze with a fully automated keypad entry system and rare hotel amenity – free parking on the premises – and free Wi-Fi. We stayed in a comfortably roomy king-sized suite that was clean, contemporary and has mountain views. There's a tree-ringed outdoor hot tub that overlooks the Bow River (but not quite ready to open when we stayed). The room has a fridge and Nespresso, but the real bonus is you're right on the main drag for shopping and going out for meals. Rates range from $150 to around $300.
7 p.m. – Earthy goodness at The Sensory Restaurant and Wit Bar
Our dinner was at one of Canmore's newest fine-dining establishments, The Sensory Restaurant and Wit Bar, which opened in April. Chef Tracy Little is the dynamo behind the restaurant's impressive menu. She works closely with owner Terry Jensen. He was serving guests on the Friday night we were in the airy and sleek upstairs dining room.
Earlier in the day, I foraged with Little just down the highway on a piece of land bounded by forests and mountain views near Stewart Creek Golf and Country Club. Little heads out there a few times a week to play what she likes to call "finders, keepers," gathering some of the wild plants and flowers.
Within 30 minutes, she had bags full of wild mustard (used in various sauces) and timothy hay, which she likes to toast for a chicken sauce. She also gathers bluebells and clover to pretty up her meat-forward menu. And she couldn't leave without some sweet wild raspberries and the conical-shaped shaggy mane mushrooms, which she likes to serve straight up sautéed in butter.
"It's a perfect opportunity for someone like me to have my own farmland."
Little started foraging as a child in Fort McMurray with her father, who was a forester. So she knows her stuff. But it wasn't until a few years ago that the chef, trained at Fanshawe College in London, Ont., realized her childhood forest grazing experiences and love of cooking would come together to define her menu.
Her repeat customers regularly bring her harvested goodies from their backyards, everything from crab apples to horseradish leaves. (The next day we popped in for a late-afternoon cocktail at the Wit Bar and enjoyed the best caesar ever made with beet juice. While sitting at the bar, a local came in bearing a bouquet of horseradish leaves for Little.)
If you're open to eating what's made with Little's muses, I'd go with the Trust Me, the chef's three-course meal. It includes an amuse-bouche, a main and dessert, and for $30 you can add the wine pairing. The rest of the menu is pretty incredible, too, changing seasonally and sourced locally. I had cocoa-rubbed elk from Priddis, Alta., and my husband tried the Brant Lake duck dish with chokecherry chips. There's even a Wagyu beef from Brant Lake, a cross between wagyu cattle and red and black Angus cows.
10 p.m. – Late evening pool games and music at the Canmore Hotel
I was disappointed there was no live music happening at the Canmore Hotel Hostel the night we went, because I have some raucous memories of evenings dancing in this once dive-y bar.
It's still a fun place to hang out, but now much more staid after a massive year-and-a-half-long renovation, reopening in 2018.
You can also play pool and sip on some of Cochrane's Half Hitch Brewing brews, as well as many other Alberta beers and cocktails. It has an expanded pub area and patio serving up typical lunch and dinner pub grub.
And if you're looking for budget accommodations, you can get a private room for around $55 a night.
10 a.m. – Valley views from historic Ha Ling Peak
With all the hiking trails right in your face, you can't not go on a day hike when you're in Canmore. We could have taken an easy and pretty lake loop at Grassi Lakes, but our first pick was to check out Ha Ling Peak.
There were hordes of people because it had been closed all summer for trail renovations. You'll get your glutes singing on this short but steep 740-or-so-metre elevation gain over 3.3 km one way. But the big payoff is the stunning view of the Bow Valley and Canmore. (On this day, we could see downtown Calgary highrises way off in the distance.)
I love the long-told folk tale of this distinctive 2,407-metre peak, named after a Chinese cook who took on a $50 bet in 1896 that he couldn't climb up and down within 10 hours. He arrived back in time for lunch.
No one believed he'd done it, so he took the doubters with him back up the mountain to show them the flag he'd planted at the top. This time, he staked an even bigger flag so it could be seen from the valley.
His feat motivated the locals to call it Chinaman's Peak. That name stuck until 1998, when it was renamed after the legend himself – Ha Ling.
The trail reopened in August, with much-improved trails, benches along the way and a series of steps and handrails, making the ascent slightly easier and more scenic, with some tree removal for rest stop views.
All that huffing and puffing up this colossal hunk of rock will pay off in the vistas that unfold as you gaze over the lip of the storied landmark.
Sunday morning – Nordic Spa Time
I'd say we timed our visit to the Kananaskis Nordic Spa at the Pomeroy Kananaskis Mountain Lodge pretty much perfectly. The next morning our thighs were ready for a therapeutic day-after-hike soak.
Just a half-hour or so drive south of the Trans-Canada Hwy on Hwy 40 and we were moaning from the pleasure of the hot and cool pools that were soothing our weary glutes.
You can easily spend a day here, gazing at the peaks from the pools, hanging around in the aromatherapy steam cabins or the hammocks wrapped in a cozy Canadian plaid robe offered to guests ($85 for the day).
By the time you head back to Calgary, Monday morning won't look so bad. The start of the week will seem like a breeze after a rejuvenating weekend of food, drink and mountain air.
The writer was a guest of The Sensory, The Lamphouse and Raw Distillery. The article was not reviewed prior to publication.
Travel Like This editor Lisa Monforton is an award-winning Calgary-based travel writer. Follow @lisamonforton on Instagram and Twitter.
BECOME A TRAVEL LIKE THIS CONTRIBUTOR. Contact us for details. 
---

The views, opinions and positions expressed by columnists and contributors are the author's alone. They do not inherently or expressly reflect the views, opinions and/or positions of our publication.