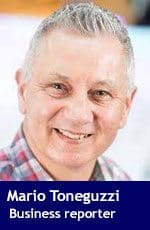 Brookfield Residential is bringing a new real estate concept to the growing University District mixed-use development.
The company, along with West Campus Development Trust, which is overseeing the neighbourhood development on University of Calgary land, announced on Thursday its new Capella project. Preliminary plans call for about 92 condo units in one building and 50 single-level residences in seven other smaller buildings.
Brookfield said the concept is drawn from its Southern California portfolio. It combines the spacious layout and flow of a single-level home with the appeal of condo life.
"We are excited to enhance University District's future with the addition of Capella, working alongside the Trust, a like-minded and creative partner," said Ryan Moon, director of business development for Brookfield Residential, in a statement. "We look forward to building this dynamic style of home, tailored for those who put their quality of life first and are ready for their next chapter in life. The design is fresh and relevant while meeting practical, evolving housing needs in Calgary."
Brookfield said the apartment condominiums will feature one- or two-bedroom plans at 550 to 1,000 square feet, while the single-level residence plans include two- and three-bedroom layouts from 1,300 to 2,000 square feet, including penthouse homes. The design includes a landscaped courtyard cabana, a breezeway, enhanced outdoor features, and fitness studio, all with lock-and-leave convenience. Prices will start in the high $200,000s for the modern condos and the high $600,000s for the single-level residences.
"Brookfield Residential exceeded our hopes with a design that offers something new to homebuyers – a diverse and accessible housing option with mindful layouts and exceptional features," said James Robertson, West Campus Development Trust president and CEO, in a statement. "The progression in our partnership builds upon the success of The IVY, Brookfield's first project at U/D, that welcomed new residents this summer."
University District is on 200 acres of land along 32nd Avenue N.W. and Shaganappi Trail. It will cost an estimated $25 billion to $35 billion to build for the entire project. When complete in 15 to 20 years, the community will have 15,000 to 17,000 people living and working there.
In its entirety, the project will include 40 acres of open space, 8.7 million square feet of buildable area, 250,000 square feet of ground floor retail along nine blocks, 1.5 million square feet of office space, and 6,000 to 6,500 residential units.
West Campus Development Trust said the single-level residences in the Capella project, which is designed by architecture and interior design firm McKinley Burkhart, will only have two to three homes per floor with a maximum of eight residences in each building all with access to a semi private elevator. In addition to private, attached garages, the single-level residences will offer more generous square footage and open layouts while the apartment condos will be urban by design and mindful of efficiently using living space.
The Capella show suite at University District's Discovery Centre opens to the public in October. Further information on the project's schedule for occupancy will be forthcoming.
Respected business writer Mario Toneguzzi is a veteran Calgary-based journalist who worked for 35 years for the Calgary Herald in various capacities, including 12 years as a senior business writer.
---

The views, opinions and positions expressed by columnists and contributors are the author's alone. They do not inherently or expressly reflect the views, opinions and/or positions of our publication.
Calgary's Business is a Troy Media Digital Solutions Associate website