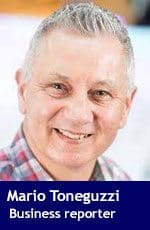 Across Canada's key metropolitan areas, young urban families have identified the cost of covering basic living expenses, such as rent, groceries and utilities, as their leading financial barrier to saving for home ownership, according to a new report released on Wednesday by Mustel Group and Sotheby's International Realty Canada.
"This factor surpassed the significance of other financial obstacles, such as paying for non-essential lifestyle expenses, paying off debt or student loans, and other obligations," said the report.
"Overall, 33 per cent of modern family homeowners reported this as their primary obstacle. Rates exceed this average in Calgary (38 per cent), Vancouver (37 per cent) and Toronto (35 per cent)."
Limiting or eliminating dining out, travel and personal expenditures are the top three home purchase savings strategies for young families across all metropolitan areas surveyed. But they're most frequently employed in Calgary, at rates of 54 per cent, 51 per cent and 47 per cent respectively.
"Modern family homeowners in Calgary are the most likely to have delayed saving for retirement in order to attain home ownership, with 23 per cent reporting the use of this strategy. Along with those in Vancouver, families in Calgary are also more likely to secure a job with a higher salary to save for a home, with 21 per cent citing this as a strategy. They are among the least likely to move back in with family in order to save for their down payment, at a rate of five per cent," added the report.
Along with their counterparts in Calgary, Vancouver families are more likely to secure a higher-paying job to save for their downpayment, at a rate of 21 per cent, said the report.
"Calgary families are more likely to cite paying off credit card debt and saving for retirement as key obstacles to down payment saving, at rates of 12 per cent and 11 per cent respectively," it said.
"In spite of significant challenges confronting the Calgary real estate market, including economic headwinds, a pullback in heavy oil prices and rising mortgage rates that have disproportionately impacted homebuyers in a recovering economy, real estate confidence levels are resilient amongst the region's young families. 64 per cent of families who own real estate maintain that their homes will out perform or match their financial investments in the next five years, with 31 per cent believing that real estate will surpass other financial investments.
"However, 20 per cent of Calgary families believe real estate will perform worse than other financial investments, more than double the levels of other major metropolitan areas."
The survey looked at the census metropolitan areas of Vancouver, Calgary, Toronto and Montreal.
– Mario Toneguzzi for Calgary's Business
---

The views, opinions and positions expressed by columnists and contributors are the author's alone. They do not inherently or expressly reflect the views, opinions and/or positions of our publication.