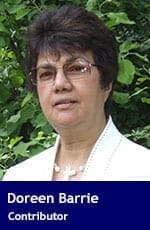 Will Albertans vote for the United Conservative Party on Tuesday?
The NDP election victory in 2015 is widely regarded as an accident. Many think it was an aberration in a deeply conservative province that, it's predicted, will return to its bedrock conservative roots on election day 2019.
The conventional wisdom is that Albertans are solidly in the conservative camp and in a moment of madness, voted for a social democratic party.
But in fact, Alberta's conservative credentials don't stand up to scrutiny.
Sadly, the province's image has been stripped of the lustiness of its youth. Instead, Alberta and Albertans are thought to be staid and strait-laced. The most exciting period in Alberta's history, from the Roaring '20s through the Dirty '30s and beyond, has been air-brushed almost out of existence.
A century ago, bootleggers and flappers rubbed shoulders with farmers, reformers and preachers in Alberta. Politically, the province was a hotbed of radical ideas.
A few nuggets from the past demonstrate the gap between perception and reality:
The Farmers' Platform in 1916 called for nationalization of railways and telecommunications networks, and demanded women's suffrage.
Militant Alberta delegates at the Western Labour Conference in Calgary in 1919 endorsed the principle of a "proletarian dictatorship."
Communists were elected at the municipal level and were active during the Depression.
When Ernest Manning was Alberta minister of trade in the 1930s, some of the measures he proposed were described by the Globe and Mail as "a long step on the road to state socialism."
Premier Peter Lougheed, who was in power from 1971 to 1985, abolished the ceiling on natural resource royalties to ensure Albertans received a fair return on their resource.
The Lougheed government also bought an airline, established the Alberta Energy Co. and invested in Syncrude to kick-start development of the oil sands.
None of these examples smack of conservatism. Far from clinging to traditional ways of thinking, Albertans have long fought hard to overturn the status quo.
Alberta, along with the other Prairie provinces, was long on the cutting edge of political innovation. It stepped out of the political mainstream, abandoning traditional political parties for half a century. The province elected the first female politician in the British Empire (Louise McKinney, in 1917) and boasts the first female cabinet minister in Canada (Irene Parlby).
As Albertans attempted to solve the problems confronting them – high tariffs, unfair freight rates and a tone-deaf federal government – they lost faith in existing political institutions and tried to address them by experimenting with non-partisanship. They were practical people who were pragmatic rather than ideological, willing to try new strategies to improve their lot. They took matters into their own hands instead of sticking to the political straight and narrow.
In more recent times, the image of Albertans as diehard conservatives has been carefully constructed for political purposes.
It started when Ernest Manning took over the Social Credit Party and sought to repair Alberta's reputation with the corporate sector. To erase memories of a province that defaulted on loans during the Depression and a party that had maligned banks, he re-invented the Socreds as corporate friendly and fiscally responsible.
Albertans also got a makeover: they were no longer a group of hotheads railing against the establishment; they were self-reliant, hardworking pioneers who morphed into entrepreneurs.
However, the prosperity that followed the discovery of oil blunted some of Alberta's early radicalism but hasn't transformed this province into an undifferentiated mass of conservative ideologues.
Nevertheless, United Conservative Party Leader Jason Kenney is doing his best to re-ignite old grievances and rekindle memories of Western alienation.
Kenney has reverted to a tried-and-true campaign tactic: attacking the federal government. And in a new twist, he's repeatedly uttered the phrase "the Trudeau/Notley alliance" to remind voters about the once-cordial relationship between Premier Rachel Notley and Prime Minister Justin Trudeau, with a subliminal nod to Trudeau's father, former prime minister Pierre Trudeau.
If the UCP wins the election, it won't be because Albertans are hidebound conservatives. It will be because the abysmal state of the provincial economy has left them angry and in a mood to lash out against the party in power.
Doreen Barrie is an adjunct assistant professor in the Political Science Department at the University of Calgary.
---

The views, opinions and positions expressed by columnists and contributors are the author's alone. They do not inherently or expressly reflect the views, opinions and/or positions of our publication.