Reading Time:
3
minutes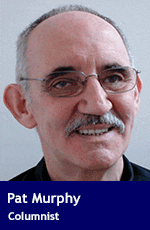 In politics, as in life, sometimes it's necessary to throw caution to the wind, damn the torpedoes and just go for it. Indeed, as Margaret Thatcher demonstrated 40 years ago, fortune can be induced to smile on the brave.
Thatcher's catalyst came from Conservative disappointment with the results of the October 1974 UK general election. It marked the party's third loss in four outings under Ted Heath's leadership, thus suggesting that he was past his electoral sell-by date. In addition, Heath's solitary nature meant that he had no reservoir of personal loyalty to fall back on for protection.
However, none of the party's heavyweights would stand up and openly challenge him. While many fancied the idea of being leader, sticking one's neck out was dangerous. Then Thatcher grasped the nettle.
Still, it was hard for many people to take her seriously. She was, after all, a woman, and her social background and personal style weren't a natural fit for the top job.
As it often does, the Economist magazine captured the educated conventional wisdom, describing Thatcher as "precisely the sort of candidate who ought to be able to stand, and lose, harmlessly." It was a formulation that managed to be both exquisitely condescending and stunningly wrong. Meanwhile, others saw the whole thing as an occasion for ribald mirth, with one joke even picturing it as a race between a filly and a gelding. For insiders, the latter was a subtle reference to rumours about Heath's sexuality.
Nonetheless, by the day of the first ballot – February 4, 1975 – it had become serious business. Heath, it was realized, just might be beaten, so the powers that be rallied to repel the pushy usurper.
The decision, however, didn't lie with newspapers, magazines, constituency chairmen or party grandees. Only sitting Conservative MPs got to vote. And when their ballots were counted, Thatcher had 130 compared to Heath's 119. Although it wasn't an outright victory, Heath was gone.
Even then, Thatcher wasn't a done deal. The rules permitted other candidates to come forward for the second ballot, and the big names who'd ducked the earlier challenge duly did so. Apparently, courage sometimes takes a while to find its voice.
Thatcher, however, had figuratively slain the king, and she wasn't about to meekly surrender her kill. One week later, she comfortably sailed to victory on the second ballot. The rest is history.
Seven years earlier, Bobby Kennedy's 1968 run for the U.S. presidency had provided a different example. To Bobby, Lyndon Johnson was a crude, illegitimate occupier who'd somehow usurped the murdered John F. Kennedy's crown. Accordingly, the White House was to be reclaimed for his brother's legacy.
So, with the increasingly controversial Vietnam War as one of his signature issues, Bobby began to make his moves. Growing his hair longer, he became the shaggy symbol of youthful unrest, a vaguely existentialist voice of the zeitgeist.
The media couldn't get enough of him. Time magazine put him on the cover, and the speculation was rampant. Would he challenge Johnson for the 1968 Democratic nomination?
Bobby, though, was a canny operator. His image may have been that of a romantic hero, but he was also a guy who carefully ran the numbers. Challenging a sitting president in one's own party could be hazardous, even fatal, to one's career. Perhaps it would be better to wait for 1972, when the nomination would be open.
Then, while Bobby dithered, something happened. Another challenger, Eugene McCarthy, emerged to throw down the anti-war gauntlet. And to everyone's surprise, McCarthy came within seven points of upending Johnson in the New Hampshire primary.
With Johnson's weakness thus exposed, Bobby jumped in, and you didn't have to be a cynic to see it as tantamount to descending on the battlefield to shoot the wounded and snatch the crown. All in all, it was hardly a profile in courage, existentialist or otherwise.
It could've been very different.
Had Bobby been more like Margaret Thatcher, followed his convictions and entered the race early, he'd have enjoyed the undivided support of the party's anti-war wing. In the process, he'd have been spared the subsequent bitter primary fight with McCarthy, the very fight that brought him to California and an assassin's bullet on June 5, 1968.
Sometimes fortune really does favour the brave.
Troy Media columnist Pat Murphy casts a history buff's eye at the goings-on in our world. Never cynical – well perhaps a little bit.
---

The views, opinions and positions expressed by columnists and contributors are the author's alone. They do not inherently or expressly reflect the views, opinions and/or positions of our publication.