Reading Time:
3
minutes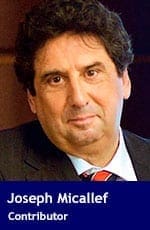 The Islamic State (IS) has been described as either one of the world's richest terrorist organizations or one of its poorest countries. Neither is quite true. It is a hybrid – half destitute quasi-nation state and half wealthy jihadist organization.
What it does have, however, are considerable financial assets. The assets are a combination of war booty from conquests in eastern Syria and western Iraq, and profits from its variety of legal and illegal enterprises. It is an extremely diversified enterprise, with multiple sources of revenue.
At its peak in 2015, Islamic State had revenues estimated at anywhere from $4 million to $8 million a day. Since then, it's estimated its revenues have dropped by half.
Taxation and extortion are the organization's biggest sources of revenue. IS charges a tax of 10 per cent on income, plus lots of other fees and taxes. Services have an additional 20 per cent surcharge. Non-Muslims are subject to a tax of 50 per cent of salaries. Muslims who violate Sharia law pay a repentance tax of $3,000. IS also sells exit permits for $2,500 and forfeiture of any assets. In total, its annual tax revenues are believed to run between $300 million and $600 million.
Oil had been Islamic State's chief profit source. In 2015, it controlled about 50,000 barrels of production a day, generating $650 million to $950 million in revenues. Since then, declining production and lower oil prices have cut revenue to $200 million to $300 million. Current production is around 20,000 barrels a day. Oil is smuggled to Turkey or sold to the Syrian government.
The illegal sale of antiquities is estimated to generate $65 million to $130 million. There are approximately 4,500 identified archeological sites in IS-controlled territory. It has also looted museums. Some of the publicized destruction of archeological sites, like Palmyra and Nineveh, may have been staged to hide looting. Most items are smuggled into Turkey, then sold to dealers and collectors around the world.
Kidnappings generate $30 million to $60 million a year for the Islamic State. The United States, Great Britain and Japan have publicly refused to ransom any of their nationals held hostage. Other countries, including France and Italy, however, have paid. IS has also generated revenues from holding hostage some of its own constituents, especially members of non-Muslim groups, like the Yazidis and the Assyrian Christians.
Wealthy donors are another significant source of cash. Tracking the origin and the final disposition of the billions of dollars that have gone to the various Sunni rebel groups in Syria is difficult. It's believed that Islamic State still receives $20 million to $40 million in contributions from wealthy supporters, but that the number could be much larger.
Finally, loot is a significant source of funding. It's believed that IS acquired $500 million to $800 million in U.S. currency from various banks in its domain. The Mosul branch of the Iraqi Central Bank alone had cash reserves of $400 million to $500 million.
As of June, it's estimated that Islamic State generates $50 million to $100 million a month in revenues. Roughly half of that comes from taxes, fees and expropriations, and the balance from illegal activities. Its military operations are believed to cost it $25 million to $40 million a month, although the exact number is difficult to fix. Likewise, it's unclear what IS spends on administration and services.
What is likely, however, is that Islamic State is not generating enough revenues to fund its operations. The pay of its militants has been cut in half – to about $200 a month. Services have also been cut, and prices on food and gasoline have been increased.
Islamic State has a lot of assets. Many, however, can only be sold to its increasingly impoverished citizens. Outside of cash, their multibillion-dollar value is largely theoretical.
The most effective way to shut down the Islamic State's financing is to target those activities that generate cash, the smuggling of oil and antiquities, and the organization's existing cash reserves.
The U.S. and its allies are now finally focusing on precisely this objective. Pity it didn't start sooner.
Joseph Micallef is a historian, best-selling author and, at times, sardonic commentator on world politics. 
Joseph is a Troy Media contributor. Why aren't you?
---

The views, opinions and positions expressed by columnists and contributors are the author's alone. They do not inherently or expressly reflect the views, opinions and/or positions of our publication.