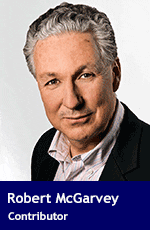 There's only one certainty in life: change. So the next wave of prosperity in Calgary, Canada's most dynamic city, will probably not be driven by another oil and gas boom.
There's an old saying that "nothing fails like success." This proverb is used to describe a tendency to stick with what we're good at, simply because it worked so well in the past. In fact, the better it worked (i.e. the more prosperity it generated), the stronger the forces of inertia.
There is, of course, another old maxim: "If it ain't broke, don't fix it." The underlying logic in favour of one or the other is simple: if the economy has changed, then get on your horse and ride. If not, stay put.
The key factor today is to recognize that the economy is experiencing its most significant transformation since the industrial revolution.
Knowledge-based (largely digital) intangibles have displaced the more familiar industrial class assets as the primary engine of growth in all developed economies. Studies conducted by the World Bank suggest that these new sources of value now contribute more than three-quarters of gross domestic product (GDP) in developed nations like Canada.
The scale of the transformation is demonstrated in the numbers.
While this newer intangible economy is growing by leaps and bounds, industrial-type manufacturing is in decline. In the last decade, the United States economy alone lost close to 25 percent (four million) of its domestic manufacturing jobs. Yet, despite the shrinking of its industrial work force, the output in the U.S. economy as a measure of GDP increased by half.
Consider that in 1996 the top five companies by market capitalization were General Electric, Royal Dutch Shell, Coca-Cola, Nippon Telegraph and Telephone, and ExxonMobil. These corporate titans drove, powered and lubricated the mechanical economy of the industrial past.
Twenty years on, the top five companies by market capitalization are Apple, Google, Microsoft, Facebook and Amazon. These are all highly creative companies whose artificial-intelligence-powered engines of growth are digital, network-based and intangible.
The old factory model of production dominated the industrial economy for more than a century. More importantly, that productive machine and the industrial society it generated were powered by oil and gas. Calgary's hydrocarbon-based economy fed this giant machine and life was good.
The question is what to do to prepare for future prosperity?
The best place to start is at the beginning. Most obviously, there's been a wholesale change in the engine of growth in the 21st century post-industrial economy.
New value drivers and therefore new classes of capital are emerging in the marketplace. Whereas the industrial economy only recognized tangible forms of capital, the modern intangible economy employs all the traditional forms of capital, plus newer forms like human capital, innovative capital, and what is being called social and relational capital – in other words, networks of value.
The speed of the transformation is mind-boggling. We truly live in an age of disruption. Consider that between them, Google and Facebook have disrupted (okay, almost destroyed) the traditional news and advertising businesses. What Uber and Tesla are doing to the transportation industry, Amazon and eBay have already done to the conventional retail businesses. The list goes on – if an industry is not presently under attack by these digital disruptors, it soon will be.
The value creation process has changed radically. It's still capital based but now involves developing new strategies for mixing and combining unfamiliar intangible varieties of capital to create different kinds of digital and non-mechanical value. These changes necessitate reform of our legal, accounting and banking infrastructure to service a new array of intangible (accounting and management-grade) assets.
The bottom line for Calgary is that the oil and gas business will not disappear. It will plod along for decades. It's just doesn't represent the dynamic future anymore.
How does Calgary adapt?
The city needs to bring its best brains together to build the new infrastructure, adapting investment channels and generating new thinking on value creation.
Canadian capital markets and investment criteria, in particular, are seriously out of date and need reforms if they're to participate actively in the rapidly expanding intangible economy.
More importantly, we all need to take a step back and appreciate the full implications of the revolutionary changes that are taking place. We need to shift our mindset from natural resources to creativity. After all, that's the untapped resource of our future.
Robert McGarvey is an economic historian and former managing director of Merlin Consulting, a London, U.K.-based consulting firm. Robert's most recent book is Futuromics: A Guide to Thriving in Capitalism's Third Wave.
Robert is a Troy Media contributor. Why aren't you?
For interview requests, click here. You must be a Troy Media Marketplace media subscriber to access our Sourcebook.
---

The views, opinions and positions expressed by columnists and contributors are the author's alone. They do not inherently or expressly reflect the views, opinions and/or positions of our publication.