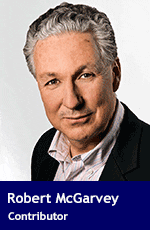 There is a lot of talk these days about diversifying Alberta's economy. We're pretty sure we wouldn't be having this conversation if oil were $100 per barrel. But . . . that's not the case. Oil is trading in the $30 range and expected to stay in the doldrums for the foreseeable future.
Clearly it's time for a major rethink. Before we can even begin to change direction, however, we must first purge ourselves of a serious addiction.
Oil and gas has been more than the biggest industry in Alberta, it's been our tantalizing seductress. After its discovery, Albertans threw themselves headfirst into the world of oil, defining themselves through the myth of oil, adopting the dynamic energy of wildcatters with their damn-the-torpedoes mentality.
That success paralyzed Albertans. The industry itself became aloof, arrogant and unprepared for change – particularly a collapse in prices. They weren't alone: The oilfield service industry, the government and people of Alberta are – to a large extent – are still in shock, waiting for the good times to return.
The writing is on the wall: We have a new NDP government, the Paris climate change accords are coming into effect and oil markets are in chaos. It's time to get serious about diversifying the economy. The question is, how? After all, it's not like Albertans haven't tried in the past. Trouble is, we've failed almost every time.
To change an economy in modern capitalism, you must start at the centre. This means altering the direction, velocity and volume of capital flows – which means capital market reforms. Yet capital markets are out of sync with Alberta's new economic reality.
Understandably, over the past few decades, an overwhelming bias has developed in Alberta's capital markets, funnelling investment toward the energy industry and the booming real estate and stock markets. To diversify the Alberta economy, capital markets need to change so that they can better serve all sectors of the economy.
With the collapse of oil prices, conventional wisdom suggests that Alberta needs to do more – make more concessions – to create an attractive investment climate for institutional investors. We believe the secret to diversifying Alberta's economy starts at home, with Albertans investing locally in their own future.
There is a significant amount of locally generated savings that could be employed in such an effort. Approximately $2 billion a month in managed investments (RRSPs, TSFAs, pension and mutual fund contributions) leaves Alberta to be invested on Bay Street or Wall Street.
We need some new thinking to keep these resources working at home. Resurrecting the spirit of the Great Canadian Oil Sands (GCOS) would be good start. GCOS was a publically supported, private sector venture in the 1960s that was initially financed by individual Albertans. Its success opened the door to oil sands development, which then drove billions of dollars of international finance into Alberta's energy sector.
Implementing similar initiatives in Alberta's technology sector could create a new and dynamic 21st century industry. Looked at objectively, the underperformance of the technology sector represents something of an opportunity. Technology in Alberta has been described as an emerging economy in waiting. In other words, Alberta's undercapitalized and under-performing technology sector could, if adequately supported, deliver above average returns for 20 or more years.
And that's not the only sector with potential; there is huge growth potential in other under-capitalized sectors, like renewable energy, First Nation businesses, rural Alberta opportunities and in businesses owned and managed by women.
Such upside potential cannot be ignored in an economy sinking like the Titanic.
Making targeted reforms to Alberta capital markets could change the direction of capital flows in the local economy. Doing so would allow Albertans to invest directly in investment ready opportunities, help strengthen the technology, and other underperforming, sectors, and begin to genuinely diversity Alberta's economy.
It would create an exciting new economic direction for Alberta. It might even put the swagger back in our steps.
Robert McGarvey is an economic historian and former managing director of Merlin Consulting, a London, U.K.-based consulting firm. Robert's most recent book is Futuromics: A Guide to Thriving in Capitalism's Third Wave.
Robert is a Troy Media contributor. Why aren't you?
---

The views, opinions and positions expressed by columnists and contributors are the author's alone. They do not inherently or expressly reflect the views, opinions and/or positions of our publication.