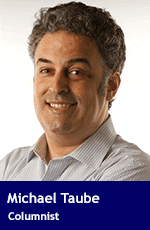 Michael de Adder is one of Canada's most well-known editorial cartoonists. Yet his recent involvement in a cartoon controversy is no laughing matter.
His biting, satirical work has appeared in the National Post, The Hill Times, Halifax Daily News and Halifax Chronicle-Herald, among other papers. He's also syndicated internationally through Artizans.com.
De Adder parted ways with Brunswick News Inc. on June 29. He'd been a longtime freelancer for this New Brunswick-based company, owned by businessman James K. Irving. It publishes newspapers like the Saint John Telegraph-Journal, Moncton Times & Transcript and Fredericton Daily Gleaner.
For the Moncton-born cartoonist, this was a huge blow. But while a cartoonist's removal normally doesn't have a long lifespan in the daily news cycle, it was the explanation that caused a major uproar.
There's been some suggestion that a controversial de Adder cartoon may have been the reason he was dropped. It showed U.S. President Donald Trump playing golf and asking, "Do you mind if I play through?" He's standing next to the lifeless bodies of Oscar Alberto Martínez Ramírez and his young daughter, Valeria, two migrants from El Salvador who recently drowned in an attempt to cross into Brownsville, Texas, from Mexico.
The cartoon, it should be noted, was not offered to Brunswick News. But it quickly went viral, receiving equal amounts of praise and scorn around the world.
While de Adder doesn't know exactly why they parted ways, he sent out several eye-popping tweets about "why I think I was let go."
For instance, he claimed certain topics were off limits. "Does it matter if I was fired over one Donald Trump cartoon when every Donald Trump cartoon I submitted in the past year was axed?" he tweeted on June 30. "It got to the point where I didn't submit any Donald Trump cartoons for fear that I might be fired," he mentioned the next day.
Then came this revealing tweet on July 1:
"The Premier of New Brunswick Blaine Higgs is a former Irving Oil executive and any cartoon I drew that was slightly critical of him was systematically axed. You want to know why I was let go? I wanted to do my job as an editorial cartoonist, and they wanted me to do their job."
Ouch.
Here's one more for good measure:
"But in the past 2 weeks I drew 3 Trump cartoons. 2 went viral and the third went supernova and a day later I was let go. And not only let go, the cartoons they already had in the can were not used. Overnight it was like I never worked for the paper. Make your own conclusions."
Brunswick News disputes the cartoonist's version of the story.
"It is entirely incorrect to suggest Brunswick News Inc. cancelled its freelance contract with cartoonist Michael de Adder due to a cartoon depicting Donald Trump currently circulating on social media," according to its June 30 statement. "This is a false narrative which has emerged carelessly and recklessly on social media. In fact, BNI was not even offered this cartoon by Mr. de Adder. The decision to bring back reader favourite Greg Perry was made long before this cartoon, and negotiations had been ongoing for weeks."
Which version is the correct one?
We may never know.
But if cartoons focusing on politicians like Trump and Higgs were really axed by Brunswick News, that's a huge knock against this profession. It also makes one wonder how far free speech and free thought truly go on a modern newspaper page.
Editorial cartoonists like de Adder, Andy Donato, Graeme MacKay, Bruce MacKinnon, Terry "Aislin" Mosher and Theo Moudakis are supposed to use their art and humour as powerful voices against everything from public figures to political correctness.
You don't have to agree with their politics or positions – and often you won't. Rather, it's their ability to be thought-provoking and make readers instantly react to a person, place or thing that greatly adds to the arena of intellectual discourse.
Unfortunately, the long, rich history of political cartooning, which dates back more than three centuries, is slowly beginning to fade away. Many North American and European newspapers have either eliminated this staff position, use less freelance work or don't run any cartoons on the editorial page.
Fewer people are entering the profession and there will be even fewer opportunities in editorial cartooning on the horizon. Especially when they read stories about Michael de Adder and Brunswick News.
Troy Media columnist and political commentator Michael Taube was a speechwriter for former prime minister Stephen Harper.
---

The views, opinions and positions expressed by columnists and contributors are the author's alone. They do not inherently or expressly reflect the views, opinions and/or positions of our publication.