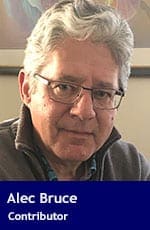 Oh, Recession. So there you are.
For months, you've been rattling about my back door knocking over rubbish bins like a starving raccoon at night. The sun's up now. No need to be coy.
"The escalating trade war between the U.S. and China is nudging the world economy toward its first recession in a decade with investors demanding politicians and central bankers act fast to change course," the Financial Post reported the other day.
"You can often play with fire and not have anything untoward happen, but if you do it too much you eventually get burned," Lawrence Summers, former secretary of the U.S. Treasury, intoned also the other day.
Both of which seemed to echo the Bank of Canada's risk assessment not the other day, but back in May, which effectively advised the nation to start girding its loins. "The most important risks to Canada's financial system remain a severe nationwide recession," it reported plainly.
So, Rocky Racoon, you night bandit, don't be shy. Pull up a garbage can. Help yourself to the small change I found in my sofa the other day. I'll even show you the hole in the ground where I keep my pirate gold.
As an Atlantic Canadian, of course, "smartass" is at the very top of my ever-lengthening list of economic survival skills. "Stoic" is also there, which is good, because even high times in these parts can feel downright low.
Statistics Canada says the average annual income here is about the same as the average annual debt, which is as near to a zero-sum game as it gets and as close to a working definition of economic malaise as experts allow.
Under these circumstances, then, what's a recession going to do to the East Coast? Reap what's left in our mattresses and sock drawers?
Of course, some economists are already saying this downturn could be a doozy, a full-blown Trumpian nightmare of bad debt and Big Macs.
On the other hand, those who moil for meaning in swamps of integers always assume that no one outside their damp economic enclosures has ever experienced, or learned from, a real recession.
I once worked for a guy in the United States who truly believed that starting a magazine in the middle of a slump was a splendid idea. He reckoned there'd be no competition. Advertisers would flock to him.
The lesson?
Don't start a magazine in a recession. In fact, don't ever start a magazine. He now raises turnips in the Okanagan Valley.
The dictionary defines a "stoic" as a person who endures pain without showing his or her feelings, or as "a member of an ancient philosophical school." Oddly, these are also the meanings of the term "stand-up comedian."
That's why Atlantic Canadians tend to be the funniest people you'll ever meet, especially during hard – that is to say, most – times.
During the last verifiably deep plunge, I almost lost my house. My banker seemed to adore telling me I was always a hair's breadth away from foreclosure. But since it was a really crappy house, I was fond of replying, "You're such a tease."
How about this one-liner – for which, unfortunately, I can't take credit – penned during the uproarious credit crunch of 2007-2008: "The economy is so bad, a truckload of Americans was caught sneaking into Mexico."
Or this: "How do you build a small business in a downturn? Start a big one and wait."
Ah, yes, I've got a million of 'em.
Recession?
Enjoy the show, you overgrown rodent.
I'll be with you in a moment – just as soon as I remember where I hid my doubloons.
Alec Bruce is a Halifax journalist who writes about business, politics and social issues, and editor of Troy Media Partner news site The Bluenose Bulletin.
---

The views, opinions and positions expressed by columnists and contributors are the author's alone. They do not inherently or expressly reflect the views, opinions and/or positions of our publication.