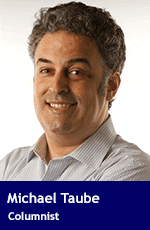 Much has been written about the federal government's proposal to give $595 million in funding over five years to Canadian media organizations.
This political strategy has been called everything from a financial life saver to a Liberal takeover/buyout of our news industry.
While it's hard to blame anyone in the media who is starving economically and wants to take a bite out of this dangling carrot, this group must have also privately realized it wouldn't come without strings attached.
Well, the first loose pieces of string were just revealed – and the rest of the ever-thinning stitch may soon come apart.
According to a May 15 piece published by the respected online publication Blacklock's Reporter, "Federal agencies will publish an A-list of newspapers and websites deemed reliable under a multimillion-dollar subsidy program." This revelation comes directly from the mouth of the Department of Finance during an appearance at the Senate national finance committee.
Meanwhile, Bill C-97 (also known as the Budget Implementation Act) would devise a 15 percent tax credit to subscribers of websites that Ottawa deems to be owned and operated by a "qualified Canadian journalism organization," Blacklock's noted.
The tax credit, which would be offered to a maximum of $75 per subscriber, would cost $11 million in 2020 – and won't expire until 2024.
Blacklock's also mentioned this bill would amend the federal Income Tax Act "to offer lucrative payroll subsidies for news organizations 'primarily engaged in the production of original written news content.'" A grand total of $360 million, or a maximum of $13,750 per newsroom employee, would be doled over the next four years "through a 25 percent payroll tax credit for publishers" retroactive to Jan. 1, 2019.
The specific criteria related to these three potential changes is still a mystery. What isn't a mystery is how different the Canadian media landscape will look if these proposals are initiated.
Most observers are rightly focusing on the federal government's suggestion of a reliable "A-list of newspapers and websites."
What on earth does this mean? Will only left-leaning newspapers (Toronto Star) and websites (Huffington Post) qualify for these subsidies? Will newspapers/websites like the Globe and Mail, Halifax Herald, CBC Opinion or Canadaland be included or excluded? Will Postmedia, which controls most of Canada's major English-language media publications, be left out in the cold because it's right-leaning?
It could also be a cryptic warning to Canadian media organizations of all political stripes: Be nice to Prime Minister Justin Trudeau and the Liberals in your news coverage – or else.
No matter how you interpret the A-list, it could have a chilling effect on the historical independence of the Canadian media – and press freedom in general.
Most publications and websites have a political bias, whether they admit to it publicly or not. Nevertheless, reporters were once expected to be non-biased in their coverage of local and international news coverage. This was a very different mandate from columnists (like me), who were expected to have an opinion about everything under the sun.
Those lines have gradually become more blurred. While some reporters, to their credit, remain fair and even-handed in their approach to the news, many have lost their neutrality and objectivity. This can be attributed to publishers and editors in some cases, and the reporters themselves in others.
Hence, the Liberals see a real opportunity to gain a political advantage. They can claim to be white knights who helped save Canada's struggling media industry – while achieving their goals of controlling news coverage and playing favourites with media companies in true black knight fashion.
All these groups have to do is give up some of their independence and freedom, and get a whole wad of taxpayer dollars – and a means of survival – in return.
What will our media organizations ultimately do?
Time will tell.
Troy Media columnist and political commentator Michael Taube was a speechwriter for former Prime Minister Stephen Harper.
---

The views, opinions and positions expressed by columnists and contributors are the author's alone. They do not inherently or expressly reflect the views, opinions and/or positions of our publication.