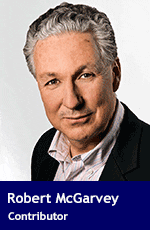 It's beginning to look like Donald Trump has developed a paranoid obsession with Canada.
Pick a market segment and the American president has slammed Canada for unfair trade practices. He threatened to impose a 20 percent tariff on Canadian softwood lumber. He took aim at Canada's dairy industry, which he described as a "disgrace." He sent a shot across the bow of our steel industry, calling it "a disaster for U.S. producers."
As a candidate, Trump derided our universal healthcare system: "Their (Canada's) system is so flawed, catastrophic in certain ways." He's described the North American Free Trade Agreement as a disaster. And as for soon-to-be-legalized marijuana … the wall he plans might have to be built along the northern border rather than the southern one.
Canada's response to Trump's antics must evolve beyond simply trying to placate the ever-unpredictable president. We need to break out of the status quo, and propose an equitable and more permanent solution.
The only way to normalize trade relations between Canada and the United States is to level the playing field. That means fixing the exchange rate between the U.S. and Canadian dollars.
At the heart of almost every trade dispute between our countries is the wildly-fluctuating value of the Canadian dollar. When the Canadian dollar traded at $0.63 over a decade ago, disputes between Canada and the U.S. were chronic. When the dollars trade in controlled zones (with the U.S. dollar only slightly higher than its Canadian counterpart), disputes at the commodity level disappear.
Unless Canada comes up with an agreeable solution, Trump is likely to blow a giant hole in U.S.-Canada trade.
And there's serious money at stake: U.S.-Canada bilateral trade was worth upwards of $540 billion in 2015.
There are troubling trade disputes at every turn.
The longest-running dispute is over softwood lumber. America is Canada's largest export market for lumber and disputes resurface regularly.
U.S. softwood lumber producers regularly complain of unfair trade practices. Crown ownership of Canadian forests is a problem: U.S. producers suspect that Canadian stumpage fees (government pricing for access to forests) are simply a backhanded subsidy to Canadian producers.
In 2006, the two nations established a nine-year standoff and the U.S. agreed to refund nearly $5 billion in duties it had collected from Canadians. It's no surprise that this change in attitude corresponded with the Canadian dollar approaching parity with the U.S. dollar.
There are plenty of other areas in which U.S. producers complain they're at a disadvantage to Canadians.
The presence of cheap Canadian beef, for example, prompted U.S. officials to create the innovative non-tariff barrier called country of origin labelling (COOL) for meat products in the United States.
Canadian producers believe that in North America's highly-integrated beef industry, defining a truly Canadian cut of beef is almost impossible. The issue should have been resolved (but wasn't) when the Appellate Body of the World Trade Organization issued a final ruling confirming that U.S. mandatory COOL discriminates against Canadian imports.
When the Canadian dollar is below 90 cents, American authorities try to close the border by a variety of means. Canadians complain the closures are longer than necessary and discriminate against Canadian commodities. But the real problem is the dollar, not unfair practices.
We can resolve all of these outstanding disputes with one core reform: the return of fixed exchange rates for the dollars.
We can establish the world's largest and most efficient free-trade zone by taking the power to alter dollar exchange rates away from foreign exchange traders on Wall Street.
It would require some new thinking in Ottawa and Washington, and involve some tough negotiating to establish a reasonable exchange rate. But these negotiations would be much simpler and cheaper than redrafting NAFTA, or enduring endless decades of insults and revolving trade disputes.
Robert McGarvey is an economic historian and former managing director of Merlin Consulting, a London, U.K.-based consulting firm. Robert's most recent book is Futuromics: A Guide to Thriving in Capitalism's Third Wave.
Robert is a Troy Media contributor. Why aren't you?
---

The views, opinions and positions expressed by columnists and contributors are the author's alone. They do not inherently or expressly reflect the views, opinions and/or positions of our publication.