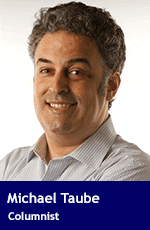 It's no secret that the North American Free Trade Agreement's future is in jeopardy. But if NAFTA collapses, what will Ottawa do next?
NAFTA is in trouble largely due to U.S. President Donald Trump, who once called it the "worst trade deal in the history of the world." And Trump's America First plan, rooted in economic nationalism, makes it difficult to promote trade liberalization.
At the same time, Canada and Mexico have their own interests to protect.
Tensions have been building for NAFTA's other trade partners. Former Mexican president Vicente Fox recently told CTV News Channel's Richard Madan that he hoped Canadian Prime Minister Justin Trudeau wouldn't betray them "like Judas." Fox also said of Trudeau: "He should open his eyes because sometimes what I get from him is that he will protect Canada even by sacrificing Mexico."
Fox's hyperbolic statements are legendary. Nevertheless, it makes you wonder if Mexican President Enrique Peña Nieto is also concerned that the trilateral agreement could evolve into a bilateral deal.
Remember, Trump stood alongside Trudeau in Washington last month and said, "I think Justin understands this, if we can't make a deal, it'll be terminated and that will be fine. They're going to do well, we're going to do well." Note the one country missing from this equation that will do well, too.
Canada will maintain a strong trade arrangement with the U.S. That's a given.
But what if NAFTA collapses?
The Trudeau Liberals seem to basically agree with the former Conservative government of Stephen Harper that trade shouldn't be solely focused on the U.S. and that our economic interests should be diversified. The Comprehensive Economic and Trade Agreement with the European Union is moving forward. And while the Trans-Pacific Partnership recently experienced turbulence (thanks to our PM), a partial agreement has been signed.
The federal government may also choose to build new trade relationships or enhance existing deals. In particular, with Cuba.
Ever since then-U.S. President Barack Obama started the process toward reconciliation with this communist country in 2008, many western democracies have been intrigued by this economic possibility. The hope is Cuba would ultimately embrace capitalism and the free market, and turn into a strategic ally.
But while communist and socialist parties have learned over time to accept some capitalist principles, they still don't completely accept that their countries should also move towards liberal democratic values. Even if Cuba followed China's lead by mixing authoritarian political views with a market-based economy, real political and economic change won't occur until they embrace democratic elections, human rights, and individual liberties and freedoms.
Nevertheless, foreign companies will be encouraged to invest in Cuba, creating more jobs, goods and services. The Cuban leadership can, therefore, keep promoting communist and/or socialist principles on the island, while triumphantly showing steps are being made toward more free enterprise.
For the Cuban hierarchy, it's the best of both worlds.
Trudeau would relish playing the dramatic role of the white knight who helped tame the stubborn Cuban communist beast. His family's long-standing relationship with Fidel and Raúl Castro would be seen as a political advantage. Progressives also love the fact he eulogized the former as a mythical working class champion who passionately defended universal healthcare and state-run education, even though he was nothing more than a brutal dictator.
Plus, Canada and Cuba already have an established trade relationship. More than $1 billion in annual merchandise is traded between the two countries, creating jobs and economic opportunities.
Imagine if Canada enhanced its trade relationship with its Caribbean partner and added Mexico to the mix. We already do business with both nations, and the Mexicans import Cuban rum, cigars, seafood and clothing.
Could NAFTA's collapse lead to the birth of a Canadian-Caribbean-Latin American Free Trade Agreement?
These days, anything's possible.
Michael Taube, a Troy Media syndicated columnist and Washington Times contributor, was a speechwriter for former prime minister Stephen Harper. He holds a master's degree in comparative politics from the London School of Economics.
---

The views, opinions and positions expressed by columnists and contributors are the author's alone. They do not inherently or expressly reflect the views, opinions and/or positions of our publication.