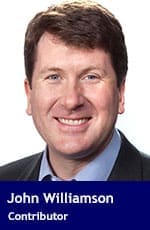 During the recent Brexit referendum, the Leave campaign had an answer for what the United Kingdom's trade relationship might look like if voters elected to break away from the European Union: Canada.
We're a nation of 36 million with trade liberalization deals with countries large and small, beginning with a free-trade agreement with the United States and Mexico. We also have a new treaty with the EU. These agreements give Canada access to huge markets covering two continents with 850 million consumers.
If Canada can accomplish this, many Britons believe they can, too. And so as the U.K. prepares for its new relationship outside the EU, its government has opened talks with Ottawa on a trade deal. This is an economic opportunity our government should prioritize.
But if Canada is a model for Britain on trade relations, policy-makers in New Brunswick should emulate Britain's economic and budget policies. This province, like Britain, is on the periphery of a large continent.
Yet when it comes to job creation, the U.K. has demonstrated an impressive ability to tailor policy to difficult economic circumstances. According to Britain's Office for National Statistics, the unemployment rate hit a 10-year low this year and stands at 5 percent. New Brunswick's stands at 10.3 percent.
Since 2010, Britain, with a population of 65 million, has put more people to work than the other 27 EU nations combined. That's like this province creating more jobs than a province with over five million people. In reality, New Brunswick hasn't lowered its jobless rate since 2010 and that's a miserable failure of government policy.
Britain can't rest on its laurels. Its economic skies darkened after the Brexit vote. Investors are unsure if it will remain a wise place to invest.
The U.K. government understands that less investment means a slower economy and fewer jobs. To signal that Britain remains open for business, it promises to cut the business tax by five points, from its current 20 percent rate. This will give the U.K. the lowest business tax rate of any major economy. The plan is to build a "super-competitive economy" with low taxes. New Brunswick has gone in the opposite direction and is now one of the highest taxed jurisdictions in North America.
Good policy isn't limited to the ruling British Conservatives. The last Labour government similarly understood the importance of maintaining consumer confidence. In 2008, when the Great Recession began, Labour temporarily cut its national sales tax by 2.5 percent. The objective was to encourage consumer spending. It poured billions of dollars into the economy.
Economic growth will be sluggish in New Brunswick this year (again). The Conference Board of Canada predicts a recession. The province's backward response is more of the same: higher taxes. The harmonized sales tax increased two points on July 1, and that will drain $277 million from families this year. Consumers were already spending less before this unnecessary and harmful hike. Government revenue from the HST fell 4.2 percent last year.
Declining tax revenue is evidence of a sick economy. High taxes slow economic growth and hurt investment flows in New Brunswick, resulting in fewer jobs.
High taxes would be less damaging to New Brunswick if the province was developing new markets. It is well and good to encourage investment in experimental technologies that build on local resources, such as tidal power. But banning hydraulic fracturing is incomprehensible when unemployment is high and young families move west to find work in the very industry that is closed in New Brunswick.
Once again, New Brunswick's future would be brighter if it followed Britain. Onshore hydraulic fracturing was not permitted in Britain until this summer. This changed after a local government in northern England gave a green light to fracking. Soon after, a parliamentary committee recommended fracking proceed under certain conditions.
As in New Brunswick, studies indicate that Britain has large shale gas deposits that could help meet energy needs at an affordable price for generations.
It is a curious thing to cite British policymakers after voters triggered economic uncertainly by choosing to leave the EU. But the government is preparing for a changing future with pro-growth policies.
New Brunswick's answer to job loss and slow growth is ever higher taxes and more subsidies for businesses. That's why we sit on the economic sidelines while other regions create jobs and race ahead of us.
John Williamson is a former Member of Parliament and past National Director of the Canadian Taxpayers Federation.
John is a Troy Media contributor. Why aren't you?
---

The views, opinions and positions expressed by columnists and contributors are the author's alone. They do not inherently or expressly reflect the views, opinions and/or positions of our publication.