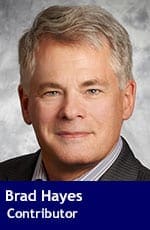 Ten-plus years ago, we heard about the "shale revolution" – the realization that horizontal drilling and hydraulic fracturing were changing the face of the oil industry, unleashing huge new supplies of gas and oil from unconventional (shale and tight) reservoirs.
And while the revolution is still confined largely to the United States and Canada, it has radically altered energy markets around the world by injecting large new supplies, with the expectation of even greater supply growth in years to come.
But while the shale gas revolution races ahead, the end may already be in sight.
In Canada, this might not be a big surprise. Our main basin is prone to produce gas, and we never saw the potential for unconventional oil to do much more than arrest the long-term decline in light crude output. Future Canadian oil production growth depends largely on heavy oil and bitumen.
Of our big unconventional plays, only the Bakken (in Saskatchewan) is primarily an oil play. The Duvernay (Alberta) and Montney (Alberta and B.C.) are primarily gas and gas liquids plays. Other unconventional oil plays – including the Cardium, Viking, Shaunavon and Swan Hills – have been locally successful but haven't really moved the needle in terms of Canada's long-term reserves additions.
Promising exploration areas in northeast B.C. – the Horn River Basin, Liard Basin and Cordova Embayment – are shale gas plays only. And while there may be significant shale oil volumes in the Bluefish and Canol of the Northwest Territories, exploration there has stalled.
Elsewhere in Canada, shale prospects are generally gas-prone, and have been effectively sterilized by bans and moratoria on hydraulic fracturing.
But what about the United States?
The Energy Information Administration (EIA) reports American oil production rising past 11 million barrels a day recently, with about half coming from shale and tight plays – although conventional areas like the Gulf of Mexico are ramping up, too. Lots of rigs are working and operators are jockeying for position in the hottest tight oil plays, particularly in the Permian Basin.
This sounds like the recipe for continued growth in the years ahead and indeed, the EIA Expected (Reference) forecast case shows U.S. oil production rising to around 12 million barrels per day by 2030, and to begin declining only slightly in the 2040s. They even have a High Oil and Gas Resource and Technology case that foresees U.S. oil production of about 19 million barrels per day in 2050, about 80 per cent of it tight oil.
But the efficiencies of shale exploitation technology may be sowing the seeds of a rapid decline.
Since the early days of Barnett Shale gas drilling, the industry has realized that while unconventional plays cover large areas, the quality of the resource varies greatly – and is best in really restricted sweet spots.
Drilling where we see the most oil in place and the best rock properties yields high initial production rates and maximizes ultimate recovery in the first wells. But that strategy means that early production growth is fast and down the road we're left with pursuing poorer quality reservoirs.
Even if our drilling and completions technologies continue to improve, at some point we'll get wells with poorer initial production rates and lower ultimate recoveries.
The National Energy Board has already documented a decline in performance in new wells tapping the tight Shaunavon play in Saskatchewan. Initial production rates are fairly steady but despite improved completion techniques, new wells show much more rapid declines and are projected to produce much less oil through their short lifetimes.
In the U.S., potential downside to long-term growth projections has been recognized as well. The EIA's Low Oil and Gas Resource and Technology forecast sees U.S. oil production peaking around current levels and declining steadily after 2022. Mark Papa, a leader in shale drilling when at EOG Resources, said in March that "resource exhaustion is beginning to take place. It's no secret you've got only three shale oil plays in the U.S. of any consequence."
Analysts at Wood Mackenzie have observed that sweet spots in the Eagle Ford shale play are smaller than originally modelled and that some project targets are "not entirely being met by reality." Continued production growth will rely on continuously-improving technologies – and Wood Mackenzie sees Permian Basin production peaking as soon as 2021 if these improvements don't meet expectations.
What about other plays in the U.S.?
Shale basins in the U.S. are well known and there isn't much new on the horizon. In fact, when the EIA surveyed U.S. shale oil plays in 2011, it saw the Monterey Shale of California having the largest potential – and it has now been removed from the list of potential targets because operators haven't been able to make it produce economically. The naturally-fractured Austin Chalk is getting some press, but economics are uncertain and the total oil resource is much smaller than the Eagle Ford.
And worldwide?
Doubtless we'll see shale oil production from other countries in the future. But shale oil and gas success in North America has been built upon technical knowledge gained from huge numbers of conventional wells, extensive physical and legal/regulatory infrastructure, and robust competition among operators and service companies. Very few other jurisdictions have all or even some of these elements, and many face opposition to hydraulic fracturing or to the oil and gas industry overall.
Nothing will rival North American shale oil production in the foreseeable future.
Maybe we should hold on to those oil sands stocks.
Brad Hayes is president of Petrel Robertson Consulting Ltd., a geoscience consulting firm addressing technical and strategic issues around conventional and unconventional hydrocarbon exploration and development.
A version of this article previously appeared in the Daily Oil Bulletin.
---

The views, opinions and positions expressed by columnists and contributors are the author's alone. They do not inherently or expressly reflect the views, opinions and/or positions of our publication.