Spiders In Space: Successfully Adapting to Unwanted Change
By Todd Hirsch and Rob Roach
P&P Publishing C$20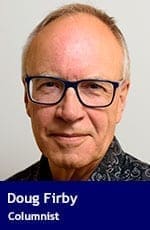 For those of you who had any doubt, this book confirms that misery really does love company. It tells the story of 15 very different people from a variety of backgrounds across Canada who have but one thing in common: At some point, life has landed them a solid drop-kick to the head.
In some cases those unexpected setbacks were huge – emotionally and physically devastating; in other cases, the impact is maybe just one notch above life's daily battle.
Authors Todd Hirsch and Rob Roach went looking for people who have had to face serious setbacks and who have not only survived but triumphed. Such misadventures, they observe, have a disorienting effect not unlike losing your gravity.
They draw the metaphor from a scientific experiment conducted in 1973 on the Skylab space station, based on a proposal for a high school student from Lexington, Mass. Spiders were sent into space in a box and then observed to see how they coped with virtually zero gravity. Initially, the spiders didn't even want to leave the box they were transported in. Then, their first efforts at spinning webs were a mess. Eventually, they mastered their new environments and produced the type of webs we're used to on Earth.
Hirsch and Roach argue people can adapt to their zero gravity moments in much the same way. Yet, not surprisingly, the first step is having the courage to leave the box and then to struggle through the inevitable mistakes that come from working in a new environment.
One of the most dramatic examples among the 15 is the story of Michelle Salt, a competitive snowboarder and athletic model who lost her leg – and nearly her life – in a motorcycle crash. Against the advice that she would never walk unaided again, Salt dug in, mastered her prosthetic leg, and is in position to compete in the 2018 Winter Paralympics in PyeongChang, South Korea. "I'm part bionic. I'm part badass," she tells the authors.
Other tales include a woman who was fired twice in rapid fire, a furniture maker that nearly went broke, a woman who had to overcome self-destructive neglect of her diabetic condition, wine makers who had to adapt to NAFTA's open market, a church minister who found a way to turn around his dwindling congregation and much more.
From these stories, the authors find some common bits of advice for those of us who have suffered unexpected setbacks – and, really, who hasn't? – and want to bounce back.
There is an empathetic tone to the book that led me to wonder just how much of the story reflects the authors' own life experiences. Sure enough, says Roach, both authors have their war wounds. "The times our gravity was taken away were definitely in the background."
The reader can take their own learnings from these stories but the authors mined a few of the more obvious ones. Successful adapters know their core story, seek and take advice, work hard, are tough, passionate and realistic, like risk, display leadership qualities, are open-minded and entrepreneurial. Hardly profound, but those observations all have the ring of truth.
As with the authors' previous joint effort (The Boiling Frog Dilemma), Spiders In Space is light reading; you can speed through it in a couple of hours. And it's unlikely to change your world unless you're really in the depths of post-trauma despair. That said, it is nice to know there are other people out there who have gone through a crisis not unlike one you may be facing yourself.
For every person who has been rejected in love, lost a job, experienced a serious injury or medical condition, gone through a financial crisis, or been cheated by a friend, this book offers comfort.
Have I missed anyone? I'll bet not many.
Veteran political commentator Doug Firby is president of Troy Media Digital Solutions and publisher of Troy Media.
---

The views, opinions and positions expressed by columnists and contributors are the author's alone. They do not inherently or expressly reflect the views, opinions and/or positions of our publication.