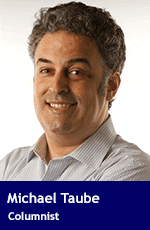 U.S. President Donald Trump has attacked Canada's supply management system. He believes certain American industries, including the dairy sector, have been crushed by Canada's "wasteful destructive job killing regulations" – and the U.S. "demands fair trade with all of our trading partners … and that includes Canada."
He's absolutely correct: supply management is an archaic, statist and anti-free-market principle.
In Canada, the state has been directly involved in the market share of milk, eggs, cheese, chicken and turkey since 1971. Our federal and provincial governments set a standard price for each product, regulate the available supply and use restrictive tariffs to protect against international competition.
The result is twofold. Several groups of Canadian farmers can maintain sustainable profit margins and protect their vested interests, while all Canadian households must pay substantially higher amounts for these five products.
This isn't the free market in action. It's protectionism, plain and simple.
The United Kingdom, Australia, New Zealand, Switzerland and the European Union once had similar supply management systems. In each instance, their industries were deregulated and trade liberalization was increased. This enabled them to find ways to survive – and thrive – in a competitive marketplace.
Why can't Canada do the same?
Truth be told, the group that should be the most insulted by the mere existence of supply management in Canada are farmers. Our governments are telling them, in effect, that they don't have the ability, ingenuity and creativity to survive in the nasty and brutish free market without help – and taxpayers' money to soften the economic blow.
It's astonishing that the many dedicated, hard-working members of Canada's agricultural sector aren't speaking out more about this. Their pitchforks should be directly raised as a form of protest against this arrogant type of governance.
Fortunately, some people want to help eradicate the protectionism of supply management and create a real free-market economy for all farmers and Canadians.
Former Liberal MP and current Canada West Foundation president and CEO Martha Hall Findlay, to her credit, has spent several years advocating for dairy supply management to be dismantled. As she wrote in Maclean's magazine on May 14, 2014, "The overwhelming evidence shows that supply management, although it may have been laudable in the 1970s when it was implemented, is now a big problem, and it must go."
More recently, Conservative Party leadership candidate Maxime Bernier has made supply management one of the centrepieces of his policy platform.
In an April 19 Globe and Mail op-ed, Bernier agreed with Trump that this "protectionist system is unfair for the farmers in Wisconsin and other states, who cannot make a better living by selling their products to their Canadian neighbours." At the same time, he correctly pointed out the U.S. president seems "to be falling under the influence of lobbyists for special interests in your country who are asking once more for protectionist measures," including softwood lumber.
As Bernier nicely put it, "you and I can agree on this basic economic law: protectionism is unfair for everyone. Unfair to some producers, and unfair to all consumers."
For Prime Minister Justin Trudeau and the Liberals, this could be a great bargaining chip to use with the Trump White House. If Canada could agree to eliminate its supply management system and the U.S. could agree to open up the softwood lumber industry, both countries would benefit politically and economically.
Trump certainly wants less regulation in the dairy sector and to create more fairness in free trade.
Will Trudeau reciprocate?
Time will tell.
Michael Taube, a Troy Media syndicated columnist and Washington Times contributor, was a speechwriter for former prime minister Stephen Harper. He holds a master's degree in comparative politics from the London School of Economics.
---

The views, opinions and positions expressed by columnists and contributors are the author's alone. They do not inherently or expressly reflect the views, opinions and/or positions of our publication.