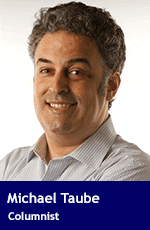 If the worst mass shooting in U.S. history isn't the wake-up call that western democracies need to bring down radical Islamic terrorism once and for all, I don't know what is.
Sunday's terrible attack at an Orlando, Fla.-based gay night club, Pulse, left 49 people dead and another 53 people injured.
What was their supposed crime? Take a wild guess.
The identified shooter, Omar Mir Seddique Mateen, was a 29-year-old security guard for G4S, one of the world's largest private companies. His parents came from Afghanistan, but he was a U.S. citizen.
Mateen was reportedly known to the FBI for having radical Islamic tendencies. He also had a certain preference for the bloodthirsty barbarians in the Islamic State, or ISIS, based on a phone call he made to police.
There are also media reports that Mateen harboured anti-gay sentiments (and may have been gay himself). In many Muslim countries, this stance is not unique.
The big difference between 9-11 attack and the Orlando shooting is that it involved a native-born perpetrator. Radicals like Mateen typically travel abroad to fight alongside ISIS and other terrorist organizations. This philosophy is clearly beginning to change.
While the political left wants to, predictably, make this an issue about gun control, it has absolutely nothing to do with it. Here is the real issue: The tentacles of radical Islamic terrorism are moving in different directions, and it's time to eradicate this evil presence from the face of the Earth.
The editors of National Review wrote on June 12: "The U.S. can no longer treat the Islamic State, a resurgent al-Qaeda, and other terrorist organizations as distant enemies. Islamic terrorists' war on us has returned to American shores, and it will continue here as long as we refuse to exercise the tactics necessary to stamp it out."
I would take it a step further. All western democracies, including Canada, need to come to this realization – and fast.
Hence, a massive, long-term strategy to wipe out radical Islamic terrorism needs to be devised. It will take many years to achieve this goal, cost an enormous amount of money, and quite likely lead to huge losses on the battlefield.
Then again, what other choice do we have?
To begin with, we need to immediately put boots on the ground against ISIS, al-Qaeda and other terrorist groups. Many of our brave men and women in uniform want to play a role, and need to be brought into this battle to protect our way of life. Hand-to-hand combat would help western nations make many gains that air strikes could never accomplish – and efficiently and effectively push back against the scourge of terrorism.
Many western leaders would obviously need to change their political rhetoric. In particular, Prime Minister Justin Trudeau must come to the realization that sending Canadian soldiers to fight against ISIS, rather than staying out of the fray and training other nations' soldiers, is the only way to win this war.
Another important tactic is to thoroughly discredit radical Islam and international terrorism in the Western Hemisphere. World leaders like U.S. President Barack Obama can't be scared of, or simply ignore the opportunity to, blast away at rogue states, totalitarian nations, and terrorist groups like ISIS at every available opportunity. The enemies of freedom, liberty and democracy need to be constantly identified, attacked and denigrated.
The Orlando shooting was a tragic moment in U.S. history. It's obviously been good to see all western nations come together to condemn this terrible attack. Yet this outpouring of support will only amount to window dressing if we don't identify radical Islamic terrorism as the main culprit.
Troy Media columnist and political commentator Michael Taube was a speechwriter for former Prime Minister Stephen Harper.
---

The views, opinions and positions expressed by columnists and contributors are the author's alone. They do not inherently or expressly reflect the views, opinions and/or positions of our publication.