Reading Time:
4
minutes
Does the world need another SUV? Volkswagen thinks so, and the new-for-2018 Atlas brings this company's SUV/Wagon complement up to five. It joins the AllTrack, Golf Sport Wagon, Tiguan, and Touareg …. at least for the time being.
Designed specifically for the North American market, the Atlas is somewhere between the Tiguan and Touareg … and is offered in four trim packages: Trendline, Highline, Comfortline, and top of the range, Execline.
Power is provided by either a turbocharged 2.0 litre four cylinder or a 3.6 litre V6 engine. My test Execline model had the V6, while the base Trendline comes with the four-banger … about $4000 separate the two, pricewise, before options and extras. This latter powerplant is also found in the Touareg, incidentally, and has an eight-speed automatic transmission only with VW's Tiptronic feature and a full-time AWD system VW likes to call 4Motion. Both of these two last features have been utilized by VW for years and they are, as they say, proven. That said, the Atlas is not a rough and ready off-road bush-walloper. The idea behind 4Motion is to make the vehicle more stable and tractable during city/highway driving.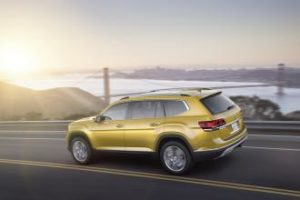 A few other specs. The Atlas is an honest-to-goodness seven-seater and, with all the seats folded flat, there's 2700 litres and change  (95 cu. ft.) of cargo room. By way of comparison, the Ford Explorer offers a maximum of just over 2300 litres (81 cu. ft.), while the Honda Pilot is good for about 2375 litres (83.0 cubic feet). By any standards, the Atlas is a spacious vehicle, with scads of head, elbow and leg room. Access to the third row of seats is a little tricky, but that seems to be the case with virtually all vehicles of this size.
As befits any self-respecting upscale SUV, the Atlas Execline has all the modcons one would expect in a vehicle of this ilk (love that word). Heated/ventilated front seats, heated rear sets (second row), leather upholstery, app-connect smartphone integration, navi, and a nice Fender auto system are all part of the package, as is an automatic lane departure warning system (really learned to hate that feature), hill descent control, hill holder, adaptive cruise control, blind spot detection, etc, etc. You won't lack for creature comforts with the Atlas Execline and it's very much in line with other models in category when it comes to the bells and whistles.
Slide behind the wheel and it's obvious that you are in a well-assembled vehicle. Fit and finish is pretty much impeccable, and underway, the Atlas is quiet and civilized with minimal NVH (Noise, Vibration, and Harshness). Like most VW products, it feels upscale, and if you were blindfolded, you could easily mistake this one for an Audi.
But all is not perfection. Number one with a bullet for me is VW's accursed lane departure warning system. When you're driving, any minor deviation from the lane you're in results in a gentle tugging on the steering wheel as the car attempts to put itself back on track. Fine in theory, but disconcerting and, I would argue, potentially dangerous. For example, if you need to switch lanes in a hurry because the moron beside you has decided to cut you off, or the guy in front chooses to stop and turn at the last possible minute, the system will slow you down just enough to make it awkward. Nine-and-three-quarters times out of ten, you can just override this, but that mini-second of delay could theoretically make the difference between safely executing a collision-avoiding maneuver and total disaster. I've driven quite a few VW products lately and they all have this feature … even Golfs. For prospective buyers I would suggest you disable this nuisance ASAP … it's nothing but a pain in the ass.
And a word about price. The base ExecLine Atlas starts at around $53,000, and is comes well equipped at that price. You could easily reach $60,000 (before taxes, etc), if you were add on various extras. My advice: Don't bother. This one is just fine the way it is.
AT A GLANCE
Engine: 3.6 litre V6
Transmission: Eight-speed automatic
Drive: AWD
Horsepower: 276 hp @ 6200 rpm
Torque:  266 ft. lb @ 2750 rpm
Price as tested: $54,435
Fuel Economy: 13.7 L /100 km (city) & 10.1 (hwy.) Regular fuel.
Some Alternatives: Honda Pilot, Kia Sorento, Volvo XC90, Toyota Highlander, Toyota 4Runner, Nissan Rogue, Ford Explorer, GMC Acadia, Hyundai Santa Fe, Mitsubishi Outlander.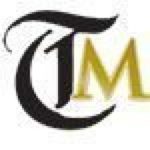 Ted Laturnus has been an automotive journalist since 1976. He has been named Canadian Automotive Journalist Of The Year twice and is past president of the Automotive Journalists Association of Canada (AJAC).