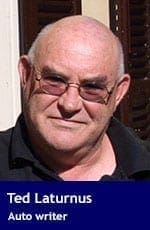 With the explosion in compact SUV popularity, it's almost unusual to see an actual full-size model – the ones that got this whole ball rolling, like the Chevrolet Suburban or its direct competitor, the Ford Expedition.
Introduced in 1997, the Expedition borrows heavily from the F-150 pickup truck platform, utilizing many mechanical components and similar technology. It's Ford's only full-size SUV (aside from the Lincoln Navigator) and is … well … big.
Offered in five variations, with four-wheel-drive right across the board, the 2019 Expedition is powered by a 3.5-litre EcoBoost V6 mated to a 10-speed automatic transmission. This engine features twin turbochargers and, depending on the model, develops 375 or 400 horsepower.
Designed specifically to haul a trailer, the Expedition can manage anything up to 6,800 kg. That's about the biggest non-commercial trailer you can buy.
According to Ford, combined fuel economy for the Expedition is around 13 litres/100 km, so it's kind of thirsty, although not the thirstiest in this class.
The Expedition will seat up to eight adults and interior dimensions are generous, with up to 3,500 litres (121 cubic feet) of cargo room with all seats folded flat. That's mini-van territory. No doubt about it – this is a big boy.
With a big price tag. Sticker price for the base XLT is in the $55,000 neighbourhood, and my test Limited model, with just about all the bells and whistles, is nudging $100,000, before taxes.
So what do you get with the Limited?
Leather upholstery, of course, and in this case, the "driver assistance package," which includes a 360-degree camera, power everything, automatic drop-down running boards, and Ford's automatic rear hatch opening setup, which raises the rear door when you extend your foot under the back of the vehicle.
I love all of these features, and the running boards and automatic rear door opening help immeasurably when it comes to access.
My tester also had seating for eight, with a pair of bucket seats in the middle row and a fold-down rear seat that will accommodate three adults – they should be friends, though. For such a huge vehicle, it's still a little on the crowded side at the very back and getting to the third row seat requires a little manoeuvring.
Middle row passengers get their own heat-air-conditioning controls, and the Limited has a DVD headrest option. This latter feature adds some $2,100 to the price and the "convenience package," which includes roof rack, runs another $2,000.
The Expedition has a rotary gear selector, which I first encountered when Ford owned Jaguar. It works well enough and is easy to get at and use, which I suppose is the point.
This is a luxury vehicle, no question, and when you slide behind the wheel, it definitely feels like one.
Normally, one would expect to find a V8 stuffed up front, but Ford is committed to smaller engines and the EcoBoost turbo V6 drivetrain works seamlessly. It's quiet, responsive and unobtrusive, with more than enough reserve and takeoff power.
That said, there's a lot of technology under the hood, and future service and reliability issues should be taken into consideration. I prefer a well-tuned V8, but there you go.
But who needs a rig of this size?
Unless you're hauling a trailer on a regular basis or operate a limo service, I can't see the point. It sure isn't meant to go off-road and is a bit of a handful in crowded downtown traffic. You definitely want to think twice before you charge into a parkade and parallel parking with this little puppy is not for the faint of heart.
But if you need to drive across the country and want to do it in style, the Expedition is specifically designed for it. Comfortable, stable, accommodating and roomy, it's the state of the art for full-size SUVs.
2019 Ford Expedition
Engine: 3.5-litre twin turbocharged V6
Transmission: 10-speed automatic
Drive: Rear-wheel drive/all-wheel drive
Horsepower: 375 at 5,000 rpm
Torque: 470 foot pounds at 2,250 rpm
Price: Base, $73,449; as tested, $97,595
Fuel economy: 14.0 litres/100 km city and 10.6 highway, with premium or regular gas
Some alternatives: Toyota Sequoia, Chevrolet Suburban, Hyundai Palisade, Nissan Armada, Kia Teluride, GMC Yukon.
Ted Laturnus writes for Troy Media's Driver Seat Associate website. An automotive journalist since 1976, he has been named Canadian Automotive Journalist of the Year twice and is past-president of the Automotive Journalists Association of Canada (AJAC).
---

The views, opinions and positions expressed by columnists and contributors are the author's alone. They do not inherently or expressly reflect the views, opinions and/or positions of our publication.