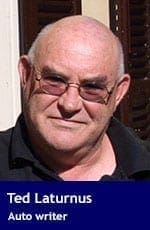 Next to the Golf, the Jetta is Volkswagen's longest-running model. Debuting in 1979, it's been a mainstay for the company and has proven to be more than just a Golf with a trunk.
For 2019, it's on the receiving end of a variety of changes and improvements. And it's still offered in three variations: Comfortline, Highline and Exceline.
Power is provided by a 1.4-litre four-cylinder engine that develops an impressive 147 horsepower and 184 foot pounds of torque. This disproportionately high output is thanks to an inter-cooled turbocharger. Buyers can choose from a six-speed manual or eight-speed automatic Tiptronic transmission.
With a curb weight of 1,310 kilograms, the Jetta delivers a purported 7.0 litres/100 kilometres combined rating fuel economy.
It seats five adults comfortably and comes with the usual barrage of comfort and convenience features – heated seats, app connect with Android, Bluetooth, cruise control, exterior temperature readout, etc., etc.
In every way, the Jetta is smack dab in the middle of the compact car market and easily on par with anything coming out of Honda, Toyota, Nissan, etc.
A few observations:
• At 399 litres, the trunk of the Jetta is roomy but not vast. By way of comparison, a Honda Civic offers 428 litres, while a Hyundai Elantra has just over 400 litres. But what makes this trunk so accommodating is its depth – you can easily slip a full set or two of golf clubs in there and it'll surprise you with its volume.
• Like just about every other car these days, the Jetta has an auto stop/start function. You pull up to a traffic light, stop the car and the engine automatically shuts off. Over the life of the vehicle, this would no doubt contribute to fuel economy savings and reduced emissions (the general idea). But in this case, it's clumsily executed and kind of random. For example, if you're parking the car and don't shut the engine off promptly, the auto-stop will do it for you, and when you go to actually shut the motor off, you end up restarting the car. It's not a big deal but kind of annoying.
• Handling and braking are a step up from everything else in this market segment. The Jetta is more stable feeling well-planted, and nicely balanced. The Civic/Corolla et al are all okay, but the Jetta is better. Were I in the market for this type of car, this would put the Jetta at the top of my list. Despite being kind of diluted over the years, it still feels very European.
• Seats get full marks. My test Execline model had three-setting heated seats and they work a treat. However, I found myself missing a heated steering wheel, which is standard issue on most Japanese/Korean rivals. But over the long haul, the Jetta is more comfortable.
• Still trying to make up my mind on the turbocharged four-cylinder. I love the technology but miss the torque grunt that comes with larger engines.
• I found the automatic transmission to be a little indecisive, especially during low-speed city traffic. That said, full marks to VW for continuing to offer a manual gearbox. Many manufacturers are slowly walking away from this feature, at least in North America, and more's the pity.
• While I don't mind the styling of the Jetta, it's definitely more North American looking than it used to be. That big chrome front grille is aimed no doubt at Americans, who seem to love this kind of thing. Again, no biggie, but I prefer a more subtle styling approach.
But that wouldn't stop me from looking long and hard at this one, were I in the market for a compact four-door. Especially given the price. At $20,995 to start, you're getting a decent amount of car for the money and the Jetta actually has a lower starting price than the Golf. Not to mention the added bonuses of cut-above handling and drivability.
2019 Volkswagen Jetta
Engine: 1.4-litre turbocharged four-cylinder
Transmission: Eight-speed automatic or six-speed manual
Drive: Front-wheel drive
Horsepower: 147 at 5,000 rpm
Torque: 184 foot pounds at 1,400 rpm
Base price: $20,995
Fuel economy: 7.9 litres/100 kilometre (city) and 5.9 (highway), regular gas
Some alternatives: Honda Civic, Toyota Corolla, Hyundai Elantra, Chevrolet Cruze, Mazda3, Nissan Versa, Kia Rio.
Ted Laturnus writes for Troy Media's Driver Seat Associate website. An automotive journalist since 1976, he has been named Canadian Automotive Journalist of the Year twice and is past-president of the Automotive Journalists Association of Canada (AJAC).
---

The views, opinions and positions expressed by columnists and contributors are the author's alone. They do not inherently or expressly reflect the views, opinions and/or positions of our publication.