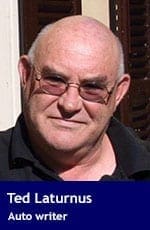 Not designed to raise pulses, the Mazda CX-5 is nonetheless one of the mainstays of the company's lineup.
It's kind of their mid-sized model, sandwiched between the very popular CX-3 and CX-9.
What it may lack in driving kicks, it makes up for in sheer driveability and driver-friendliness. It's just one of those cars that is very easy to get along with.
For 2018, it features various engineering refinements, including a cylinder de-activation system for the larger 2.5-litre engine.
Available in three trim levels – GS, GX and GT – with two engine choices, the CX-5 can be had with either a 2.0-litre or 2.5-litre four-cylinder, front-drive or all-wheel-drive, with a choice of a six-speed manual gearbox (with the smaller engine only) or a six-speed automatic.
My tester, the GT model, featured the 2.5-litre four-cylinder mated to the autobox. The vast majority of cars sold by Mazda come with this drivetrain combo, but props to the company for continuing to offer a manual stick shift.
Power is just under 190 horsepower and this engine will run happily on regular gas. This is one of Mazda's SkyActive powerplants, with higher than average compression, and the fact that it doesn't need premium gas is definitely noteworthy.
With all the seats folded flat (easily done via a seat-back mounted lever) the CX-5 will provided some 1,687 litres (59.5 cubic feet) of cargo room, and it will apparently pull a 900-kilogram (2,000-pound) trailer. My personal standard of cargo capacity – an acoustic drum kit – will fit into the back storage section without having the fold the rear seat down, if you're careful and don't bring along any extras. I was pleasantly surprised at the CX-5's roominess. By way of comparison, a Honda CR-V will give you 75.8 cubic feet.
Now, about that cylinder de-activation. In a nutshell, the engine management system shuts off a couple of cylinders during highway cruising. This is not uncommon in the industry, many manufacturers have used this technology as a fuel-saving measure. However, virtually all the other carmakers are using it on larger displacement engines. I think Mazda is the only one using it on a four banger.
On the freeway, it's completely unnoticeable. Except when you suddenly need reserve power, then it takes a nano-second for things to get back up to speed and you notice a slight dip in reserve power. But nothing onerous or annoying. Incidentally, the Mazda 6 now has this feature as well.
Elsewhere, my biggest gripe with this vehicle is the accursed automatic self-locking system. Every Mazda I've driven lately (and a few other brands as well) has a hyperactive self-locking feature that has you continually fumbling with the key fob to get into the back seat or rear storage area. It drove me crazy and were I to own this car, the first thing I'd do would be to de-activate it.
I also have issues with the placement of various controls, but that's something I suppose one would get used to eventually.
Thankfully, the easygoing nature of the CX-5 remains intact. It's easy to get in and out of, very manoeuvrable during city driving, reasonably comfortable, and powerful enough for most of us. Noise, vibration and harshness (NVH) is a little higher than I would like and again, on the highway, there is definitely tire/road noise emanating up through the floorboards. It's quieter than the CR-V, though.
My GT starts at $35,000. Standard equipment includes things like heated seats, rearview camera, rear cross traffic alert and cylinder de-activation. This version of the CX-5 is nicely equipped as is, but if you need more, the Technology Package, which includes radar cruise control (good idea), lane departure control (I disabled that as fast as I could find the switch), lane-keep assist (again, disabled ASAP), pedestrian detection (sure, why not?) and Sirius (a must-have these days) adds another $1,600.
It's not the most exciting car I've ever driven, but it's thoughtfully built, highly driveable and very driver-friendly.
2018 Mazda CX-5
Engine: 2.5-litre four cylinder
Transmission: six-speed automatic
Drive: front-wheel drive/all-wheel drive
Horsepower: 187 hp at 6,000 rpm
Torque: 186 foot pounds at 4,000 rpm
Price as tested: $38,495
Fuel economy: 9.8 litres/100 km (city) and 7.9 (highway), regular gas
Some alternatives: Honda CR-V, Toyota RAV4, Ford Escape, Nissan Qashqai, Kia Sportage, Hyundai Tucson, Nissan Juke, Chev Trax, Buick Encore, Mitsubishi RVR.
Ted Laturnus has been an automotive journalist since 1976. He was named Canadian Automobile Journalist of the Year twice and is past president of the Automobile Journalists Association of Canada (AJAC). For interview requests, click here.
---
The opinions expressed by our columnists and contributors are theirs alone and do not inherently or expressly reflect the views of our publication.
© Troy Media
Troy Media is an editorial content provider to media outlets and its own hosted community news outlets across Canada.