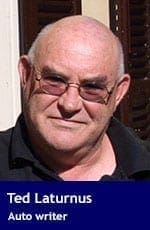 First, let's talk about the paint job on my test RAV4. Toyota is calling it Blue Flame With Ice Edge. I call it taxi cab meets corporate fleet vehicle and it's, well, distinctive.
Taste is personal, of course, but of the infinite number of paint choices the company could have picked, why this particular eyesore?
I'm hard-pressed to think of a less attractive paint combo and were I in the market for this type of car, it would stop me in my tracks.
In all fairness, Toyota is not the only one to choose this paint scheme. Kia and Mini are using a combination very much like it on some of their Soul and Cooper models, and Nissan has flirted with it with the Juke. In the case of these three, they're pretty homely to begin with, so it doesn't matter one way or another.
But the RAV4?
Well, you tell me.
But, hey, you don't have to choose this paint job. And all the other attributes that make this model a top seller are present and accounted for in this iteration of the RAV4.
Offered in no less than 10 varieties – including a hybrid – the RAV4 is one of Toyota's best selling models and has been for years.
In this model year, power is provided by a 2.5-litre four-cylinder developing just over 200 horsepower. Transmission is an eight-speed automatic and it can be had with either front-wheel or all-wheel drive.
My test model, the Trail edition, had the latter, obviously, plus a slew of other goodies aimed at the off-road enthusiast. That included hill descent control, rear-wheel driveline disconnect, a rotary dial for drive mode choices and hill start assist. It also had heated and cooled front seats, a wireless charger for smart phones and glitzy orange interior highlights. In virtually all respects, this is a well-equipped SUV.
Some other thoughts:
• The transmission is kind of sketchy. Most of the time, it's unobtrusive and efficient, but every now and again, especially during slow rolling stops, it kind of lurches into gear, as if it's trying to make up its mind what to do. That's disconcerting.
• This may be one of the quietest SUVs I've ever driven. It makes almost no mechanical noise during city driving and on the highway, the noise, vibration and harshness (NVH) is negligible. You can easily carry on a conversation without having to raise your voice. That tells me that this is a well-screwed-together vehicle.
• Apparently, the front buckets are heated and cooled. The former feature works a treat but the latter is almost nonexistent. Even at the highest setting, the seats remain uncooled. It's not a big deal but definitely not as advertised.
• The ride is a little on the rough side. That's to be expected on an off-road-rated vehicle and it's not obtrusive, but still.
• Switchgear and ergonomics are easy to understand and quite usable. Even an aging Luddite like myself will have no problem getting along with the RAV4. That, of course, is part of its charm. Toyota has mastered the art of building appealing, mainstream automobiles, and the RAV4 carries that tradition forward.
• The RAV4 is also getting bigger all the time. Car manufacturers can't seem to help themselves with this phenomenon. When it first hit the streets, the RAV4 was truly a compact SUV. Now it's pretty much mid-size, weighs over a ton and a half (1,640 kg or 3,615 pounds), has massive 19-inch wheels and tires (on the Trail model) and will seat five adults in reasonable comfort.
Getting back to the paint scheme. I may not be crazy about it but other people seem to be. While I was parking this puppy downtown, a young couple crossed a busy street just to ask me about the car – they were especially enamoured of the paint. Different strokes, I guess.
2019 Toyota RAV4
Engine: 2.5-litre four-cylinder
Transmission: Eight-speed automatic
Drive: Front-wheel, all-wheel
Horsepower: 203 at 6,600 rpm
Base price: $38,690 (Trail edition)
Fuel economy: 9.2 litres/100 km city and 7.1 litres/100 km highway, with regular gas
Some alternatives: Honda CR-V, Ford Escape, Jeep Wrangler, Hyundai Tucson, Volkswagen Tiguan, Kia Sorento, Mitsubishi RVR, Nissan Rogue, Chevrolet Equinox, Mazda CX5, Subaru Outback.
Ted Laturnus writes for Troy Media's Driver Seat Associate website. An automotive journalist since 1976, he has been named Canadian Automotive Journalist of the Year twice and is past-president of the Automotive Journalists Association of Canada (AJAC).
---

The views, opinions and positions expressed by columnists and contributors are the author's alone. They do not inherently or expressly reflect the views, opinions and/or positions of our publication.