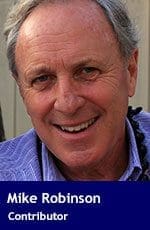 Day by day, the storm signals are more evident.
Let's start with Peak America.
It's no longer the world's top economy (China's gross domestic product is $22 trillion compared to America's $19 trillion), suffers under bitterly tribalized politics and is led by an oligarch with a growing list of symptoms of aged maladies.
Are would-be immigrants starting to revise their first choice of countries to attempt second starts at life? Why commit precious energy and idealism to a failed dream?
Then there's Peak Oil – this time constrained by climate change rather than production capabilities. The United Nations Intergovernmental Panel on Climate Change recently advised us that about a dozen years remain to effect global changes in hydrocarbon emissions to avoid runaway climate impacts of varied descriptions.
We've already seen the onset of aggressive wildfires, erratic storm systems, Arctic and Antarctic ice cap and glacial melts, drought-and-war-induced migrations from Syria, Honduras, El Salvador, Guatemala and the northern Sahara.
Clearly it's time to move aggressively as individuals, families and governments into a new energy paradigm. It's time to face up to the fact that in the next decade, oil is over.
I'm also struck, in large measure because of daily conversations with millennials, with a sense of Peak Awareness Anxiety. This is simply the daily state of many young people who are fed up with baby boomer idiocy, legacy and assumed rights of political dominance.
Many millennials question whether it's worthwhile to have children, or to entertain enthusiasms for full and rewarding lives in the climate-changing, economically-disrupted, algorithmic world they've inherited. They feel too aware of what's staring them in the face. For many, life is losing its lustre.
So what to do?
Staying the course is not an option. Viewing the world from a Western Canadian perspective (because that's where I live), I think it's time to de-emphasize United States-Mexico-Canada Agreement (USMCA) thinking. We need to broadly cultivate Chinese markets for much more than the infatuation with urban Canadian real estate speculation, and casino and high-end retail vacations.
Why not initiate joint ventures with China in new energy technologies, state-of-the-art sustainable on-land aquaculture, back-country eco-tourism predicated on the expansion of parks and protected areas, and cultural economic development on the Guggenheim Museum, Bilbao, Spain, model?
And why not ramp up Mandarin language programs in all publicly-funded B.C. and Alberta schools?
Why not initiate a new university program modelled on the Rhodes Scholarship – but based at the Universities of Beijing and British Columbia – for the education of leaders in the new Sino-Canadian cultural and economic dialogue?
What of Alberta, so unprepared for the seismic shift described as necessary by the UN panel on climate change?
How can the government of Premier Rachel Notley move to address the immediate need for replacement jobs and revenues to sustain a province increasingly predicated on oil? Particularly since the Lougheed era of progressive conservative thoughts about economic diversification, a Norway-class Heritage Fund and university-led technological transformation seems to have died.
What would former premier Peter Lougheed advise today? More pipelines? Or another paradigm altogether?
I can imagine him talking about combining the Albertan can-do spirit with new technologies across a broad spectrum: communications, transportation, agriculture, tourism, culture and alternative energy. He'd be investing in university research institutes, not oil rail cars, and broadly provoking and engaging in the intellectual discourse about sustainability.
I suspect that Lougheed would also be alive to the international needs and opportunities being created by climate change in the Canadian prairies.
We're just beginning to witness the international migrations of displaced farmers and urban entrepreneurs from middle latitudes where rising temperatures, drought, and concrete and brick heat-sink architecture are rendering life impossible. Why not combine their talents with prairie landscapes where climate is warming and rainfall is increasing?
Why not implant middle latitude traditional agricultural knowledge in the new Canadian West, combining experimental intensive crop regimes with new agricultural technologies?
How about re-establishing the buffalo commons and implementing Blackfoot and Cree traditional bison knowledge?
Why not make Alberta the centre of a new, intensive global agriculture practise that gives wheat and canola a run for their money?
Why not breathe deeply and reject the status quo altogether? What have we got to lose if we don't?
Maybe humanity.
Troy Media columnist Mike Robinson has been CEO of three Canadian NGOs: the Arctic Institute of North America, the Glenbow Museum and the Bill Reid Gallery.
---

The views, opinions and positions expressed by columnists and contributors are the author's alone. They do not inherently or expressly reflect the views, opinions and/or positions of our publication.