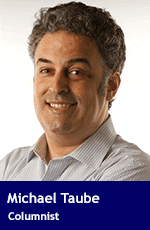 When the Ontario Progressive Conservative Party launched its policy platform, the People's Guarantee, the most controversial proposal was implementing a carbon tax. Then-leader Patrick Brown was both praised and criticized for touting this decidedly anti-free-market concept.
Brown, as we know, is no longer in charge. Two of the three declared leadership candidates, Christine Elliott and Doug Ford, oppose the carbon tax. (Caroline Mulroney, who joined the race on Sunday, is leaning towards keeping it.)
Some political observers and party members have suggested Elliott and Ford are taking the wrong approach for three reasons. Let's break them down:
• The federal government has announced it will impose a carbon tax on all Canadian provinces and territories. Ontario should therefore stay on board and try to find ways to make it work. 
However, while the federal Liberal government is attempting to do this, not everyone is on board. In particular, Saskatchewan is opposed to this economic strategy. New Premier Scott Moe said in his victory speech last month, "The federal carbon tax threatens the livelihood of every farmer, every miner, every worker in the energy sector. I will fight for this province, I will fight for our economy to ensure we do not have a carbon tax. And Justin Trudeau, if you're wondering how far I will go – just watch me."
That famous line, first uttered by former prime minister Pierre Trudeau, was also used by Ford a few days later. Hence, the Ontario PCs could join the Saskatchewan Party in a court challenge against the carbon tax if they win this June's provincial election and replace Liberal Premier Kathleen Wynne.
If United Conservative Party Leader Jason Kenney wins next year's Alberta provincial election and joins them, this could have an effect on the next federal election.
• Section 18.7 of the Ontario PC constitution states, "Recommended Resolutions passed at annual Policy Conferences shall constitute the foundation on which Party policy and legislation is developed until the next Policy Conference." Combine this with the Leadership Election Organizing Committee's Section 5(c) related to candidate eligibility – "No person shall be a Candidate unless he or she … supports the aims, principles and objects of the Party and the policy resolutions adopted at the Constitutionally-mandated 2017 policy process" – and opposition to a carbon tax is little more than political posturing.
Not really. You can't be expected to come from outside the party caucus and membership, and go along with what was decided before you became active in the decision-making process. A new leader should have the right to put their stamp of approval on a political party, and either reject or ignore any policy measure that they disagree with.
If Elliott and Ford are opposed to a carbon tax (or any other policy measure), they don't have to campaign on it. The PCs are a democratic party, not a party governed by fiat.
• The People's Guarantee was discussed, constructed and costed with a carbon tax in mind. If we take this into consideration, it would be illogical and virtually impossible to create a new policy platform in such a short window of time.
While a complete overhaul of the People's Guarantee would be counterproductive, no one is calling for this. Some tinkering would certainly be in order if the carbon tax was eliminated from the equation. It wouldn't be easy but it's not an impossible task.
Elliott and Ford would therefore have to sharpen their pencils and find cost savings from other sources. This could include: additional tax relief for individuals and corporations, cutting back on red tape and the bureaucracy, encouraging more private-sector influence, reducing government's role in social programs and transit spending, more fiscal prudence with respect to writing off daycare costs and reducing hydro rates, and so forth.
End result? Ontario PC leadership candidates can legitimately remove the carbon tax from the People's Guarantee without too much concern or difficulty.
It won't hurt their chances of winning the June provincial election, either.
Troy Media columnist and political commentator Michael Taube is also a Washington Times contributor, Canadian Jewish News columnist, and radio and TV pundit. He was also a speechwriter for former Prime Minister Stephen Harper.
---

The views, opinions and positions expressed by columnists and contributors are the author's alone. They do not inherently or expressly reflect the views, opinions and/or positions of our publication.