Flashback to the 1980s and massive efforts to help feed starving populations, most of them concentrated in developing countries, were commonplace. Theories surrounding whether over-population and in the inefficient use of resources would hinder our ability as a collective citizenry to provide for the most basic of needs – food – was a real worry. Flash-forward to the present and while hunger is still an issue, no doubt, advancements in agriculture have skyrocketed by leaps and bounds. If populations cannot access adequate food supplies today it is more a political issue rather than a pure supply/demand issue.
Smart farming as a concept is rooted in the intelligent use of technology to help the agricultural sector increase production and profits simultaneously. The types of agricultural mobile apps available today are booming and farm apps and app agriculture are leading the way. There are hundreds of highly relevant applications for agriculture in the market today designed to assist farmers, producers, distributors and large agricultural companies amass data to smartly observe and manage their crops. Farming with apps is advancing the sector in an exciting new direction which holds tremendous potential for everyone in the supply, and consumer demand chain.
Features for the Agriculturist
Rain Tracker
Shared Data
Know your Weeds
As an agriculturist you're on the proverbial front lines. Farming either provides some, if not all the family income and staying abreast of shifting trends and ever-evolving climatic changes is vital.
Rain Tracker
A key feature for any mobile agriculture app is being able to track and record precipitation levels. Notable players in this arena offer precise data (based on geolocation) allowing agriculturists to check on rainfall over a tight, 24-hour window.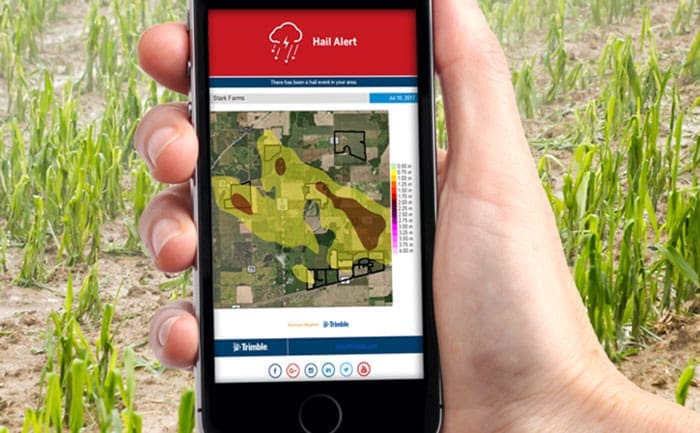 A key component to keep in mind here is this feature needs to be updated every hour, so keep that information handy when considering a provider.
Shared Data
Farming with apps automatically places agriculturists in touch with each other which serves to advance individual production thereby enabling economies of scale. A relatively new feature in the app agriculture world is one that allows agriculturists to share individual data and arrive at mutual decisions regarding a host of decisions – potential buyers, where to find commonly used insecticides at the cheapest prices, recommendations of field cultivation or pest control. Think of this as a best-practice, sharing feature which puts agriculturists in touch with each other regardless of the physical location.
Know your Weeds
Ultimately, let's talk weeds. They can either be great for business if utilized properly, or downright nasty. ID Weeds and its library feature with data on tons of weeds is an excellent agri apps feature.
Users can choose the plant characteristics and cross those with the type. Detailed information on the weeds follows coupled with suggestions on how to make the most out of said weed.
Features for a Farming Business
Employment Tracker
Savvy Tech Support
Price Transparency
Employment Tracker
As opposed to the agriculturist, a farming business is much more than simply farming. To begin, there are people involved, sometimes lots of them, and being keyed into the online farming employment boards is a great way to keep track of trends, needs, positions, openings and the overall labor movement in your local area.
Savvy Tech Support
Second, because the agriculture sector is evolving so quickly, having people to turn to for advice, no matter how minor or complex, is a giant value-added.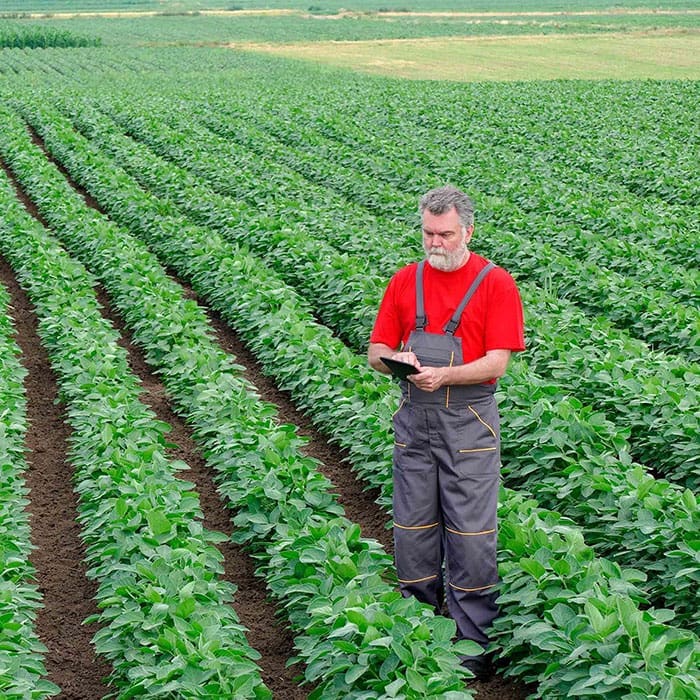 The best farm apps include features that are designed to provide technical support in the form of streaming video or consultants who provide advice on a range of timely issues and concerns. Real-time is the key here and the best mobile apps for agriculture are not complete without it.
Price Transparency
Third, pricing is critical for farming businesses and the agricultural commodity market is the principal benchmark for setting not only national, but local pricing as well. A feature that can provide mobile agriculture news from the United States Department of Agriculture is available and can be easily integrated. This feature can bring the user up to speed on seasonal comparisons and technical analysis on everything from heat maps, daily rates for grain purchases and a breakdown on future pricing as well as estimated demand.
Main Agricultural App Players
Drone Survey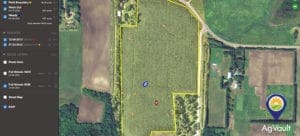 While there is a plethora to choose from, what follows are some of the best farm apps on the market today. AgVault 2.0 Mobile provides users the ability to survey their fields from above via a drone.
The drone launches from the app and autonomously flies a route (predetermined) and returns based on the time the user desires. Overhead shots of crops and fields is invaluable as all farmers are aware of. This is app agriculture at its finest.
Smart Organization
Second, John Deere has fantastic agri apps and its GrainTruckPlus app helps you administer your grain harvesting from the field all the way to the elevators.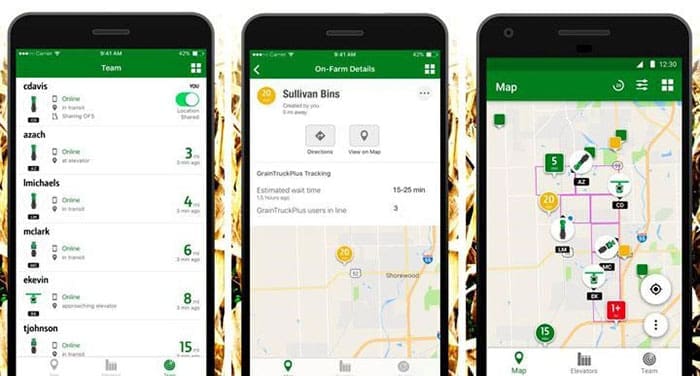 Team members can be marked on the app and via integrated communication everyone can organize themselves around available trucks, grain elevator pick-up's and drop-off's, and the contact information for purchases.
Got Nitrogen?
Lastly, nitrogen is critical to healthy crops and Yara ImageIT measures nitrogen uptake in a given crop and subsequently whips out a recommendation based on the analysis.
A farmer's smartphone is instantly transformed into a crop nutrient tester which will help tremendously with optimal yield and crop quality.
Conclusion
Mobile agriculture is entering uncharted territory. Farm apps are helping millions of agriculturists and farming businesses worldwide expand production in intelligent, profitable ways all the while advancing the larger app agriculture world via best-practice sharing and integrated communication. It's probably never been so exciting nor sexy to be in the agriculture business, wouldn't you agree!
---
This content is a joint venture between our publication and our partner. We do not endorse any product or service in the article.