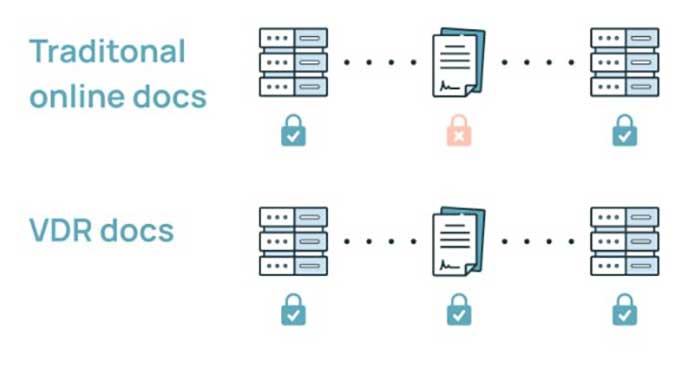 Virtual data rooms are perhaps the most important technology used during M&A. They are the primary means by which buyers, sellers and their advisors exchange important documents. Between finding a buyer and closing a deal, online data room software keeps documents safe and organized. This allows transactions to move faster and prevents data leaks and oversights that can lead to errors later on.
Choosing the right virtual data room depends on many factors. However, without detailed information, this process can be difficult. But figuring out VDRs is a lot easier than it might seem at first glance. Let's take a look at the points to consider.
Virtual Data Room Features
Features vary from one electronic data room provider to another. However, there are a few standard features that should be included with any type of VDR
➢            Customizable Document Permissions
Like folder permissions, VDRs allow different parties to a project to have different levels of access to documents.
➢            Customizable Folder Access Rights
Where consumer document sharing services allow you to make folders public or private, VDRs allow administrators to choose which specific users can see a file and how much information they can access.
➢            Document Expiration
Documents can be accessed for a certain amount of time, and access can be revoked if something changes.
➢            Monitoring User Activity
Administrators can see which users have accessed which documents, leaving no questions about project security and activity.
➢            Project Archiving
When a project is complete, VDR saves a record of all documents and activity for future use.
➢            Watermarks
Documents can be watermarked to avoid unwanted duplication and distribution.
➢            Custom Branding
Allows a company to add its own logo to the VDR interface.
Special Additions for VDRs
In addition to the above, some VDRs offer separate following features:
A module to improve and speed up the Q&A process during an M&A transaction.
Add documents and users in one go, not individually. Upload documents in bulk.
Get more information on user activity, data room usage, document sharing, etc.
Allowing organizations to integrate VDR into their business systems and modify it to meet their needs.
Interfaces for Specific Types of Projects
Some VDRs specialize in certain functions such as M&A, legal services, real estate, fundraising, etc., and some offer support for all these types of projects.
Important Things to Consider When Choosing a Virtual Data Room Software
Once you know the basic functions of the best data rooms well and understand what you want to achieve with VDRs. You can start comparing the offerings of different virtual data room providers. Since good providers tend to have most of the above features, it's mainly a matter of understanding how their VDRs work, what types of projects they specialize in, and how the company positions itself and prices its VDR offerings.
User Interface and Provider Specialization
Since many VDR features are standard for all providers, it's important to think about which VDR has the most intuitive interface and the easiest to use security settings. Make sure the VDR has the features you need and that it works the way you are comfortable with it. A related factor is customer support: Will your VDR vendor take the time to show you how their system works, and will they support you throughout the project?
Another important question is: What do you want to achieve with VDR? When choosing a VDR, take the time to find out how other clients have used it and what the company does beyond offering a VDR. In general, it's best to choose an option that meets your project needs, but also has the ability to adapt to any areas you may choose in the future.
Security
The quality of any virtual data room provider is in its security.
Where does a VDR provider store its data? A good provider will use industrial-grade data centers (biometric access and fire protection) and backup measures (mirror sites and contingency plans).
A good data security provider will offer top-level encryption and meet basic security requirements.
Most data breaches are the result of human error, so it's important to make sure your storage space provider offers features that make your workflow easier and more intuitive.
Price
Searching for virtual data room vendors can be confusing at first, as very few of them publish their prices. This is because VDRs often specialize in customer needs, and prices can vary quite a bit from vendor to vendor and from use case to use case. Nevertheless, here are a few things to keep in mind:
Pricing Model
Some older and larger data room providers have developed a habit of charging exorbitant fees to large institutions that are able to overlook it. Make sure your VDR provider will not overcharge for creating additional pages and projects. Ask about overage fees up front and be aware of any hidden fees.
Cheap Isn't Always Good
Don't be tempted by free data room services – they're good for a lot of things, but they're not VDR. Also be wary of any vendor offering exceptionally low prices. This can be a way of disguising a substandard product, or it can lead to hidden price increases later on.
As a rule of thumb, if a VDR supplier interests you, contact them and book a demonstration. Their representatives will explain how you can use their VDR for your purposes and offer the best prices possible https://virtual-dataroom.org/pricing/.
Now you can easily start looking at possible provider options for yourself. Check out the virtual data room reviews, try the list of brands, and give each one a rating.
---
This content is a joint venture between our publication and our partner. We do not endorse any product or service in the article.