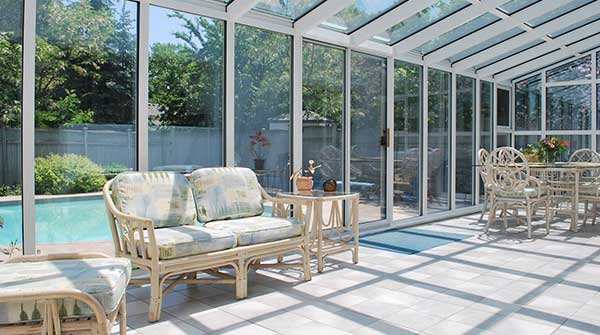 Spring is almost around the corner! It's time for many of us to wave farewell to winter and take a breath of fresh air as you can soon uncover the pool, turn off the heaters, tune up the mowers, and, most importantly — get your sunroom ready to enjoy the warmer season ahead.
A sunroom allows homeowners to experience the beauty of the outdoors without having to leave their homes. Enjoy a gorgeous sunset from the comfort of your home without the inconveniences the outdoors provides, such as unexpected weather or mosquitoes. Do you fantasize about spending your relaxing warm days in your lovely sunroom? Sunrooms like the ones sold at Florian Sunrooms are nearly maintenance-free!
Check out these simple suggestions for updating your sunroom to have unlimited comfort and relaxation this spring.
Modernize It
Nothing beats adorning your home with new decorations to greet the freshness of spring. Why not update the décor of your sunroom by purchasing new drapes or blinds? If your budget allows, you might also consider purchasing new furniture to completely transform the aesthetic of the area.
Look for drapes with UV protection so that the sun does not damage your furniture. Using lighter colours and textures is also a great touch, especially on hotter and sunny days. The last thing you want to do is sit on a heavy wool blanket with the blazing sun on your face. Look for materials made of cotton or linen.
Maintain a Focus on Lighter Colors
As mentioned above, light colours are great when updating your sun room. On a hot summer day, a sunroom that is decorated in dark hues such as black, brown, or navy blue will cause extra heat in the room. This is because dark colours attract heat. Using brighter colours in your chairs and other accessories, such as green, yellow, or white, can help you avoid making your furniture too warm.
Avoid Soft Flooring
Even though the sunroom will see a lot of use during the warm weather months, you could be tempted to make use of it throughout the entire year. In the winter, you will want floors that will collect heat throughout the day, such as stone or tile, rather than carpet because this will help you keep more heat in the room.
Theme It!
There's no reason you can't go to the beach just because you live in the middle of the forest or urban city. Choose a motif for your sunroom that reflects your passions and personality. The beauty of a sunroom is that it does not need to be designed to be consistent with the aesthetic of the rest of your house or the environment in which it is located. Because it is a singular addition that is typically distinct from the design of the rest of the house, you can exercise your imagination in creating a theme for your sunroom.
Prepare your sunroom now for a serene and restful spring and summer!
---
This content is a joint venture between our publication and our partner. We do not endorse any product or service in the article.