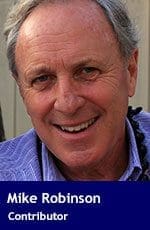 I packed my suitcase and dashed to the Horseshoe Bay ferry terminal to join my wife and her family at the palliative care ward of the Nanaimo hospital. Four adult children and their mother were already around a bed in a private room with their dad and husband, Bruce Webster.
By the time I arrived, he had already passed on but his body remained on the bed.
I walked into the room to hugs and tears and thousands of memories. Immediately, my mind summoned up an emotional collage of shared salmon fishing trips, rounds of Qualicum Beach golf, political discussions and toasts at family parties.
Although departed from his body, his spirit occupied every inch of the room.
The role of father-in-law tends to be undefined in comparison to that of mother-in-law in contemporary society. The winces, laughs and predictable nods that accompany mother-in-law jokes are well understood by most. But what really defines a father-in-law?
It's even hard to think of a good father-in-law joke to juxtapose with the mother lode of mother-in-law humour. Try Googling mother-in-law memes – there are hundreds of them. In the face of all of this one-sided humour, why are fathers-in-law bypassed?
I'd like to share the qualities of the man who I've known for 41 years as my wife's dad and how they contributed to his example of good father-in-lawship.
Our relationship got off to a strong start when I read the Webster tea leaves correctly and realized I should go over to their house and properly ask for their daughter's hand in marriage. This I did during the 1976 Christmas holidays, after clumsily proposing to my wife on the car deck of the Queen of Tsawwassen ferry.
Upon hearing my request, Mr. Webster got up from his chair, came over to me with arms outstretched and said, "Call me Bruce, Mike. Welcome to our family."
From that day on, we never exchanged an unkind word.
As we got to know one another, I realized there were some differences in outlook. Bruce was an electrical engineer and I was cast forever as an 'arts man,' lacking a solid grounding in all things practical. This led to a lifetime of joshing about my hopeless lack of well-defined competencies in the sciences of construction, especially electrical wiring and finishing carpentry.
He would occasionally grant me points for trying and remained astounded that I used my old law school brief case as a tool box.
We did share political beliefs, however. And we were both inveterate westerners, united against the pomposities and absurdities of Toronto and its Bay Street boffins.
We also shared a prairie Scots' orientation to life, favouring broad intellectual interests, a love of fishing and outdoor pursuits, and an egalitarian approach to our brother and sister humans.
He enjoyed intellectual arguments the most. He respected a cultivated intellect more than big bank accounts or inflated social status.
Bruce was highly independent and, in the best sense, a man's man. He was completely unrattled by five-metre cresting waves as we fished 20 km offshore from Vancouver Island's Bamfield. He knew how to set a hook, play a fish and net it better than the fishing guides. And he carefully respected his relationships with the farmers who let him shoot geese and ducks from blinds on their fields.
Bruce treated his daughters- and sons-in-law with a deft combination of respect and humour. He also demonstrated both physical and intellectual rigour in every task he undertook.
He was a man you could learn from and he focused on enabling the apprentice to gain confidence in their abilities. He encouraged us to take risks, in my case running for public office as a Liberal in Calgary Foothills.
"Don't worry about losing, Mike – you have my respect either way."
Respect, humour, rigour and risk-taking personified Bruce Webster. He taught those values well. He lived them, too.
Mike Robinson has been CEO of three Canadian NGOs: the Arctic Institute of North America, the Glenbow Museum and the Bill Reid Gallery. Mike has chaired the national boards of Friends of the Earth, the David Suzuki Foundation, and the Canadian Parks and Wilderness Society. In 2004, he became a Member of the Order of Canada.
---

The views, opinions and positions expressed by columnists and contributors are the author's alone. They do not inherently or expressly reflect the views, opinions and/or positions of our publication.