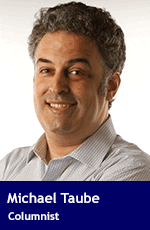 Wise politicians realize that the people, also known as taxpayers, are always concerned about how their money is spent by government. The cost of a policy, program or item can be large or small, but every penny – or nickel, in this era – must be used responsibly and prudently.
---
[rt_reading_time label="Reading Time:" postfix="minutes" postfix_singular="minute"]
---
This brings us to the purchase of an item where we can honestly say it was money well spent, for a change.
Library and Archives Canada (LAC) recently bought a book for $6,000 that was once part of Nazi leader Adolf Hitler's personal library. Entitled Statistik, Presse und Organisationen des Judentums in den Vereinigten Staaten und Kanada (Statistics, Press, and Organizations of Jewry in the United States and Canada), it was written by researcher Heinz Kloss and contains census information about Jewish communities in Canada and the U.S.
At first blush, it may seem a bit unusual that taxpayer dollars were used to purchase a book owned by the evil, hateful Führer instead of by a private buyer.
But an explanation from LAC curator Michael Kent helps make the decision understandable.
This document shows "the building blocks to rolling out the Final Solution in Canada," Kent said in a Jan. 23 CBC radio interview, and "[w]hile we talk about the Holocaust as a European event … I think what this item does is reminds us as Canadians that conflicts and human tragedies that seem far away can actually come to Canada."
Moreover, he argued that while "this is certainly a creepy item, the decision to acquire it was simple. The chance to acquire an item like this reminds us of … the role we play in ensuring the memory of the Holocaust is preserved."
The book also brings the Second World War closer to home.
German U-boats reached the St. Lawrence River and fought Royal Canadian Navy warships in the 1940s as part of the Battle of the Atlantic. The U-517 and U-165 German submarines, in particular, fought American and Canadian warships in this theatre.
Twenty-three Canadian merchant vessels and four Royal Canadian Navy ships were sunk, including the Donald Stewart, owned by Montreal's Canada Steamship Lines. (Former Liberal prime minister Paul Martin would purchase Canada Steamship Lines many decades later.) Canada continued to fight valiantly, and the U-889 and U-190 would surrender to Canadian ships in May 1945.
The European theatre is what most people associate with the Second World War. This is completely understandable, since most of the great battles, books, films and radio/TV broadcasts have been focused there.
But the Nazis were obviously thinking about the future of the Third Reich and that's why they fought in the Battle of the St. Lawrence.
Hitler's 137-page book is, therefore, an additional cog in the wheel.
Unknown to historians before it was purchased from an unnamed American collector, it's an important piece of world history.
It helps provide further ammunition against the relatively small number of Holocaust deniers.
It also proves the Nazis were in the planning stages of what we've assumed for decades: to study and, in time, annihilate the Canadian and American Jewish populations.
As the Simon Wiesenthal Center for Holocaust Studies president and CEO Avi Benlolo told CBC, "We didn't know this piece of history and now we do because the library bought it."
Had another private collector bought this book, Canada and the rest of the world would likely have never found out about it. The LAC's purchase ensures that people will be able to read and learn from it for years to come.
This all happened because a small amount of Canadian taxpayer money was actually used for something good. Will wonders never cease?
Troy Media columnist and political commentator Michael Taube was a speechwriter for former prime minister Stephen Harper.
---

The views, opinions and positions expressed by columnists and contributors are the author's alone. They do not inherently or expressly reflect the views, opinions and/or positions of our publication.
COMMUNITY NEWS OUTLET ACTION PLAN!
WEBSITE HOSTING AND ALL TROY MEDIA EDITORIAL CONTENT POSTED TO YOUR SITE DAILY FOR ONLY $129.95 PER MONTH.
Limited time offer: Get your first 2 months FREE!
---