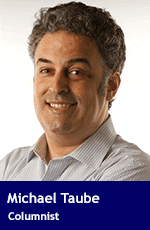 Many people are consumed with current events, including the U.S. impeachment inquiry, the saga involving Canadian Conservative Leader Andrew Scheer and the U.K. general election.
Yet there are moments when even this enthusiastic political pundit has had enough and needs to briefly escape the roller-coaster of life. So I delve into sports, movies, art, animation and pleasure reading to help keep me sane.
This includes mystery and detective fiction. While I strongly prefer to read non-fiction, it's fun to occasionally escape into the scintillating writings of Sir Arthur Conan Doyle (Sherlock Holmes), Agatha Christie (Hercule Poirot, Jane Marple), G.K. Chesterton (Father Brown), Howard Engel (Benny Cooperman) and others.
I also have a growing DVD and Blu-ray collection for this subject area.
One of the finest sources is RLJ Entertainment, founded by U.S. businessman Robert L. Johnson and now a privately-owned subsidy of AMC Networks. Among RLJ's holdings is Acorn TV, a streaming service of British movies and TV that also produces original content. Through its kind and helpful publicity department (Chad Campbell, Samantha Luckert and Lauren Wynne), I've received DVDs and box sets related to mystery and detective fiction over the years.
Interestingly, a few Canadian TV series have really stood out.
CBC's Murdoch Mysteries is one of Canada's most successful TV series. Based on Maureen Jennings' detective novels, it focuses on Det. William Murdoch (Yannick Bisson), who works for the Toronto Constabulary at Station House No. 4. The main character is a polymath with a photographic memory who uses his forensic skills and ingenious inventions to solve mysteries in the late 19th and early 20th century.
Other popular characters include: Murdoch's equally brilliant wife Dr. Julia Ogden (Hélène Joy), hard-nosed Insp. Thomas Brackenreid (Thomas Craig) and his social climbing wife Margaret (Arwen Humphreys), comical Const. George Crabtree (Jonny Harris) and occasionally bumbling Const. Henry Higgins (Lachlan Murdoch).
RLJ/Acorn has released 12 seasons of Murdoch Mysteries, along with Christmas specials. Many DVDs contain interviews, featurettes and behind the scenes examinations. The most recent release includes guest appearances by Sophie McShera of Downton Abbey fame and comedian Colin Mochrie.
The episodes are intriguing and thought-provoking. The interplay and good-natured humour between cast members adds to the show's ambiance. There are often a few twists and turns down the breadcrumb trail, and the murderer is rarely the most obvious choice. Plus, you get a few references to Toronto history, Canadian and international history … and several well-placed winks to modern society!
CBC's Republic of Doyle, which ran for six seasons between 2010-2014, was a great comedy-drama series in its own right.
Set in St. John's, Nfld., it followed the amusing adventures and antics of private investigator and former police officer Jake Doyle (Allan Hawco) and his father, retired police officer Malachy Doyle (Seán McGinley). They were often aided in their cases by Malachy's second wife, Rose (Lynda Boyd), niece/granddaughter Katrina, or "Tinny" (Marthe Bernard) and bumbling assistant Des Courtney (Mark O'Brien). Other main characters included Jake's love interest Insp. Leslie Bennett (Krystin Pellerin) and ex-wife Dr. Nikki Renholds (Rachel Wilson).
RLJ/Acorn has released the first two seasons of Republic of Doyle on DVD. The flavours of Newfoundland permeated through the entire series, as well as its colourful cast of characters. The episodes were fast-paced, with criminals, car chases, bar fights and a few assorted weapons thrown in. The Doyles usually followed the law, but were not above to breaking it if need be. And how could you go wrong with legendary sportscaster Bob Cole as the occasional "Voice of the Republic?"
There's also 19-2, an intriguing crime/police drama that ran on Bravo from 2014 to 2016 and on CTV in 2017.
Based on a French-language TV series of the same name, the show took place at Station 19 of the Montreal Police Department. The two main characters are patrol officers Nick Barron (Adrian Holmes) and Ben Chartier (Jared Keeso, creator of Letterkenny). Other main characters include Tyler "Big Dog" Joseph (Benz Antoine), Audrey Pouliot (Laurence Leboeuf) and Beatrice "Bear" Hamelin (Mylène Dinh-Robic).
RLJ/Acorn has released all four seasons of 19-2 on DVD. It's one of the fastest-paced series you'll ever watch on television, and the dramatic moments are gripping. The writing and story development in this series is superb, and each episode takes on a life of its own. Barron and Chartier are two complex police officers from different backgrounds thrust together as partners who gradually realize they have many similarities.
Thanks to these three compelling Canadian TV drama series, I was able to briefly escape reality for a small bit of fantasy. Alas, I'll be back to reality in short order.
Michael Taube, a Troy Media syndicated columnist and Washington Times contributor, was a speechwriter for former prime minister Stephen Harper. He holds a master's degree in comparative politics from the London School of Economics.
---

The views, opinions and positions expressed by columnists and contributors are the author's alone. They do not inherently or expressly reflect the views, opinions and/or positions of our publication.